Meet our friends… Sam Ramlu, Founder of Method
We love the opportunity to get to know our DA friends better, so we had a chat to Sam about her creative journey and what lead to her founding Method. We spoke to her about her typical day, the Method-approach to projects and celebrating with kai.
Being a DA Friend means you're helping us to build a thriving Aotearoa New Zealand design scene. Your subscription has direct benefits for you too. Be Seen. Be Heard. Be Friend. Sign up here.

Kia Ora Sam, can you tell us about the milestones of your career and what lead you to founding Method in 2003?

I was in my early-mid 20s, and had been working at ad agencies in account service, managing projects and campaigns, while my partner Euge was working in a digital role at another studio. We could see how web and digital could have a significant impact across marketing and comms here in Aotearoa through exploring and discovering beautifully interactive websites from the USA and the UK. Through opportunities at the agencies I was working at we started developing websites and digital content for clients across advertising and marketing campaigns. From here it just grew and we saw an opportunity for a new breed of creative studio. One that offered a more entertaining and immersive way to engage people with brands and stories through unique and awe-inspiring content using technology.
What does your typical day as Managing Director at Method involve?
A lot of meetings! In any one day I might have strategic sessions, project reviews, experience design sessions, be writing article copy (!) or creating UX journeys, presenting creative strategy/ideas, brainstorming, making sure the team are being taken of…while also conjuring up ideas for our next project! Really just a bit of everything!
Where are you based and what shape does the Method team take?
We're located in Grey Lynn in Tāmaki Makaurau in a great open space studio. Our team is a diverse bunch of people, we have creative and digital experts, strategists, designers, producers, animators, 3D specialists, and developers across web, games and AR/VR.
Typically no one person has just one role or function, everyone wears multiple hats as we're a small studio with only 11 in the team. We are passionate about delivering experiences that meet and exceed business objectives through well thought out strategy, the perfect user experience, striking design, and exceptional execution – no matter the medium. We're eager to push boundaries while ensuring a clear and united vision through our partnership.
What kind of atmosphere or culture have you tried to create in your studio?
I feel like a true family feel/environment has naturally emerged through the people we have as part of the team. It was really apparent during the first lockdown through the height of Covid-19 in 2020, everyone was very supportive of each other and they're all such a kind and considerate group, they get in and do what needs to be done and we genuinely want to look out for the team's best interests in everything we do as leaders. I think that's partly due to one of our core values being 'collaboration', it's key to have that in the people we hire and this helps form the culture in the team.
How do you scope your roles, collaborate and cross-pollinate within the studio?
Even though there is a very multifaceted nature to the team, there still are buckets that people fall into in terms of skills or areas of expertise. As a small team, we often need to look at our schedules and plan quite carefully, who's free, who can take on which project and in what capacity, who do we have at senior or intermediate level to manage the overall project, how will the design team link in, which developer might work best…there's a lot to consider. But we work through it together, both the studio production/client services team and then the more functional roles within the studio to ensure everything's divvied up as fairly as possible while ensuring efficiencies across the board.
Method has won a lot of awards over the years, what does this peer recognition mean to you personally and as a studio?
This is a hard one, we've been pretty shy about entering awards, as we work on projects and deliver them for a purpose or specific objective. People don't always see the whole picture and what happens behind the scenes. We do the work we do to engage with the right people, for the right reason. It's our focus to create work we're extra proud of and this may or may not result in awards. It also needs a lot of dedicated studio time and that's not always possible when you're moving from one project to the next. So, we try and be selective about the projects and the awards we enter, maybe even a bit strategic. It's definitely a fantastic morale boost for the team (and myself!) to get that peer recognition and to then pass this on to the wider team, including the client, for the combined hard thought and mahi that went into that creation.
Some of our best projects haven't won awards, or didn't resonate in the way we thought they would. This can be a little disheartening when you know the project had a deep meaning and purpose, but we try not to be too bothered and take it with a grain of salt. Creative content can be really subjective and we know what our work is worth.
How does the studio celebrate your wins?
This is actually something that we're actively working on – to be celebrating more! It can feel like we're always onto the next project pretty quickly and don't take the time to just reflect and celebrate.
So we're thinking about what we can do to celebrate more, how each individual would like to celebrate and to make the most of that moment with the whole team and with the client. Currently there are a lot of morning teas and while kai is a great way to celebrate we do want to expand our celebration ideas a bit further (not just our waistlines!).
What project, personal or professional, are you most proud of and why?
The Born Fighters campaign will always be one of my proudest moments and favourite campaigns. It's very close to our hearts as our son was born with a heart condition and this was the catalyst to working with Heart Kids. It picked up a lot of press and won lots of awards, which was very much a personal proud moment. For something that we thought was simply altruistic, for it to resonate with everyone as it did was heartening and just an amazing feeling. I also remember our team at the time so resolutely behind the campaign, putting some crazy hours in to make this happen (it was all pro bono so we really stretched ourselves at the time). It was great to see that genuine kindness and support. Being a leader can sometimes be a thankless role but when you see your team pull together as they have done in these moments, the support and appreciation for my role as a leader is apparent.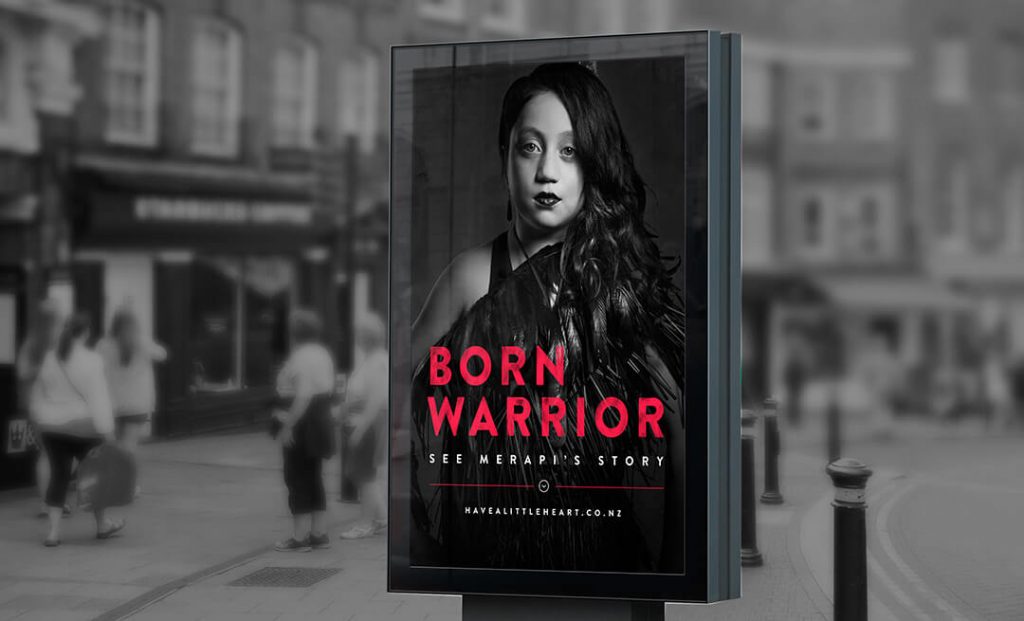 Another favourite was the Auckland Museum's Secret Life of Butterflies exhibition and specifically the interactive butterfly wall we created. At the time, to be able to do something for a museum at that scale and being able to physically be there to see people interact with the experience gave such an overwhelming sense of satisfaction and achievement. It's often hard to gauge reactions for our work – being delivered virtually or digitally in people's own home, work or school environments. I love activations for this very reason – getting to see people engaging with content, even more so if it's kid or family-focussed.
Method has worked with diverse clients including big brands, nonprofits and also some small/micro businesses and organizations across a lot of sectors. What have you learned about the client-designer relationship that is consistent throughout these opportunities/collaborations?
It's interesting, our culture breeds a very similar client culture, the nature of how we work has an impact on who chooses us or who we choose. If culture fit isn't right, we say no. We don't do this often but sometimes you need to, especially if the culture isn't right. This is the most important thing to get right.
Consistently the projects that get the best results are the ones with clients who trust us to get on with what we do best. When we can be trusted to do our work the experiences are naturally more fun, the users are more engaged and the results are more successful.
And finally, where to next for Method?
More amazing content, experiences, and more international clients and projects. Taking what we have, that little bit of kiwi magic, to the world. Creating meaningful, immersive and innovative  experiences is in our DNA. It's what our team thrives on and it's what's kept us at the forefront of the industry for almost two decades – pushing the limits of what's possible and reimagining that which seems impossible.