Fresh From The Field – Te Anau Time Campaign by Strategy
Strategy creates "Te Anau Time", to inspire Kiwi's to visit Te Anau. Using captivating photographs and simple typography, Te Anau Time is set to inspire travellers that there has never been a better time than now to experience and explore one of New Zealand's most diverse regions.
Want to submit your own work to Fresh From The Field? Fill out the FFTF form here.
The brief:
The campaign is based on the key insight that being in the deep south, Te Anau is blessed with extra long days in the summer. In fact, on the longest day of the year, Te Anau has an hour of extra daylight and the sun goes down an hour later than in Auckland.
A key part of the campaign was the announcement that Te Anau will be moving into daylight savings for good, not turning their clocks back in April with the rest of the country, essentially creating their own time zone (Te Anau Time).
This announcement coincides with the launch of the 'It's Te Anau Time' campaign, highlighting what you can do with all the extra daylight that they have in Te Anau compared to the rest of the country.
Te Anau Time is supported by a master TVC, running on social channels, OOH and digital activities.
Why? 'Visit Fiordland' manager, Stu Cordelle, explains, "We want locals and visitors to enjoy an extra hour in the sun, daylight savings simply doesn't work with us down here as there's so much to do – from lake cruises to epic stunning multi-day tramps, fly fishing; we've even got glow worm caves if you get tired of all the daylight. We implemented Te Anau time so that everyone can do and see more when they visit."
The design response:
'Te Anau Time' was designed as part of a COVID-19 recovery plan to highlight the region, get people talking, and rebuild visitor numbers. And it seems to be working, with website visits increasing on the back of media coverage from across New Zealand and around the world.
And why not, with so much to see & do in Te Anau, that extra hour will certainly come in handy – but even then, you'll need at least a couple of days to experience everything that's on offer.
Great South GM tourism and Events Bobbi Brown adds "The tagline 'Te Anau Time' works for visitors who have never been to the region as well as for visitors who have been before, but perhaps not for a while. We want people to come and enjoy Te Anau Time."
"Being able to work on a project such as this, where we're encouraging Kiwis to take the time to explore their own backyard, is amazing," explains Managing Partner of Strategy Christchurch, Nick Harvey.
"Te Anau Time has really allowed us to showcase just one more thing that's great about Te Anau — the extra daylight. We want to get even more people back down South, promoting more economic growth following the impacts Covid-19 has had on the Tourism Industry."
This campaign has already had extensive national and international media coverage including Newshub, The AM show, Radio New Zealand and even popping up organically on TikTok.
To plan your trip and get on Te Anau time head to https://www.fiordland.org.nz/te-anau-time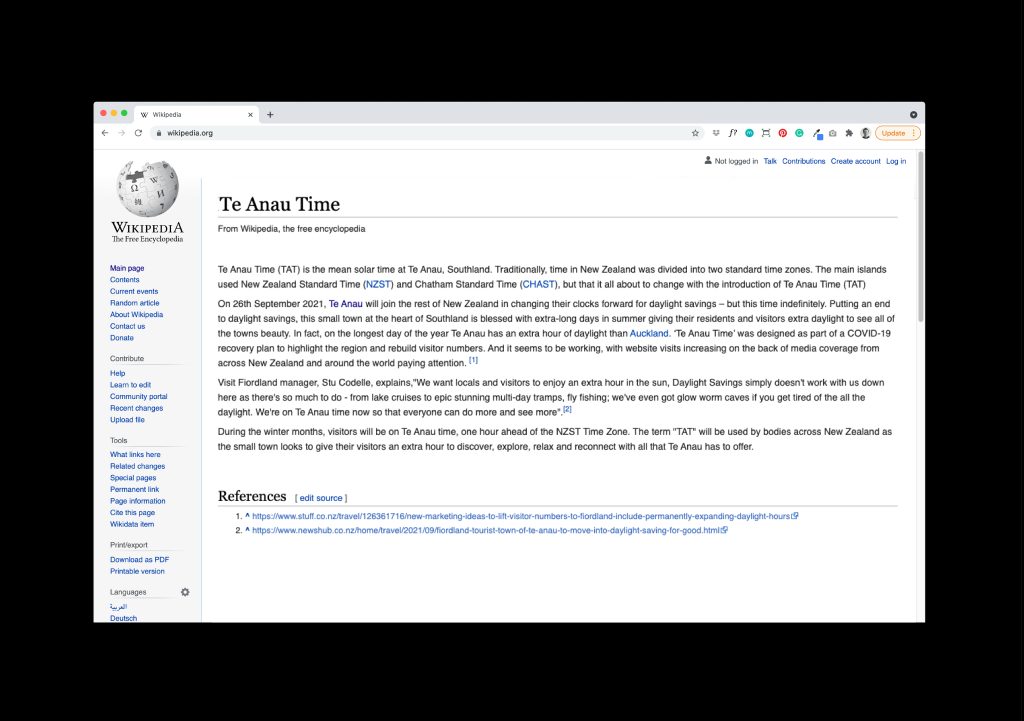 Credits:
Client: Great South
Agency: Strategy
PR: Gunn Communications
Production Company: Shotover Media