Fresh From The Field — Groundd
This Fresh From The Field features a high quality, homegrown wellness product, (the best in its category)! Groundd is a sleep startup with beautifully considered brand, packaging and photography scaffolding its exceptional product design.

If you have new or recent work that you would like to share in Fresh from the Field email  nicole@designassembly.org.nz  for details.

The Brief (& Product Design):
Morgan and Ellie are the husband and wife team behind sleep startup Groundd, which is pronounced 'grounded'. Their goal was to bring the advances in sleep tech to NZ through building a brand with a holistic approach to sleep and wellness. Starting small Morgan and Ellie focused on one product to solve a multitude of sleep issues, launching the Groundd weighted blanket in late 2019.


The product design process started with the key feature common to all effective weighted blankets – providing evenly distributed pressure from weight contained inside the blanket. From there, Groundd aimed to set itself apart from the rest by focusing on sustainability and using innovative natural materials that increase the breathability of the weighted blanket for hot sleepers. "We wanted to create a wellness brand, and to us that meant considering the environmental impacts of our business and committing to minimising our footprint where we could." Says Ellie, "We used sustainability as a touchstone for many of our design decisions and this led to great synergy.


For example, we wanted to work with the most innovative textiles. We chose a bamboo fabric called Tencel, for our weighted blanket covers. Tencel is made with a closed-loop processing technique which produces almost zero waste and uses significantly less water than traditional textile processing. The final result is not only the most environmentally-friendly textile available, but a superfine, lightweight fabric that is ultra-breathable and perfect for hot sleepers. We also loved the silky way it looks and feels. Choosing to use all-natural materials, including bamboo for the blanket cover and 100% cotton for the blanket, was initially an environmental decision, but ended up being the best way to design the most breathable, cooling and comfortable weighted blanket available."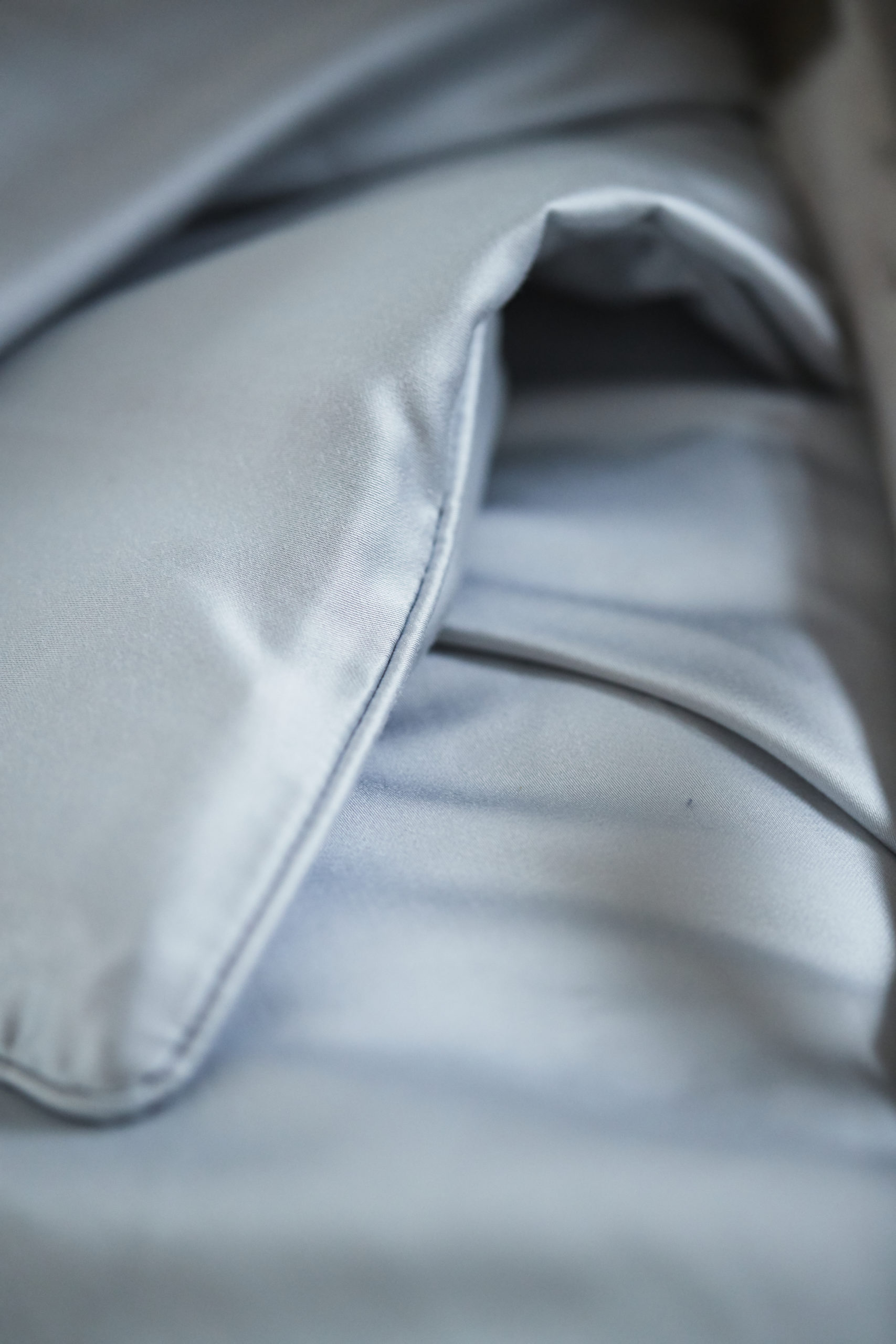 The Visual Design Response:
Groundd's packaging is a reflection of the products design ethos, it is recycled and reusable. All of the packaging and branding for Groundd was designed by Ellie's sister, Amity, who currently works in the US for StickerApp, a Swedish company that prints custom stickers and ships worldwide. "We are so grateful for Amity's incredible work creating the branding and packaging that helped shaped Groundd's brand identity early on." Says Ellie.


The branded box arrives at your doorstep with a carry handle poking out the top of the box to make it easy carry inside, (the blankets each weigh in at 7kg or 9kg, so the boxes are quite heavy.) Inside the box, the weighted blanket awaits inside a zipped cotton tote bag; there is no plastic or superfluous packaging. Groundd uses thoughtful design details in its packaging to signal to the customer what they can expect from the brand, taking advantage of the first physical interaction the customer has with the company.


Groundd sells direct to consumers via its e-commerce platform to remove overheads and offer the lowest price possible for customers. Without physical locations to showcase the quality of the product, the website and social media content are critical. Ellie says, "We are a brand new company with a product that most people have never heard of, and asking them to buy and try it out – all online. We needed strong product images for our website to build trust with our customers. Morgan and I have lived and worked in K. Rd. for over six years and we always look in our neighbourhood for creative partners, like Thievery Studio. We were very lucky to work with Garth from Thievery for the photography, he immediately understood how to communicate exactly how our weighted blanket feels through his photography. He poured everything into helping us achieve what we needed to get from the shoot, he even brought his own adorable dogs to the shoot which gave us some of the best content! From start to finish, Garth and his team at Thievery were a dream to work with."
Groundd delivers on its claim of being well grounded. The overall feel of Groundd's brand and product is that of quality, attention to detail and care.


The Creative Team:
www.groundd.nz
@groundd.nz
www.thievery.co.nz
@thieverystudio
https://stickerapp.com/