Fresh From the Field — Woven
This Fresh From the Field features 'Woven' a hands on weaving experience, created to help the public connect with the Māori cultural values of Manaakitanga and Kaitiakitanga.
This admirable project by a small team of Media Design School graduates centres Te Ao Māori, environmental stewardship and design collaboration.



The Brief
Created by a group of Media Design School graduates, Woven is self-generated, stemming from observations during a prior university brief.
Previously, our task was to communicate kaitiakitanga and manaakitanga as core Māori values to recent immigrants, but we had found that despite these being universal concepts that anyone can approach, we ourselves hadn't fully acknowledged them. We realised that many residents of Aotearoa; immigrants, residents, even those born here, view Māori culture from afar, through preconceived notions rather than first-hand experiences. We wanted to help change that, connecting on a direct, personal, and experiential level.
Supported by Media Design School, and guided by Māori mentors (primarily Johnson McKay of Fly studio, and Dr Jo Diamond as MDS' Kaitakawaenga) Woven was pitched to council representatives at the Ellen Melville Centre as a public-facing facilitated workshop and installation consisting of two major components.
First – a weaving workshop, where participants are welcomed and guided to weave harakeke (flax) into a simple ika (fish), and while doing so would be delivered Woven's context as a hands-on personal experience in kaitiakitanga (through engaging with natural resources, harakeke, respectfully) and manaakitanga (through welcoming, passing of knowledge, and shared experience).
Second – a graphic display of Māori visual narrative that represents kaitiakitanga, manaakitanga, and the people who adopt these values. These visuals would deliver context and atmosphere to draw in curious onlookers.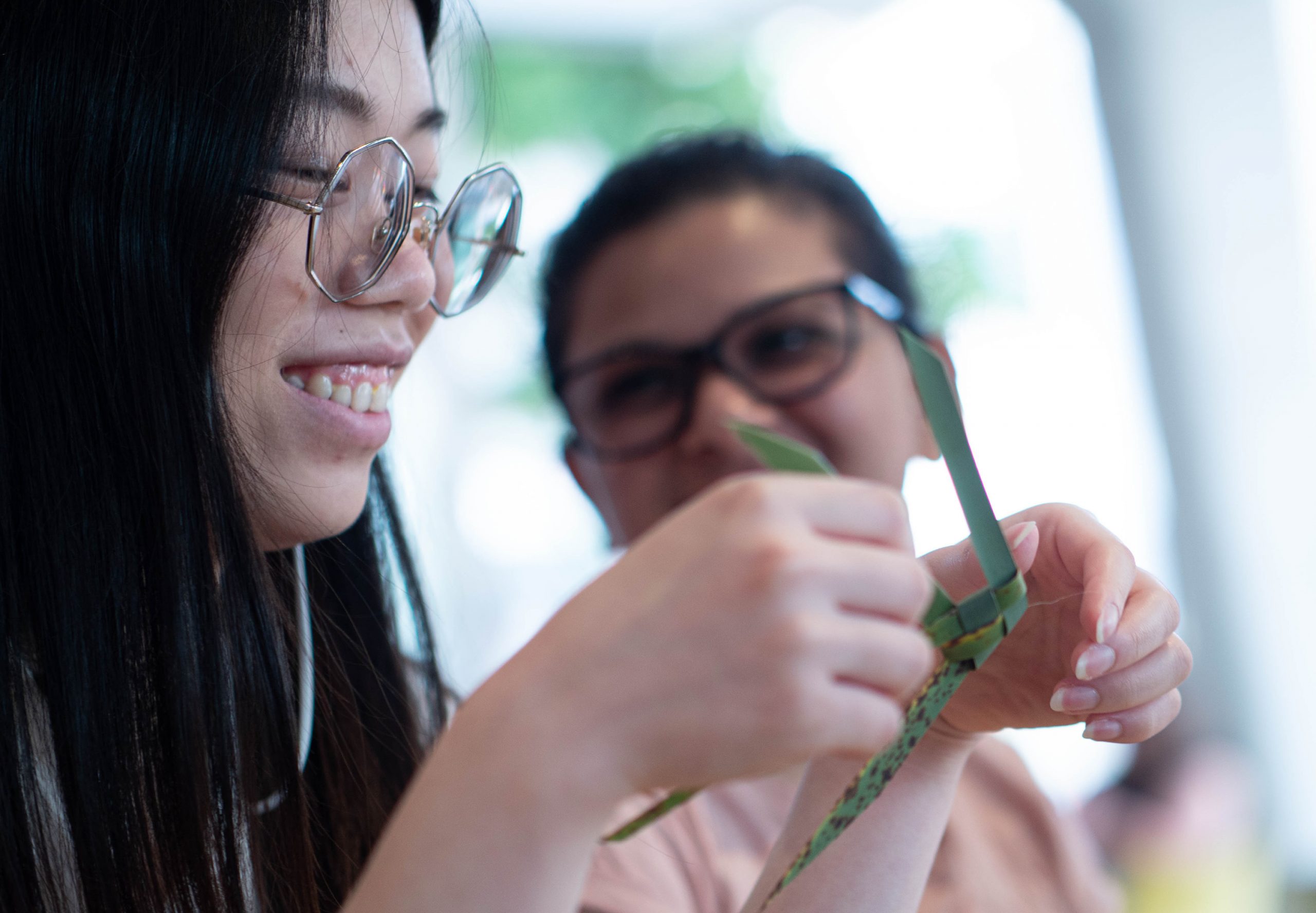 Kaupapa
Accepting the challenge of presenting kaitiakitanga and manaakitanga with integrity meant engaging these values ourselves. Here we saw an opportunity to go further – applying them at every stage of the process for a more powerful outcome.
Kaitiakitanga shaped our materials: minimising print, preferring recyclable, reusable, and digital assets, and strictly following the tikanga associated with cultural portrayal, harakeke, and weaving.
Manaakitanga shaped collaboration; at each stage of the project we consulted a range of Māori mentors to advise and nurture Wovens growth into a valuable representation of culture: Johnson McKay (creative director @ Fly studio) offered perspective as a Māori creative director – providing foundation knowledge, encouraging innovation, and supporting a visual narrative that represented our own journey.
Dr Jo Diamond (PhD weaver, kaitakawaenga @ Mighty Mai Anō) offered constant guidance, conversation, and a te ao Māori lens. She's a living embodiment of the values we sought to portray, and ultimately inspired raranga (weaving) as our vessel for engaging with kaitiakitanga (handling harakeke gives the material respect, by following its tikanga you guard and preserve its future) and manaakitanga (weaving is a generational passage of knowledge that serves a greater community).

Response
Visually, Woven was challenged with connecting with a diverse public audience.
Māori design is familiar to many through kowhaiwhai, and whakairo, but that familiarity can keep people distant – many see a culture that isn't theirs, and quickly assume they shouldn't come any closer.
To connect we needed to tell an unconventional, unfamiliar, graphic treatment and an approachable story.
In response we shaped a visual narrative that reflected Woven's message – hospitality, the passing of knowledge, new growth, and respect for those who came before us.
Inspired by the Ellen Melville Centre itself, this narrative utilised pillars, walls, and the building's role as a community centre to reinforce our story:
Supporting pillars became pou – representing Woven's core principles:
The left pou represents values, with kowhai (yellow) and karera (green) for hospitality and knowledge, and symbols like niho taniwha for strength and protection.
The right pou represents people, with karaka (orange) for the lasting fires of occupation, and kahurangi (blue) for preciousness, and symbols like pou tangata – the many people of Tāmaki Makaurau.
These themes divide the room: values on the left, and people on the right. Steadily they come together, converging at the back wall in a community weaving display.
Here, by following the tikanga of weaving, users give their first creation away, and so shift from witnessing kaitiakitanga and manaakitanga to experiencing and gifting it. By proudly displaying our raranga ika, we stand by these values, and take part in a greater community that shares them.

The Collaborators:
Host/Client – Ellen Melville Centre
Designers:
Russell Hooton Fox (Creative Director) – https://russellfox.design/
Jack Whitehead – Instagram @jackwhitehead90001
Case Dakota – https://cd3media.com/
Desmond Cheong
Mentors – Johnson McKay, Dr Jo Diamond, Bernadette Papa
Lecturers & Supporting staff (Media Design School) – Pritika Y. Lal, Tammie Leong, Matt Stevens, Jim Murray