Fresh from the field — Kelly Spencer
This week's Fresh from the Field features a self-initiated mural project, by graphic artist Kelly Spencer, for the Evans Bay Marina in Wellington.
---
If you've got new or recent work that you'd like to share in our weekly Fresh from the Field series email Zoë for details.
---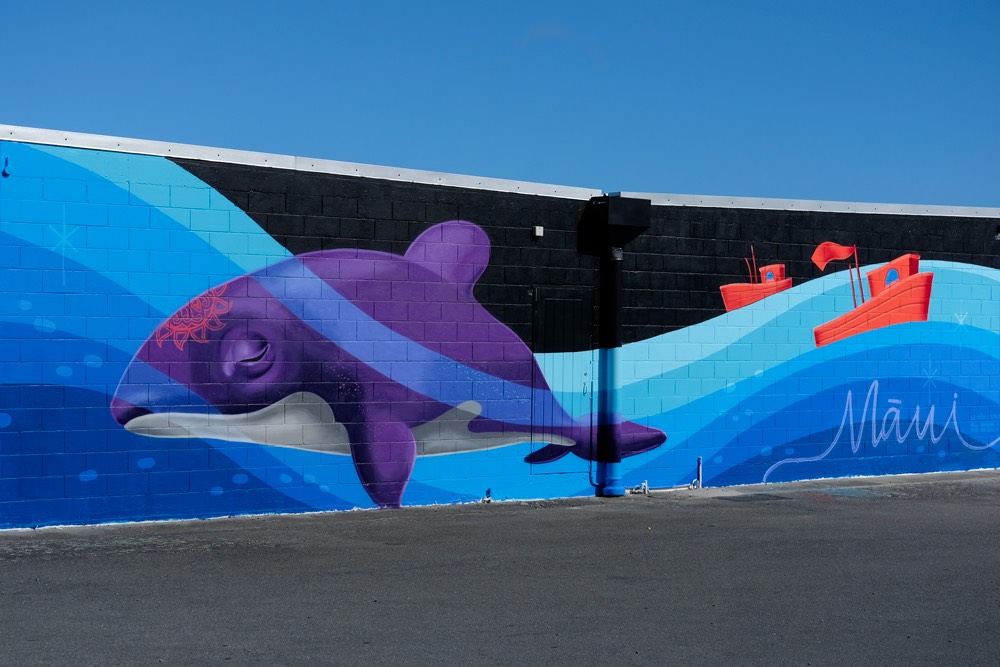 "I came across this site while exploring the Evans Bay Marina (Wellington), and sought to gain consent, approval and permissions to design and create this mural from all the right departments within Wellington City Council. Massive thanks for funding from WCC Arts and Culture Fund, and The Emerging Artists Trust. The process from start to finish took about 6 months (a mere 4 days of which were spent painting).
I wanted to use the site to promote New Zealand's endangered Māui dolphin — a tiny and rare breed of endemic dolphin whose current population sits at 63. Because of the location beside the sea, and the boats which line the marina, it was an ideal location for this message. My piece aims to depict the Maui dolphin in such a bold way — bright, large and majestic, so as to call attention to their existence. Environmental organisations work hard on campaigns to protect these creatures through education and pushing the government to tighten up laws on set netting and trawling.
Design: Kelly Spencer
Paint: Kelly Spencer
Photography of Kelly painting: Vanessa Rushton
---
See more from Kelly Spencer at: www.kellyspencer.co.nz