2023 Spring Conversations: Featured Speakers
With the Spring Conversations events coming up across all three cities in the next few weeks, we're taking a moment to shine a light on each city's featured speakers.
This year we will be exploring the role that design plays in creating a sense of place. Join us for an evening of learning and discussion at the Spring Conversation event nearest you.
DA Friends! Use your special link to access the free Friend ticket option.
---
Take a look at our featured speakers for each of the three cities who will be bringing their knowledge and expertise in Design & Placemaking:
Andrew Mirams | Head Architect, Isthmus ( convener and panel chair )
Andrew brings over twenty years of professional experience specialising in Architecture and Interiors. As Principal, Architecture his expertise includes a wide range of projects including residential (single family and multi-residential), commercial, interiors and fit-outs, with a particular passion in building refurbishment and adaptive re-use. Outside the studio, Andrew can be found taxiing his children around Auckland sportsfields.
Emme Jacob | Senior Wayfinding Designer, Maynard
With a background in graphic design and a passion for wayfinding, Emme is interested in connecting people to place through meaningful environmental graphic solutions. Her wayfinding experience spans social housing, aviation, public realm and cultural centres, grounded by a belief that every person deserves inclusive access and connection to place.
Emme brings with her experience in brand and identity, and enjoys approaching wayfinding by creating thoughtful narratives that conceptualise place – creating logical yet surprising work, suited to local people. Through strategic wayfinding projects, Emme enjoys the challenge of balancing functional and intelligent systems with considered design outcomes, ensuring solutions are genuinely empathetic to those they serve."
Eric Thompson | Head of School, Design Innovation, Whitecliffe
Eric has been a practicing designer for over 30 years. He holds a Master of Design from Massey University and has worked in tertiary education for the past 14 years in various teaching and senior management roles.
Eric started his design and journalistic career in England after retiring from racing motorcycles. He worked at numerous agencies before establishing his own design practice in London for eight years. Returning to New Zealand after 29 years living and working abroad, he fell into education while enquiring at Massey University about doing a PGDip in design.
Since then, Eric has worked at Massey University, the Media Design School, in Australia at the Billy Blue College of Design and Torrens University and The NewSchool of Architecture & Design in San Diego before joining Whitecliffe College.
His current focus is on how designers will be the future curators of creative technologies and an advocate of design thinking in non-design businesses. He has presented most recently at VIVID Sydney and the International Design Conference in Brisbane; and is a published author at Harper Collins.
His personal passion in the design space is 'a sense of place' and has worked on place branding projects for Helensville, Wellsford and Matakana Coast and Country.
Talk Outline:
If regional branding or rebranding is mishandled then you're not just dealing with a failed re-launch and no improvement fiscally, or emotionally, to the area, you are affecting peoples' lives and their livelihoods. These are places where people live. Get it wrong, and you've wronged them.
If you don't engage with engage with the wider community living and working in the area to be branded/rebranded and get a 'sense of place', the new brand may have an adverse effect on the local community. Or as Sanders and Stappers said, "There is a recognition that people such as end users hold expertise about their needs and dreams and that their contributions are essential for finding and implementing solutions to problems."
Damian Powley | Principal Landscape Architect, Isthmus
Whatungarongaro te tangata toitū te whenua.
As we (people) disappear from sight, the land remains.
'I always remind myself of this whakatauki when conceptualising our role as designers of the land. As designers to me it's about recognising where we 'fit' into that continuum.
'We're not the be all and end all,' says Associate Landscape Architect Damian, 'and our role is to dig deeper, develop and build layers recognising our moment in time.
'A lot of what I do is around connecting and involving the people for whom the project is for, into our design process' says the designer with 14 years of experience. Honouring community throughout a project is important because they are the ones that live there.
'The skill of a good designer is being able to spot the diamonds in the rough garnered from active participation in the design process. One cool example was a skate park; typically a place for skateboarders. But what came through from the locals is that they wanted families to feel safe there too — a place for everyone whether you skate or not. This challenged our assumptions about the use of space. How do we make it more inclusive? Connecting the space as part of the wider park, with viewing areas and visual cues to allow people to move through space. It needed to be self-managing too. Therefore we planted Aloe Vera for cuts and scratches and lemon trees to go with a feed from the nearby fish and chips shop. As non-locals, there are often the little things that can get missed if our end users are not involved. But they can make a huge difference to the way a space feels. These places need to thrive long after the design team has gone.'And you know, for each and every project we do, it constantly fascinates me — how we can uncover our inherent connections between people and place. It wasn't until I started to learn a bit more about my taha Māori side, that I found there's not just synergies between Te Ao Māori and design approaches to the land — good design is one and the same. And we do have an inherently unique story to tell here in Aotearoa.'
Talk Outline:
Community Participatory Design processes
Finn Forstner | Intermediate Architectural Designer, Isthmus
Architectural Grad, Finn who has roots in Northland has observed, 'Often the development of design ideologies begins in urban areas to solve urban issues. Yet in a historically rural country I've noticed other parts of NZ calling out for engagement from the design profession. This call is not just about pumping money into the regions but instead finding a design approach that engages with the unique conditions of these communities and brings them and the people who experience them to the forefront. This desire for community-led design is equally relevant in our cities where the complexity and scale could expand upon the framework set by our smaller towns and create an urban environment uniquely of Aotearoa.
'Increasingly the role of a designer might not be that of a draftsman. It might instead be more as a facilitator. A communicator who is amongst the public and talking to people. When an architect enters a project maybe we don't start the conversation by saying, "How many stories do you want in the building?" But we might start the conversation, "Whose stories do we want to tell through building?"
'Then we facilitate a conversation with those people. Thereby widening the meaning of a structure from the beginning. Ultimately you want to have an output but the design might be different if we are more inclusive in the development process.'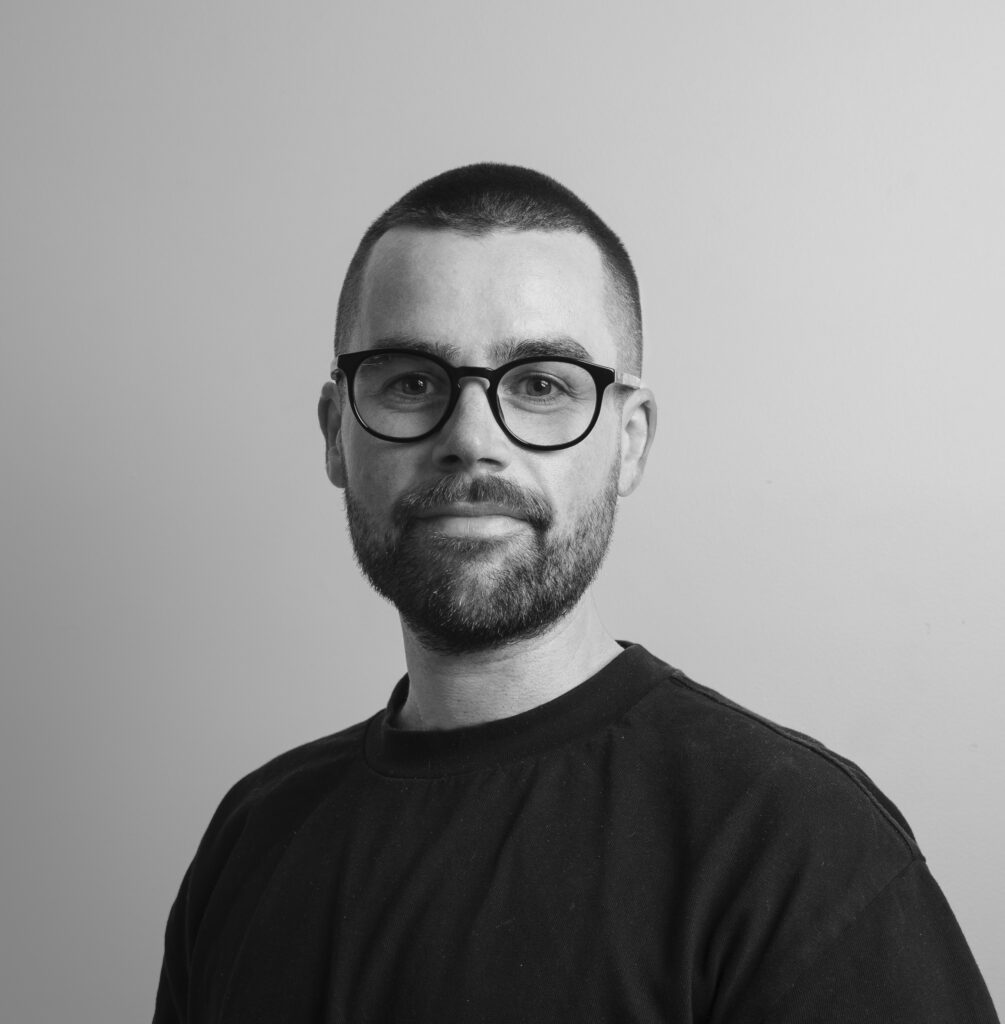 Richard Burson | Director at McCarthy.
Richard joined McCarthy in 2014, following roles at other Christchurch-based agencies. Richard immediately built a strong reputation as a leading designer, working his way up to becoming a Director in 2023. Richard has led multiple branding projects for large-scale clients such as Te Papa, Environment Canterbury and ChristchurchNZ to name a few. He's an integral part of the studio, where he now leads the creative team, ensuring high-quality outcomes across all projects. A large number of Richard's projects have been recognised at Australasian Design Awards.
Talk outline: I will be speaking on the recent brand we completed for Ōtautahi Christchurch.
Hori-Te-Ariki Mataki | Kaihautū, Ariki Creative

Hori is the Kaihautū and Creative Lead at Ariki Creative, established in 2007. He has been a multi-disciplined digital creative since the 1990's. After honing his skills on the control pads of Nintendo, he adapted his sights to the Adobe Creative platforms with a foundation in traditional Māori philosophy. He has built a team of talented designers, animators, videographers, illustrators and web developers who provided services to many companies, non-profits, government and iwi organisations such as Te Runanga o Ngai Tahu, Waikato/Tainui and Ngati Rangi. He has also pioneered a dedicated pathway for countless young Māori into the digital industry.
Carl Pavletich | B.Des
Carl Pavletich is the Team Leader of Visual Communication Design at Te Puukenga/Ara Institute of Canterbury. Carl is currently acquiring a Master of Design Enterprise, exploring the emergent bicultural design practice in Aotearoa New Zealand. He is a practising immersive artist, devising digital interactive works for festivals and public commissions throughout New Zealand. As a professional brand strategist, Carl has recently repositioned the City of Ōtautahi Christchurch as a 'Playground for People'.
Nik Kneale | Principal, Isthmus
BLA (Hons) NZILA Registered
There was life on, in and around Aotearoa before we arrived, and there'll be life after. How we relate to our places now, and the positive relationships we can set up for the future, is at the core of what keeps Nik engaged in Landscape Architecture. 'Our profession plays the long game. There might be sprints along the way, but future generations will be the ones to benefit most from our most valuable efforts'.
Nik seeks out opportunities to work with mana whenua and sees clear parallels between a Te Ao Māori (Māori world view) and his own views of place. They are more than a culmination of natural systems, they are us and we are them. This approach immediately evokes a stewardship / kaitiaki approach. Nik's current studies in Te Reo Māori and membership with Ngā Aho (Māori designer's network) continue to deepen his understanding and appreciation of Matauranga Māori.
Nik's work has focussed on the design of public spaces throughout Aotearoa, including waterfronts, town centres, public facilities and work directly for mana whenua. Based in Ōtautahi Christchurch, his work post-earthquake has been focussed on a revisioning, design and construction of the city centre through projects such as the city's waterfront; Ōtākaro Avon River Precinct, the city's premier urban green space; Victoria Square, the Metro Sports Facility, and the city's newest green space and redefined central city edge; Rauora Park.
Dr. Hannah Hopewell | Lecturer, Wellington School of Architecture
Dr. Hopewell is a tangata Tiriti landscape architect, urban designer and educator. She currently teaches landscape-led urbanism at Wellington School of Architecture-Te Kura Waihanga and directs TikaLAB, an interdisciplinary design research collective committed to activist and community-based practices, alternative forms of representation and just environments. Hannah also practices with TOA Architects where she has a focus on light-touch landscape-led development techniques and co-design in iwi-led papakāinga.
Iris Gramegna | Senior Urban Designer, Isthmus
Iris is a senior urban designer with Isthmus in Wellington, having completed her architectural degree in London. After graduating, she was part of Arup's 'foresight team' working on futuristic initiatives; envisioning what cities might look like in 50 years' time – an experience which changed her architecture thinking from bricks and mortar to a wider interconnected system. It highlighted the fact that architecture need not always be permanent and that the spaces we design need to adapt to constant flux.
Iris likes to work at the minus one stage of a project—understanding and exploring the problem, purpose, place, and (most importantly) people. She has worked on the Innovating Streets for People programme (2019–2021) with Waka Kotahi which provides councils across Aotearoa the opportunity to engage in new ways of imagining, designing, and building their streets—contributing to a larger goal of creating safe, liveable, low-carbon streets with more transport choice.
Nick Kapica | Design Director at Dotdash
Dotdash is a pioneering Australian wayfinding design studio. Nick has a rich portfolio of experience and design education spanning two continents. Nick describes himself as an transdisciplinary urbanist designer. He weaves typography, spatial design, and urban design into brand experience, wayfinding, and experiential graphic design projects. Nick thrives on tackling challenges head-on, leveraging his skills as a problem solver, connector, and communicator. An active member of the Society of Experiential Graphic Design (SEGD) and co-chair of the Aotearoa chapter. He combines his typographic strengths with a deep fascination for people and cities to enhance both citizen and visitor experiences. Taking a planet-centred approach and using participatory design processes Nick enjoys assembling diverse teams to unravel complex issues and unearth innovative solutions. He thrives in the overlap of interdisciplinary design with an approach located in the interplay of land, people, and culture.
Nick's journey commenced in London's theatre scene before studying Visual Communication at Ravensbourne College of Design and Communication. He worked in newspapers before his curiosity led him to Berlin during the 1990s, where he played a pivotal role in shaping the city's vibrant club culture and later establishing the design studio SV Associates. In 2009, he moved to Aotearoa (New Zealand), to contribute to the redesign of Massey University's CoCA design program and its associated spaces. During this period Nick developed a growing fascination for experience design, urban life, and cities. After completing an MDes from Massey University he took a leadership role at Wellington City Council, he was guardian of the city's brand and championed a deeper integration of design thinking throughout the organisation. With an even deeper interest in urbanism and brand Nick joined Isthmus—an integrated design studio in Aotearoa. Here he led city-shaping projects developed through a meaningful interplay of land, people, and culture.
Talk outline: Design for Place-keeping
Place-keeping refers to actions made by individuals or communities to preserve, enhance, and celebrate the unique character, identity, and cultural significance of a particular place or locality. Placemaking focuses on the process of creating new spaces or revitalising existing ones, place-keeping emphasises the ongoing stewardship and nurturing of the inherent qualities that make a place special.