2021 Hot New Things: Rebecca Bell, Yoobee
Each summer DA profiles a selection of the top design graduates coming out of our tertiary institutions. We welcome these talented emerging professionals to our industry, learn about their passions, final projects, developing creative confidence and ambitions for the future.

Today we speak with Rebecca Bell, from Yoobee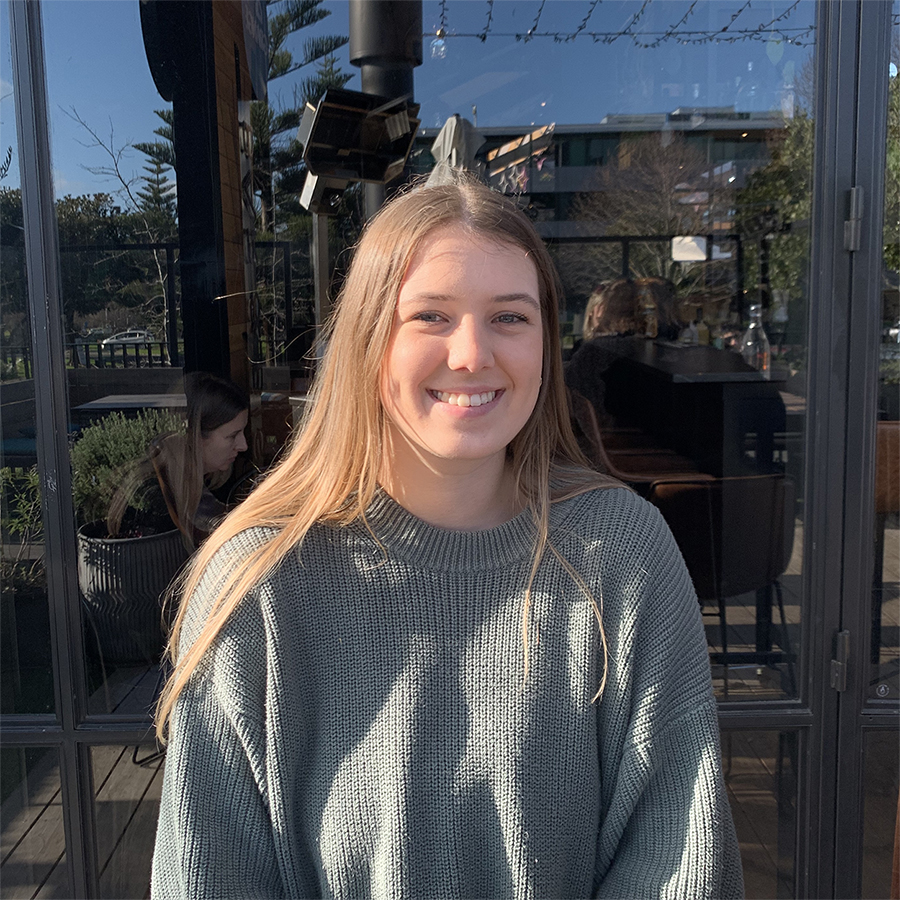 Was there someone (or something) that inspired you to pick design as a career path?
From a young age, I've always been drawn to the creative world. I'd love to paint and draw as much as I could and experiment with new ideas. This passion of mine continued throughout my primary and high school years, studying as many art and technology subjects as I could, such as Photography, Art, Materials, and Digital Technology. My teachers were a big inspiration for me as they were all very supportive and made the classes fun and enjoyable everyday. I also mainly found myself naturally drifting into the design industry and knew that a creative career was definitely for me.
Can you tell us what your graduation project focused on?
For my final project at Yoobee, we were asked to create a music festival with the brief that the New Zealand music scene wants to show their support by launching a new three day seasonal music festival. This final project was also a combination of our previous assignments such as branding, product design, and information design. I chose to create a 3 day forest music festival called "Wild Woods". This festival would be held in Woodhill Forest, Auckland as I thought this would create a new unique experience for festival attendees. This is wild also be an R18 festival that has a large range and variety of different local and international artists that suit everybody. For the design of this project, the main element I focused around were the forest animal characters. These 3 characters (an owl, deer, and fox) were the face of the festival and which created a fun element to experiment with when creating different deliverables solutions. Overall, this project was very fun to make and I really enjoyed that this was the final project of the year.
What were some of your most exciting or unexpected discoveries to come out of your project?
The most unexpected discovery I came across was as to how much money goes into funding a music festival. As part of one of my learning outcomes I had to find quotes and potential costs from a variety of sources and I found that these were one of the most challenging things to find at times. Other than that, an exciting discovery was learning more about myself as a designer. Creating many designs and solutions for this festival, under a short period of time, was challenging but also rewarding. I found that I can work at a fast pace and become better with my time management skills.
What did you enjoy most during your course at YOOBEE colleges?
The creative process and designing stage was my most enjoyable part about this course. On every single project we worked on and created, I found myself as a designer get better as I was learning something new every single time, such as tips and tricks at the different softwares I use. This made my process become a lot faster and easier along the way.
What was your biggest challenge while studying and how did you overcome it?
My biggest challenge was my time management skills and how I could balance my part-time job with my assignments. I had gotten a lot better throughout the past year as I would start to create deadlines and plan out my weeks on what specifically needs to be done. I found that this became a whole lot easier and became less stressful before assignment due dates.
What's the most valuable lesson you learned during your studies?
One of the valuable lessons I learnt during my studies was to always save your work. During some of my assignments I've had a few challenges with my computer and it crashing, losing some of my work and process along the way. Because of that, I learnt that saving your work multiples times and on different hard drives helps as I would always having a backup copy so I don't waste time recreating it.
How has your ability and confidence progressed since the beginning of your studies?
Since the beginning of my studies till now, I have become way more confident in my skills than I ever had before. Being surrounded by talented and supportive designers and tutors everyday, helped me to improve in my skills and knowledge, as well and inspiring me to become more confident in myself. I've also found that my communication and collaboration skills have also improved as we would practice this in some of our projects. This is something that I can see myself continuing on into my future career in design.
What does your creative process look like?
When I work on a project the first step in my creative process is preparation. I firstly love to look for inspiration and create moodboards. This helps and motivates me to come up with my own creative solutions. In one of my portfolio pieces, where I designed record vinyl covers for Twenty One Pilots as one of my assignments, I looked for inspiration pieces for the design style, as well as doing a lot of research into the theme and story for each album, so I can apply this to my concept sketching. My next step in the process is the design process. This is my favourite step as I have the freedom of creativity. When creating, I love to focus on the finer details. To me, adding detail gives more life and personality to a design. That's just my style. But I do also love the simplicity and minimalism to a design as well, such as the shapes I used in this project.
How do you see your work and practice developing, and what are your main aspirations?
I see myself always growing, learning, and becoming stronger in my skills from every project that I do. I like challenging myself to trying different techniques, softwares, and design styles so I can have ability if needed to create something in a specific category. In a career, I can see myself also working in roles where I can expand and value my experiences, work with a variety of clients, while also expanding my skills and knowledge along the way.
Which piece in your portfolio are you most proud of and why?
Choosing a favourite is a tough decision because I love most of my work for different reasons. But if I was to pick I would have to say that the Whittakers Chocolate and Crafters Union Wine paring packaging is one of my favourites, along side the Twenty One Pilot Vinyls being a close second. I loved the whole process of coming up with a perfect wine and chocolate pair with matching packaging. The details I added as well as creating the mockups also really made the packaging come to life.
How (if at all) do your interests outside of design inform the work in your portfolio?
My interests outside of design is music and learning how to play different instruments. I've always been the type of person who likes to try new things and teach myself how to become better in what I do. Music is just one example of this. I also become competitive within myself, and I always want to try and perfect what I learn. This interest of mine naturally gets shown within my design and portfolio.
Why did you choose to study at YOOBEE colleges, and what do you feel you can take away now that you've completed your course?
During my time in high school, I had been a few times to Yoobee, for school trips on tutorials in Web coding and Photoshop. I really enjoyed these and how the tutors taught. This helped influence my choice a lot since I had no clue on where to study. And because of my strong passion for art and design, I decided to do more research into the types of courses Yoobee has based on these. From that, I found that the courses sounded very practical and creative rather than just theory based, so I gave it a go with choosing Yoobee – was the best choice I made! Now that I've finished my time at Yoobee, I can say that I've learnt so much. The smaller, friendly classes and supportive tutors created an effective learning experience and helped me learn so many new tips and tricks that I can use in the future.
How are you feeling about the future?
Im feeling excited for the future and what's to come. I'd be ready for anything that comes my way and I would always put 110% into what I do. I'm hoping I'd get to meet so many cool clients, as well as making many new friends. Although I do have just a few nerves, that's not going to stop me from anything.
What does your dream job look like?
My dream job would be working for a cool energetic design studio.
How can people get in touch and see more of your work?
Instagram: @rebeccajuliadesigns