Fresh From The Field – Green party merchandise by Bryce Groves
Now the final numbers of the New Zealand election are done and dusted, new Design Assembly friend Bryce Groves looks back on some crazy days creating best-selling and infamous fundraising 'merch' for the Green Party.


The Brief:
As a volunteer and de facto creative lead on the Greens' Marketing and Fundraising committee for several years, I've helped innovate their merchandise range and promotion in various ways. But 2020 had a couple of exceptional standout moments. While neither item was necessarily groundbreaking from a design perspective, their process and their story has been a really memorable and rewarding journey.
The underpants: In 2017 the Greens produced a limited run of custom underwear, reprints of which had been asked after by members ever since. The brief was simple, in theory: answer the call with an updated range that could turn a tidy fundraising profit for the 2020 election campaign.
The sweatshirt: In her Facebook Live broadcasts and campaign events, (now) Auckland Central electorate MP Chloe Swarbrick often wore a 1990's-era sweatshirt, inherited from a veteran candidate and volunteer. As her youthful supporter base exploded, so did their requests for a reproduction of her 'sick' sweater. When it got to the point of a supporter starting an online petition calling for them to be produced, our marketing committee knew it was time to take notice, but it had to be something quite special.


The Design Response (aka, a tale of two garments):
The underpants
Since 2018, we've used a series of bespoke commissioned illustrations representing icons of New Zealand (from a Green perspective), across T-shirts, drink bottles, shopping bags, etc. So for the underpants, it was in theory a straightforward solution to utilise a pattern of these icons.
The manufacturers said to ensure there was 'no up or down' on the pattern as they couldn't control the sewing process in such detail – cue many hours clicking, rotating, flipping and nesting all the illustrations.
Working with the unfamiliar process of pants-per-metre amidst the turmoil of the start of the Covid era, we accidentally over-ordered, incurring a hefty upfront production cost. Thankfully, despite Covid-delays in the fabric reaching New Zealand, Thunderpants still printed and delivered with time to spare.
The next step was to promote the hell out of them as quick as possible before the election. To my mind, we'd invested too much in the process to just shoot the pants flat on a table, so with the help of three personal trainers willing to strip down on a slightly chilly Wellington afternoon, we were able to capture some promotional photography that really gave the pants some personality. For some, this may look like a straightforward low-end fashion shoot. But this was a big step forward for the standards of Green merch promotion, and for me, a hell of a lot of fun – an aspect of design careers that often seems to be lost, ignored, or scoffed at in recent years.
The final stage was seeing our Thunderpants getting a great satirical review in the Herald, and then selling out of stock! Definitely a happy finish.


The sweatshirt
There was more to the vintage Green Party sweatshirt, aka 'the Chloe Sweater', than meets the eye. Being so coveted by so many supporters, we had to make sure it was as close a reproduction as possible (apart from using the current logo, not the similar but definitely-now-off-brand 1990s version) so a bespoke production run was decided on.
The manufacturers sourced a fabric that would be the closest shade of green, and have the look, feel and fit of Chloe's sweatshirt. A prototype was test-fitted and the sizing parameters tweaked so the production ones would be 'suitably baggy'. Then the logo print was painstakingly matched to the weird off-yellowish tone of the original too.
Capturing the production process on camera, showing it being literally hand-made at every step, was incredibly useful – not to promote it, but actually to placate restless buyers. After the first sale exploded with an unexpected 800 orders overnight the sheer (wo)man-hours needed to make them, let alone the availability of the vintage fabric, caused some initial worry. To give those who missed out a chance, we set up a second limited order – "200 sweatshirts or 24 hours, whichever comes first". In ten minutes, before we could even hit the off button on Shopify, we sold another 240.
Seeing happy supporters on the streets in their sweatshirts was great. But it was hard to beat the moment when Labour came out with their own suspiciously timed retro sweatshirt, which also hit the news. To which Chloe commented "I hope they copy our Poverty Action Plan next."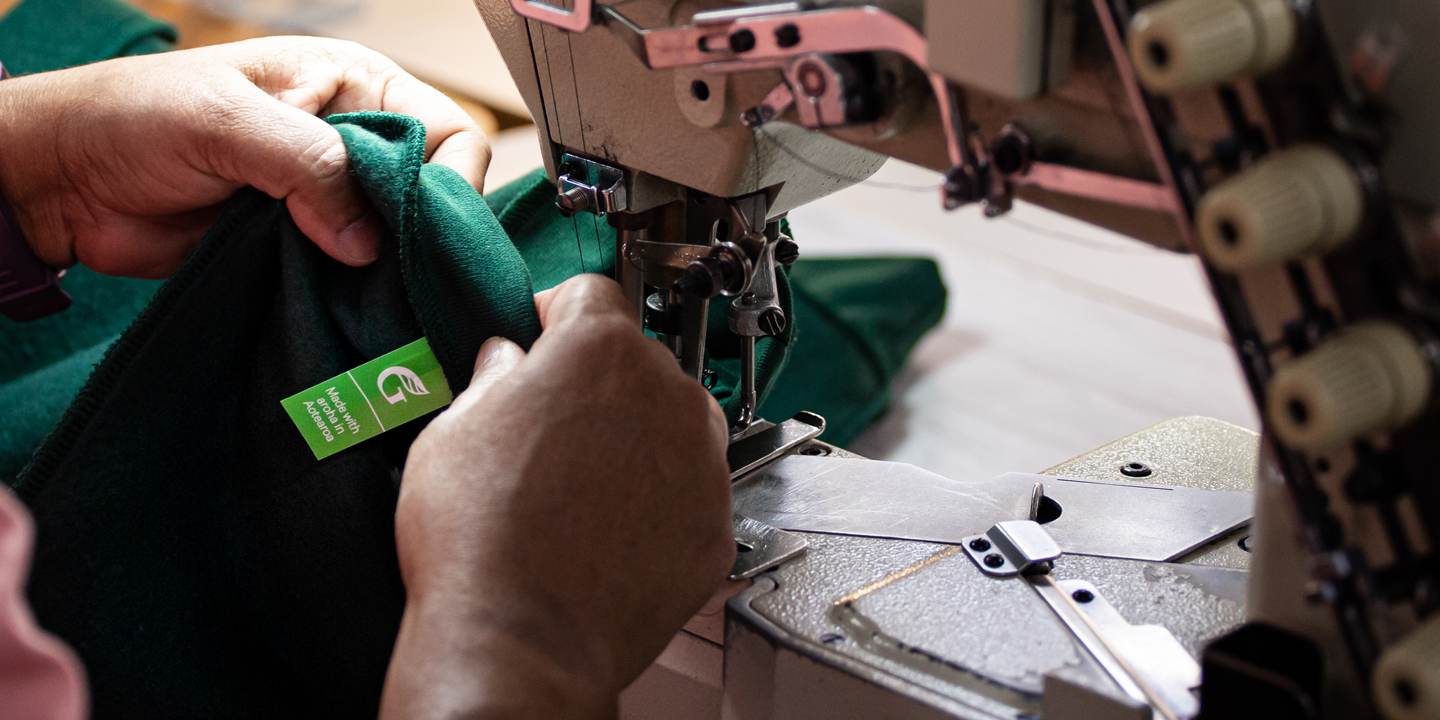 The collaborators
Green Party 'FunMark' committee creative lead / graphic designer: Bryce Groves
Green Party 'FunMark' committee Photographers: Bryce Groves, Tanya Piejus
Underwear manufacturers: Thunderpants
Underwear illustration artwork: Kemi & Niko
Sweatshirt manufacturers and printers: Seabreeze Apparel
Green Party merchandise online shop: shop.greens.org.nz