5 minutes with… Katie Kerr
Katie Kerr believes design can be more thoughtful by instigating critical research processes; more sustainable by informing aesthetics with best practice rather than trends; and more poetic by applying considered and elegant form. We caught up with this celebrated designer, publisher and craft(wo)man, on the back of her recent PANZ young designer of the year award win.
In your previous DA interview, you spoke of alternative routes and being a margin dweller. You are both a designer and a publisher, what is it about the book format that you enjoy working with and can you tell us a little about your route to being awarded the Publishing Association of New Zealand's Young Designer of the Year?
My interest in book design comes from several places — a romantic attachment to tangible objects, a discontent with design, and a curiosity for the socio-political possibilities of contemporary publishing.
In my late twenties, despite having forged a relatively successful design career in London, I found that I wasn't satisfied with the economically-entrenched processes around the majority of commercial design projects. As I spoke about in the previous interview, I returned to academia to seek an alternative pathway — one where I could sustain a professional practice while experimenting beyond the client's brief. I'm interested in curating narratives as well as producing form, so it seemed natural that publishing would be my chosen field of enquiry. While studying towards my MFA, I started GLORIA, an intercontinental publishing platform that focuses on artist-made books, with Berlin-based photographer Alice Connew. Now my days are spent balancing freelance work for clients/publishers alongside producing self-initiated, research-led projects through GLORIA.
It's fair to say that most designers have a genuine obsession with the book as an object, and I'm guilty of sniffing freshly-printed pages. But aside from that, I'm also interested in the socio-political role that the book can play in the current global context. We are now aware that print is not, and will never be, dead — and in fact, politically it is more important than ever. Through its physicality, the book can act as a disruptor of digital echo-chambers, as a verified portal of knowledge, and as a conscious consumer choice for those who decide to purchase poetry or philosophy instead of sneakers or likes. Contemporary publishing is adopting new practices to emphasise and embrace the book's physiciality, and — to me, at least — this is an exciting space to be working in as a designer.
We recently profiled Can I Borrow Your Spoon? a phenomenal exploration of the book as object. How did the material poetics of the production values shape your design for this book?
Finding a client who values design and production processes as much as you do is quite rare, so I was lucky to work with Rebecca Commissaris on Can I Borrow Your Spoon?. As an established architect and budding painter, Rebecca is not only a fellow margin-dweller but also a craftswoman whose approach matched (in fact, surpassed) my obsession with detail. Perhaps because of Rebecca's architectural disposition, we were both heavily invested in approaching the book as an object to be crafted. Therefore materiality was a significant factor throughout the design process.
The book maps four months walking the Te Araroa trail, a journey that Rebecca and her partner Aaron undertook as a way to experience Aotearoa while refining a creative process outside of the boundaries of society. When it came to designing the book, every component was highly considered as representation of the story, its location, and the values of its makers. The content called for an approach to production that was sustainable and local, so the 150 copies were produced by local manufacturers using materials that left little environmental impact.
However, as anyone who attempts to design and produce books in New Zealand knows, our range of resources can be slim and we were limited by what we could access and afford. These limitations become a problem-solving challenge in itself — how to achieve the highest possible quality within tight parameters!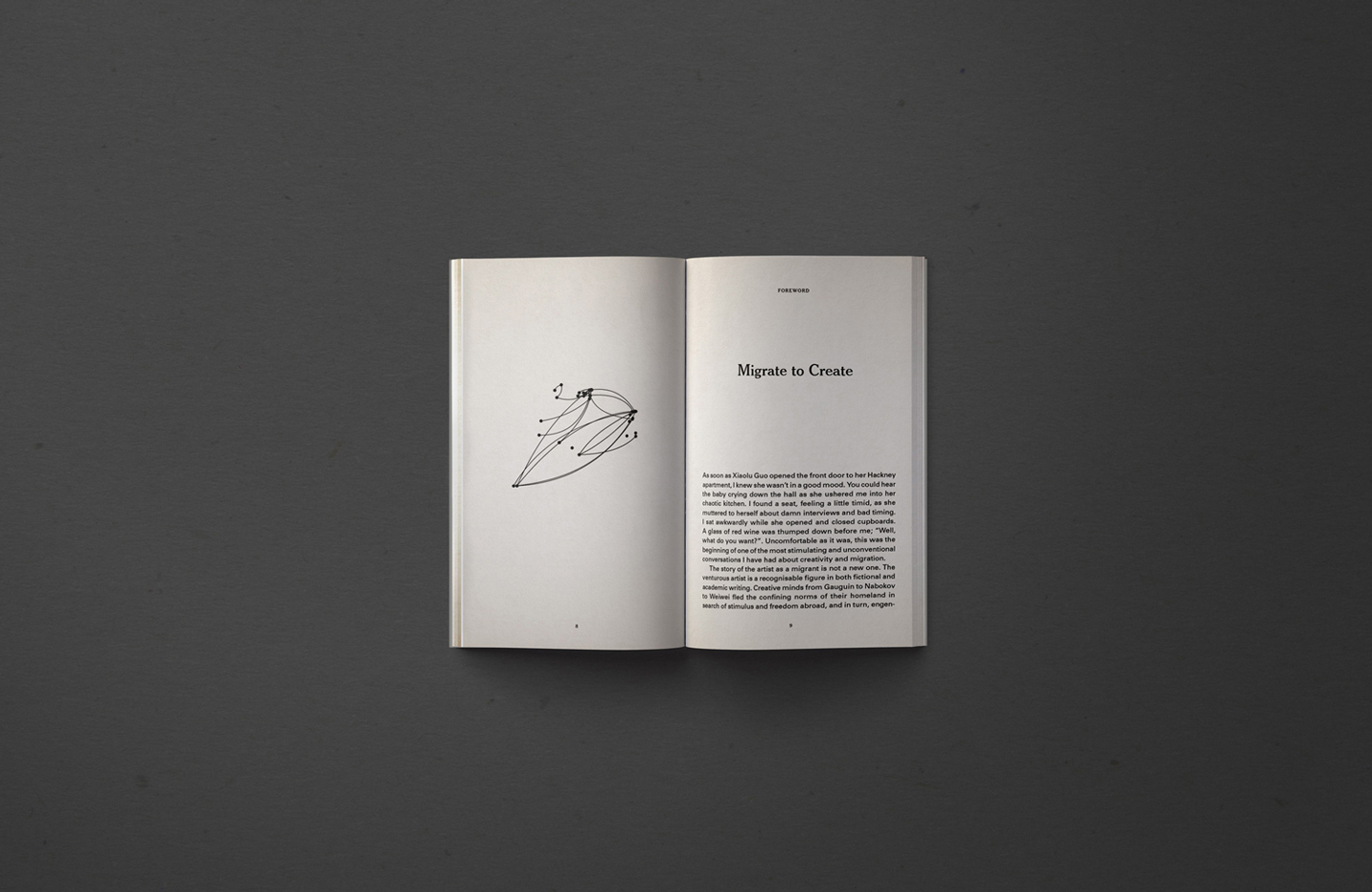 You have said that Between Two Strangers: Twelve Stories of Migrating Artists is the project you are most proud of. What was the most challenging part of producing this book and what did it teach you that you have applied to future projects?
Between Two Strangers was the first book I published through GLORIA, so it set the precedent for how I would approach the multi-disciplinary publishing process. For better or worse, I would take on the role of editor, designer, publisher, printer, marketer, distributor, etc, in an attempt to understand the full lifespan of the work. Funnily enough, the most challenging part of the process was the design phase. As designers, we are often used to having framework — a brief or guidelines — to follow when producing work, and to be left completely to one's own devices can be a little daunting.
For this project, I wanted to be fully conscious of aesthetic predilection and able to substantially validate design decisions. So — and I'll preface this with the fact that I am a massive geek — I wrote essays on page numbers and margin widths and paper weights and so on; a methodology of deep-dive research that allowed me to analyse best practice and explore historical interventions. I spent about three months on design research (a luxury of academia) for Between Two Strangers, and of course that research has informed not only my future GLORIA projects, but how I address my client work as well.
You recently launched
the second edition of your experimental cookbook Dirt, with a new cover design. Why did you choose that image and was it difficult after investing in the cover for the first edition to revisit the design and find something you were equally happy to publish?
The beauty of having complete creative control over the publishing process is that you can decide to do things like change the cover and there is no one else to convince! I designed the new cover not because I disliked the first edition, but as research into the reception of the book. I am lucky to have
Strange Goods
, an art book store, in my studio, so I was curious to see if more browsers picked it up with the new cover (spoiler: they did).
In terms of selecting the image, it was a photograph that we loved from the shoot but wasn't included in the first edition. The subject is fitting; the chef, Gemma Walsh, uses an abundance of spices in her food and she values tactile, hands-on processes. It is also symbolic of our close collaboration; the previous cover showed Gemma's hands and this cover has my hands.
What is on the horizon for you?
I guess this is a good opportunity to plug the next GLORIA book! Our next release is
Still Looking Good
, a photobook by Alice and her brother, dancer/choreographer Oliver Connew. The work has gone through several stages; it was originally presented as a performance piece, then
a short film
, and concludes in the form of a book. It was shot on location in Germany and New Zealand, and brings together dance, sound and a visual aesthetic that are drawn from and reference pervasive socio-political forces that organise modern human activity.
As for me, I took a break from production this year to focus on research (as well as other side projects like Strange Goods and Present Tense : Wahine Toi Aotearoa). There are several seedlings for GLORIA projects in the ground, and hopefully one will bud into a fully-formed publication sometime next year.
In her 'Leading Ladies' series you told Hollie Arnett that "Some of my favourite designers are women, and having those role models have certainly impacted my career" and I think you are participating in Womentor (or have previously?)… Can you tell us a little about the mentors and role models that have been formative in your career?
I'm fortunate to surround myself with women designers who have forged their own alternative pathways. Because they don't always get/want the recognition they deserve from the design industry, incredible designers like Catherine Griffiths, Sarah Maxey and Ella Sutherland, amongst others, sometimes fly under the radar. The Present Tense : Wahine Toi Aotearoa project, led by Catherine, has been instrumental in championing the voices of local women designers in a way that is, importantly, collaborative, inclusive and doesn't reek of competitiveness.
With a more global perspective, the Womentor programme is doing similar important work in connecting women designers. I'm part of the programme for 2019 and my Womentor, Shabnam Shiwan, is a wonderfully pragmatic businesswoman — a trait that has been antidotal to my sometimes discursive practice!
Of course, there have also been men who have been highly influential in developing my dual practices but I won't name them as they might get even bigger heads! I'm joking — they know who they are.
Do you have any tips for designers wanting to either find a mentor or get the most from an existing mentor relationship?
In Aotearoa, we are exceptional in the fact that our small community is very open to giving their time and wisdom to rangatahi. Unlike the often hierarchical systems overseas, it is quite simple for a young designer to email someone that they admire and arrange a coffee. They might not be able to commit to a full mentorship, but most New Zealanders will generally give a good hour of their time in exchange for a flat white. Just ask.
You are also investing a lot of sweat equity into the Designers Speak Up initiative. We love that you're giving our female designers a platform with the Present Tense : Wāhine Toi Aotearoa poster call and exhibitions. How can people get involved?
The work that Catherine is leading with Designers Speak (Up), The Directory of Women Designers and Present Tense : Wahine Toi Aotearoa is incredibly important in terms of championing women-identifying designers, diversifying the industry, and creating an alternative historical index of work produced in the current landscape. Reading through the first submissions was an eye-opening experience — aside from the broad spectrum of critical topics expressed in the posters, simply to hear the collective voices of all these designers 'speaking up' felt like I was hearing a choir sing for the first time.
The Present Tense project includes the ongoing accumulation of posters — printed, projected, and
published online
— as well as contextual essays from design writers such as Chloe Geoghegan and Lana Lopesi. The exhibition continues it's hīkoi around the country — it is currently on display at Laurel Projects in Ōtepoti/Dunedin, before moving to Te Pū o Te Wheke Arts in Kaikohe, Britomart in Tāmaki Makaurau/Auckland, Ilam Campus Gallery in Ōtautahi/Christchurch and Enjoy Contemporary Art Space in Pōneke/Wellington over the next few months. Each exhibition also includes a public programme so if you are in those cities, get involved!
If you'd like to be a part of the project, simply join
The Directory of Women Designers
and design a poster according to the guidelines (which can be found on the website). The final deadline is the
1st September
if you would like to be involved in the Auckland, Christchurch and Wellington shows.
And of course anyone who is interested can follow the project and see the posters on Instagram at
@designersspeakup
.