Photographic Arts in Christchurch
Written by Hannah Watkinson
In November of 2015, the idea for In Situ Photo Project, a new dedicated photography project space in the heart of Christchurch, was conceived. The aim was to attract and keep intelligent and talented individuals in the city through expanding our cultural platform and providing opportunities for emerging artists.
The vision to enrich the quality of life for the residents and visitors of Christchurch was, on a small scale, tangible through the nine exhibitions mounted in 2016. We recognised the impact that good photography could have on the viewer, and the difference that made to our audience when they were confronted with evocative work. We wanted people with limited exposure to art to be involved in conversations about how photographs make us feel, and why. We aimed to be an experience, rather than a destination, and to challenge preconceptions about photography. Our intent was for visitors to leave the space with internal questions and new ideas about the world they live in, their culture and beliefs.


Just over one year on, the process of running In Situ for the first year has brought with it some learnings that were never expected, as well as plenty of happy and encouraged artists, and overall a sense of satisfaction.
On a personal note, I completed my Fine Arts degree in a city that was, circumstantially, without an operating major public art gallery. Wellington's City Gallery, as well as the Dunedin Public Art Gallery, sustained my appreciation and love for large open spaces with some stand-out exhibitions over the 2012-2015 period, including photographers Fiona Amundsen, multiple works in the 'History in the Taking: 40 year of Photoforum' and the landmark Yvonne Todd exhibition in the Capital; with artists Gregory Crewdson and Laurence Aberhart further South.
From the inception of In Situ Photo Project at the end of 2015, the focus has always been on showing work by emerging artists. Post-earthquake, during the time in which Christchurch Art Gallery was closed, a growing number of smaller galleries around the city have been exhibiting work by emerging artists. What I noticed, however, is that there was a growing disconnect between artist-run spaces and galleries representing artists commercially in Christchurch. This is where I see the role of public art galleries as being incredibly important, and why I believe it was so keenly missed in Christchurch during repairs (CAG had over 10,000 people through its doors over the opening weekend in December 2015). I was aware from the outset that to be taken seriously when presenting ourselves (In Situ) as a public art space (albeit dedicated to photography, and with no intention to attempt to be any more audacious than we were small), we couldn't only show work by emerging artists. I was calling in a lot of favours by well-known photographers so that we could elevate ourselves to the level that people expected from public galleries, and what I had come to crave from other cities. That's why we show Mark Adams and David Cook and Tim Veling – why we showed Conor Clarke, Solomon Mortimer and Chris Corson-Scott before they were included in "The Devil's Blind Spot: Recent Strategies in New Zealand Photography" at the Christchurch Art Gallery in November 2016 – three out of ten of the 'early-career' artists exhibited.
I wanted to be the place where people would bring their social documentary projects to exhibit. The kind of projects that you want to see, but that you wouldn't necessarily buy to put on your wall, and that were also relatable and accessible in a public realm. I wanted people to wander into the space that may never have intended to visit a gallery – and focussing on photography allowed me to think about this kind of interaction a lot more carefully. Operating in the central city for the past year and a half, I have become keenly aware that there is little that you can do in the CBD to feel connected, that doesn't involve spending money. You can come and go to a restaurant, or shop, but in order for us to have a flourishing CBD there have got to be more activities to engage people's attention. For our community in Christchurch, it is about encouraging people to get out and do something and interact with things that open up different worlds for them. This is where galleries come in, particularly those of the public/artist-run variety. It is also why public and mural art has been generally so well received in the region.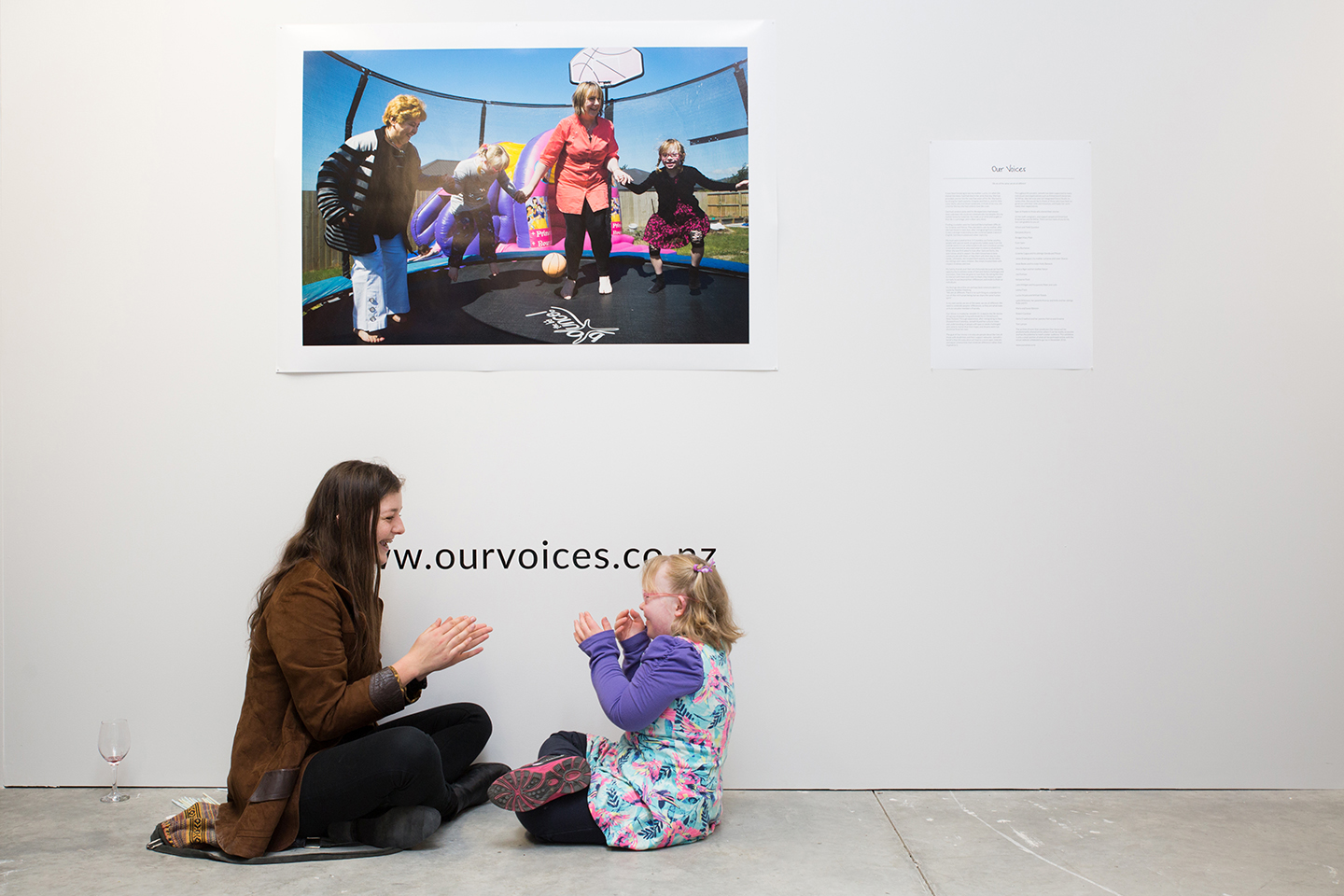 Art spaces change often more frequently than retail outlets. People will say, "Oh that was only around for a couple years at best, it's such a shame", but I think that is just the natural progression of things to begin and end, and it especially applies to galleries. It's also incredibly important for things to naturally evolve, and plays an equally large part in people's interaction with their surroundings – interest is held when things change. The creatives that are doing this, beginning projects and putting in the legwork to have spaces activated and art shown, are the ones that you want to have in any city. Artist run spaces anywhere in the country have limited lifespans for a number of reasons, and in speaking to people country-wide about their gallerist endeavours, no-one's intention has ever been to be "the longest running space". Creative people don't generally stay in one place, and any way that this can be considered disappointing is outweighed by the importance of this to artistic practice.
It is easy to do things that are temporary. It is a lot harder to do something long-term and sustainable. In Situ has been considered transitional from the beginning. When we hit the one-year-plus mark, we were not anymore, but we still didn't fit into any other category because our revenue streams weren't sustainable enough to be considered permanent. There is no bridging for that, and there is no in-between. That is when things began to become incredibly difficult to function as a public art space in the city, and to activate commercial vacant space – encountering changing council consent processes has been nothing short of tumultuous in 2017 so far. It takes commitment from corporates and other large-scale organisations, and people who consider investment into arts and community organisations as something more strategic than it may seem at face value, for spaces such as In Situ to be able to continue. It takes a realignment of processes to reinforce support that is offered from other parts of governing organisations. It is not just about giving money, but about how spaces can be leveraged and owned as an extension of a city presence – the alignment of brands with a space, and the pride taken in our city's creative endeavours by anyone who can see the value in them. It needs to be more than 'arts in the service of commerce'. The arts community may be small, but it is very loyal.
Arts and community organisations can get a lot of flack for the perception of what they are or aren't doing, but I think that in Christchurch the arts are doing very well. We've got some incredible people in the city and we need to do everything we can to encourage them to stay here. Give them opportunities and do everything in our power to ensure that we aren't placing restrictions on them. From my experience, it is not the property developers or gatekeepers who are holding us back – in fact, they're the most supportive, and often even the most visionary when it comes to incorporating arts into our cities fabric. The support I have been offered by real estate agents, landlords and retail tenants in the CBD has been above and beyond my expectations. Creative New Zealand, and indeed some of the early-stage Christchurch City Council funding initiatives, have been imperative. And of course the support of artists and other individuals is essential to any undertaking of this scale. But for In Situ to continue, and indeed for any new spaces to gain traction in the CBD, the resource consent restrictions around temporarily activating new vacant commercial space need to be reconsidered to reflect the City Council's community outcomes – for us to exhibit artwork, to engage residents and visitors in a way that makes the 'city liveable' and the 'community stronger' – we need to be able to physically occupy the space that is offered to us.
Was it harder than I ever expected? Of course. Will I continue for as long as I possibly can? Absolutely.
See more from Hannah Watkinson at: www.hannahwatkinson.net
---
In Situ Photo Project is a fine art/documentary photography project, exhibiting work by emerging artists alongside established New Zealand photographers. Through the showing, facilitating and promoting of the photographic medium, In Situ Photo Project seeks to provide opportunity for New Zealanders to experience high-quality arts.
Visit: In Situ Photo Project
BNZ Centre
111 Cashel St
next to Death by Denim
Christchurch