Fresh From The Field — Campaign for Māori Television by Fly
---
If you have new or recent work that you would like to share in Fresh from the Field email Lana for details.
The Challenge
Maori Television were looking to attract new audiences and address perceptions of being old fashioned and only for Maori.
Our brief was to increase affinity with digitally savvy audiences and engage them in Maori Television's kaupapa to normalise and revitalise te reo Maori.
It had to be fresh, surprising and inline with Māori Television's brand values. The campaign was to be ubiquitous across all Maori Television touch points: on air, online, social, PR and event activations.
Our recommendation: to be brave in using te reo Maori as an artistic device. To empower the reo to create emotive connections with people and their feelings about Aotearoa.
The Solution
The campaign invited people to create a personalised artwork of their "pepeha" – one's connections to whakapapa and whenua.
The artwork expressed five themes:
whanaungatanga/relationships
manaakitanga/hospitality
ukaipo/homeland
te taiao/environment
Hine-Raumati/maiden of summer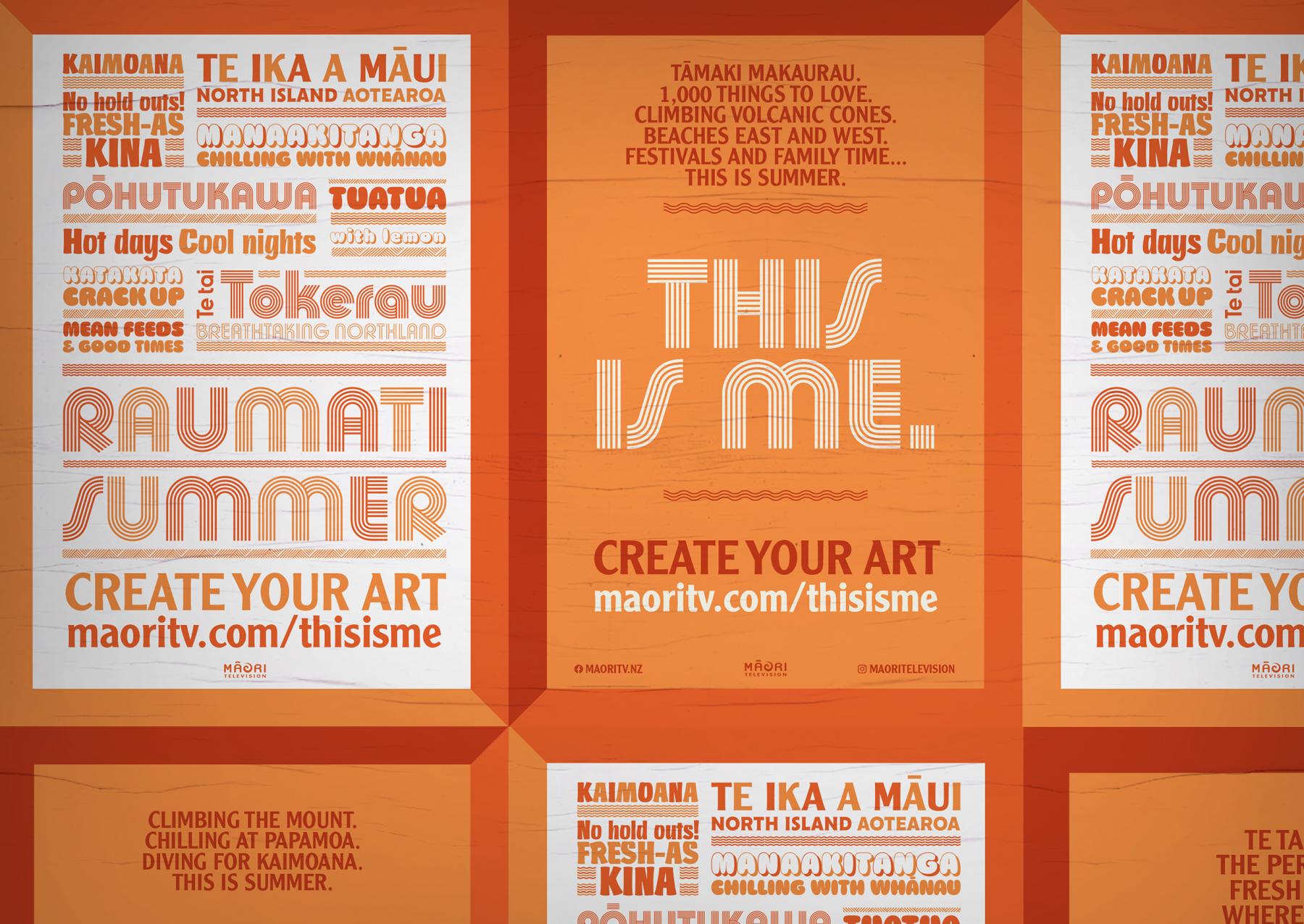 We created a digital platform where people could personalise their artwork through selecting colour, pre-designed typographic lock ups, patterns and open text fields. People could download their artwork, share it through Facebook and go in the draw to win it custom framed. Following this, they were invited to view summer TV content that aligned with their preferences; from hunting and fishing, kapa haka, comedy and kai shows.
"We believe that this campaign enhanced the mana of the Maori world view, while also being inclusive of all New Zealanders. Importantly, this campaign gave people the opportunity to engage with our brand and express their own feelings and ideas about Aotearoa."
KEELEY SANDER, HEAD OF MARKETING, MAORI TELEVISION
Nga mihi ki:
Johnson McKay – Creative Director
Tim Hansen – Design Director
Jason Fantonial – Senior Designer
Storm Smith – Designer
Melody Casse – Campaign Director
Keeley Sander – Maori Television, Head of Marketing
Amy Frecklington – Maori Television, PR
Chris Osbourne – Maori Television, Social