Fresh from the Field — Nespresso by Greg Straight
This week's Fresh from the Field features Greg Straight's collaboration to launch Nespresso's new North Shore Boutique for Nespresso.
---
If you have new or recent work that you would like to share in Fresh from the Field email Lana for details.


The brief:
Last year, Nespresso asked me to work with them on a unique art project to launch a new boutique concept in Albany, Auckland. This was a dream project for me. My wife Hannah and I have been enjoying Nespresso for years and I was excited by the opportunity to work with I brand I genuinely love, to create something special for our North Shore community.
It started with a few phone calls – talking the initial brief, scope of work and ideas – but the thing I wanted to know most was how this global brand found me. The answer was simple; they saw some of my pieces in a recent interview, loved them and spied our coffee machine in the background.
The store, which opened before Christmas, offers a completely new shopping experience and introduces Kiwis to the world of sustainable coffee.
Sustainability is at the heart of this new boutique concept with the store weaving in some unique elements like table-tops finished with used coffee grounds, Forest Stewardship Certified wood, high-tech systems which minimise the energy and water used by the store and a capsule recycling collection point.
As part of the fit-out, I was asked to create three custom pieces; an art installation made entirely out of Nespresso's recyclable aluminium capsules, bespoke wallpaper and a special Limited-Edition Auckland coffee pack containing a selection of Auckland's most popular coffees.
Design response:
Coming up with a theme was the first, and one of most important steps in the design process. Even though these were three separate works, it was important that each worked individually but also collectively in the store.
My chosen design or theme was inspired by a unity between Auckland's rich coffee culture and my neighbourhood – the beautiful North Shore coastline – which features iconic local landscapes and references such as Rangitoto Island, Murray's Bay wharf with sailing boats of sunny Takapuna, local pōhutukawa trees as well as snapper and tuis; favourites from our ocean and local reserves.
In the upfront stages, I began by sketching different elements with pencil on paper, before doing a final sketch on my iPad Pro with the Apple Pencil. I then jumped on my desktop and worked up the individual elements before creating the more detailed finished design.
Size and space was also a consideration because I wanted the artwork for the coffee assortment to wrap around the sides of the box – creating more of a placement print as opposed to a full repeat which I did for the store's wallpaper.
I knew each piece needed to be fresh, eye catching and capture the essence of Kiwi life on Auckland's North Shore. And by stylising the icons, they seamlessly merge into one design which works well alongside the store's fresh look and feel. I also wanted it to have a friendly vibe, modern look and hold local relevance; making it a unique gift for North Shore and Auckland coffee lovers alike.
My capsule art installation – called Coastal Evergreen – depicts a pōhutukawa flower, a reference to the North Shore environment which was included on the complete coffee assortment pack. The 1343mm x 1366mm artwork used more than 1,000 capsules and hangs as a permanent fixture to the right when entering the Nespresso Albany Boutique.
A two-month project from start to finish, the last two weeks were the most intensive – both physically and mentally. If I'm being honest, a few more Nespresso's (four a day) were needed to kick start my creative process and wake me up each morning. The capsule art installation alone took close to three days to complete but it was worth it! It was such an incredible experience and I hope Aucklanders enjoy what I've created.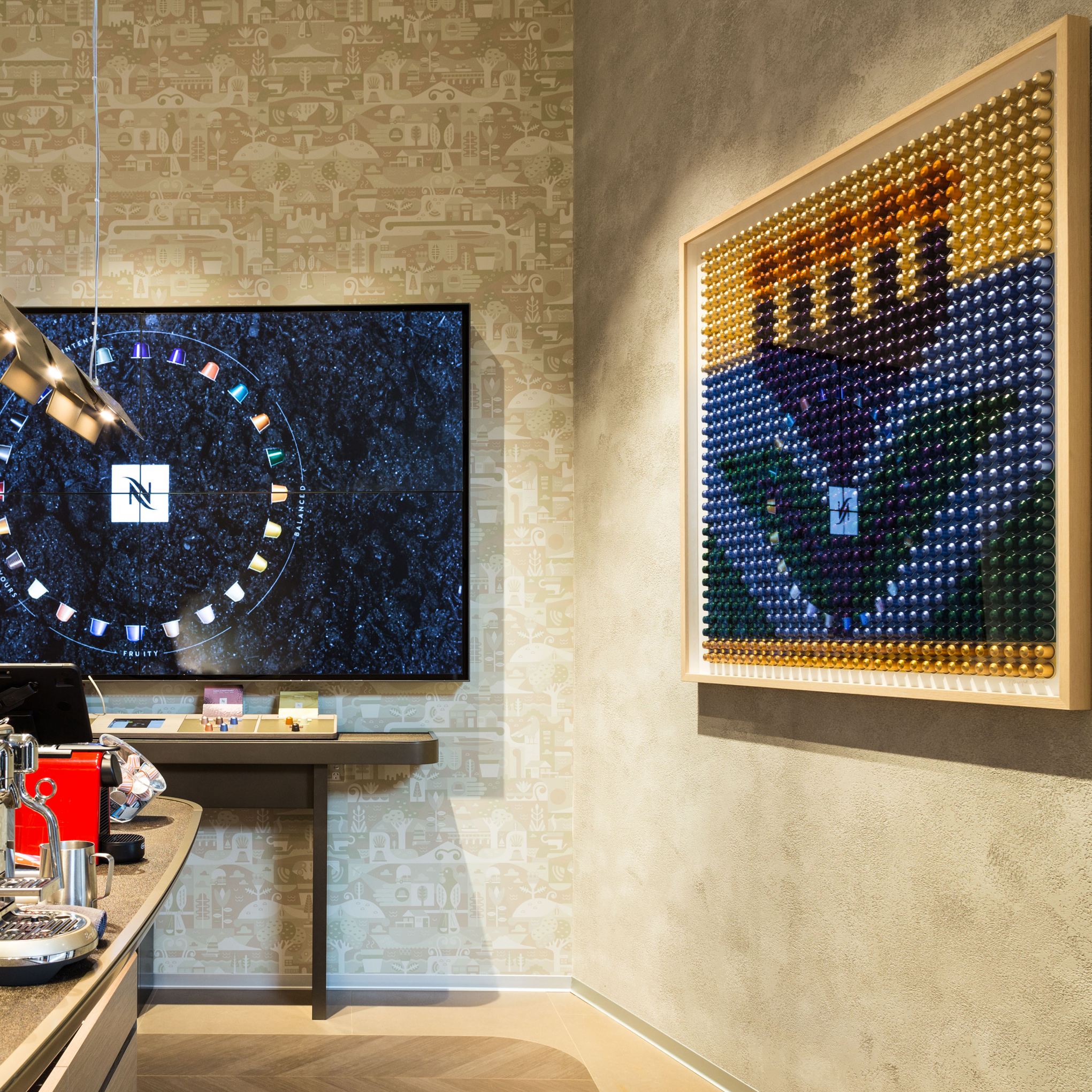 NZ Albany Coffee Assortment Pack & Boutique Capsule Art
Client: Nespresso NZ
Illustration & Artwork – Greg Straight, GS Studio
PR / Media agency – Pead PR
Photography – Larnie Nicolson