2023 Hot New Things: Xanthe Griffiths, Communication Design at Otago Polytechnic
Each summer DA profiles a selection of the top design graduates coming out of our tertiary institutions. We welcome these talented emerging professionals to our industry, learn about their passions, final projects, developing creative confidence and ambitions for the future.
Today we speak with Xanthe Griffiths who studied communication design at Otago Polytechnic. You can find out more about Aotearoa NZ creative study options by visiting our design schools page.
---
Can you tell us a bit about yourself?
Kia ora! This question is always hard. It reminds me of back in school and you'd have to go around the circle and introduce yourself and also say something you like that starts with the same first letter of your name. Mine was always, 'Hi I'm Xanthe, and I like xylophones.' I actually didn't like xylophones. Moving out of home to go study in Ōtepoti created a lot of growth in myself and I learned that I love a lot of things. If I made a list it would be very long but it would include some of these things; I absolutely love colour, I love the different shades and depths of green you get in the bush, I love typography, I love looking at signs and judging their use of font. I love community and family, I love mugs, I love collecting books and mostly reading them, I love finding the perfect pen and using it for everything. I love the sound of the ocean on the sand, the blankness and withdrawal of breath when jumping off a jetty and the surreal feeling of swimming under water. I love the way ducks waddle, I love Kererū and Pōhutukawa and the sounds of Moreporks at night. I love personifying and naming everything and anything. I love everything to do with publications, collecting design books and magazines and looking at paper GSM. And mostly I love people with passion!
What did your graduating project focus on?
Eco Ōtepoti is a self-initiated project about creating easy information for being more eco-conscious and community-minded for the people of Ōtepoti. It is a deck of playing cards with information including; connecting with the community like volunteering, where to buy more local and eco food, how to be eco in Ōtepoti and also information about mental well-being. I decided to holistically reach further than just the environment when talking about being eco-conscious as being eco-conscious is about doing what's best for yourself and your community as a whole. It is a circle of giving and taking and looking after Papatūānuku and her tangata whenua.
Why did you choose to study at Otago Polytechnic?
I found school slightly harder to be engaged in and wasn't interested in many of the subjects I took. I wanted to be an engineer up until year 13 but I started failing all my physics papers so had to find something that was more up my alley. I don't remember being confident in my choice, but once I started studying Design at Otago Polytechnic everything seemed to fall into place. I've always been a creative kid. I remember making a magazine on MS Word and getting Dad to print it out at work. It's really bad but I remember being pretty proud. It's cool to see how far I've come with my design. The open day at Otago Polytechnic was really cool and I think that's how I made my decision. Seeing so many creative, open-minded, and enthusiastic people was so exciting to me. I wanted to be a part of that!
What did you enjoy most about your course, or what do you feel you can take away now that you've completed it?
I enjoyed so much of my course! I really enjoyed the last two years as I got to pick some really fun and interesting courses like typography and packaging and absolutely loved my final major project. This degree has been so hands-on and the lecturers are all amazingly helpful and approachable. I feel like I've learned a ton over the past three years of my degree. Even just the basics of composition, typography, colour, etc. I felt like this course encouraged you to push yourself outside the box and embrace your creativity!
Were there any exciting or unexpected discoveries to come out of your studies?
Studying design I didn't expect to be so connected with others. I absolutely love the fact that design can bring people together. Design can share people's stories, their lives or their culture. Design can motivate, inspire and create new perceptions for people. It can also bring people together and create positive change. Design isn't just about making things look pretty, it is a powerful tool that can do amazing things!
What was your biggest challenge while studying and how did you overcome it?
Being confident in my designs! When I first started the course I was struggling to not compare myself to my other classmates. I always thought the person next to me was better. However, everyone's work and their designs are so personalised and unique to them. I don't believe anyone's work is better than others, you can't compare design. Learning to be confident in my skills was definitely the biggest challenge and I'm still learning about this too. I think the biggest thing to remember is that your work is your own and what you are doing is hard and that's something you can be really proud of. Embrace the mistakes and embrace the imperfections of your work. I have recently gotten really into drawing, but I like drawing things that look scribbly. Most of it looks like a big mistake, but this style is unique to me and it feels right to have fun and be messy!
Was there someone (or something) that inspired you to pick communication design as a career path?
My choice was a little bit random to start studying design, but I think I knew in the back of my mind that this would be the perfect path for me. The variety, the creativity, the people and the activism that design brings was a big pull for me.
Which piece in your portfolio are you most proud of and why?
In the middle of 2021 I started a little magazine called The Funk. It's called The Funk's content ranges from short stories, interviews from designers, coffee reviews to what cult you should join. I designed, curated and bound the magazine myself, meeting lots of really awesome people along the way! I get to sell my magazines in two different stores in Ōtautahi which is amazing. I love my little brand of The Funk, I'm currently working on a third edition which is all about our old folks and their lives as crazy youths. I've created bits and bobs around the magazines including; postcards, posters, stickers and t-shirts. I'm a little bit obsessed with colour, publications, typography, people, emotions and everything funky looking. So I guess The Funk was a way to bring this all together.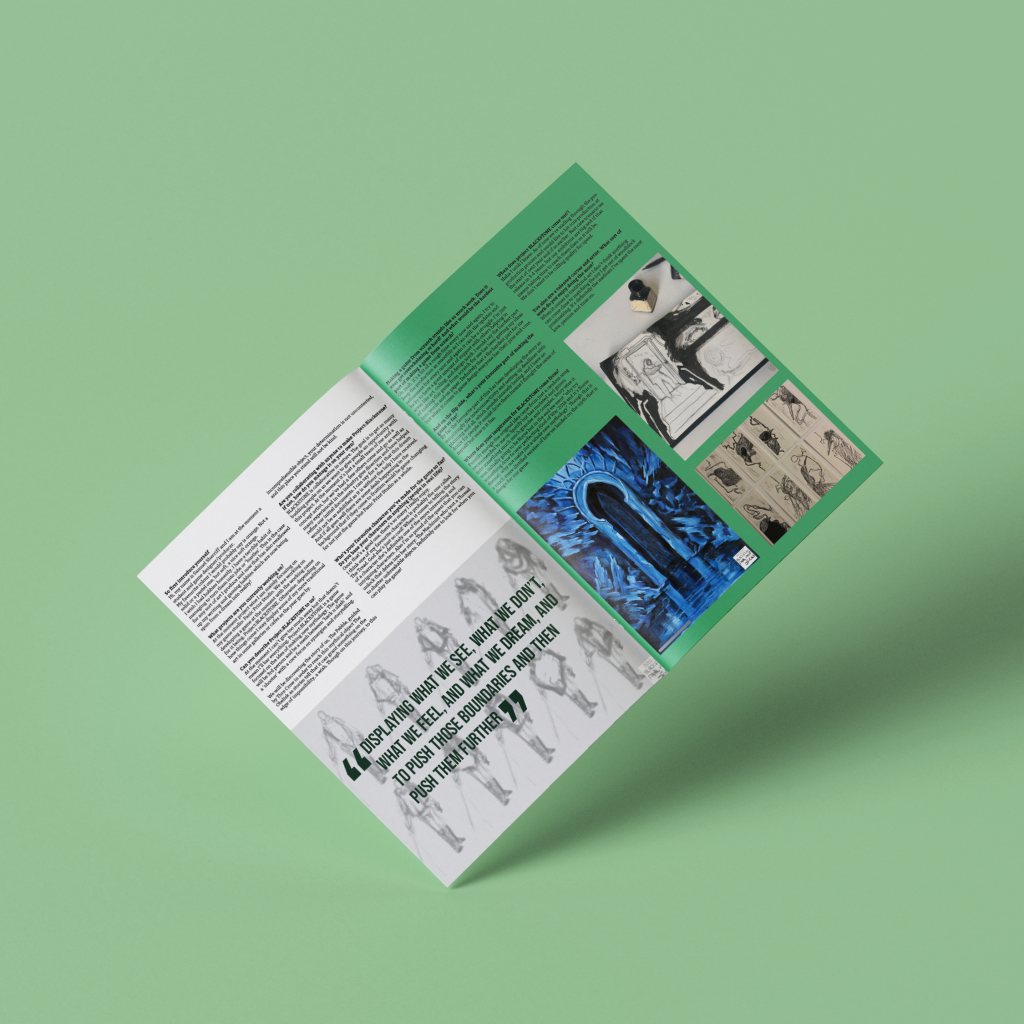 What's next for you?
I am currently in Momorangi Campground up in the Marlborough Sounds as a DOC ranger! Which feels like the opposite of design. However, I love this part of New Zealand and I love being outside so it felt like a perfect change in scenery for the next 5 months. After this I'm not entirely sure! I would love to eventually end up in Wellington and get a funky design job up there. I'm also super excited to see what else there is out there too., I would love to work overseas, design or not! Or venture down south to work on the ski fields! I am so excited about the future and the insane amount of options out there.
How can people get in touch or see more of your work?
If you'd like to get in touch flick me an email on griffithsxanthe@gmail.com
If you want to see more of my design work I have an instagram called @kina_designs_ and also an instagram for my mag called @the_funkiest_magazine 
Check it out as I love running my Instagrams (especially The Funk's) and I love all interactions I get from it.