Fresh From The Field — The True Honey Co. Rare Harvest Limited Edition Mānuka Honey by Marx Design
This Fresh From The Field features innovative packaging design from Marx Design inspired by the iconic mānuka flower
If you have new or recent work that you would like to share in Fresh from the Field email Louise for details.




The Brief:
Given their drive for excellence and dedication to finding the most pure and pristine Mānuka forests in the country, it's fitting that The True Honey Co. harvest the highest rating Mānuka honey ever to be recorded. Certified at 1,700+ MGO (31+UMF), this single source, limited edition honey is the pinnacle of luxury wellness.
Mānuka is a notoriously fickle bloomer, needing just the right combination of sunshine, warmth, gentle breeze and rainfall. Given New Zealand's fickle climate, the perfect harvest is a rare event.



The Response:
Inspired by the Mānuka bloom, Marx worked with Think Packaging to design a box that gives new life to the protective 'wedge' packaging of the core range. Hand crafted by master bookbinders, each 'petal' magnetically locks together to form a theatrical 'unboxing' experience, also serving as a display unit for the precious honey jar and bespoke honey drizzler.
The amber jar is completed by a hand-turned lid made from sustainably sourced heart rimu. The box is closed tight with a highly finished, textured paper wrap and sealed with a hand-signed tamper proof sticker. A labour of love, from the beekeepers to the wood turners.




Packaging description:
Inspired by the mānuka flower, the box open by folding down five petal-like wedges to reveal the honey.
When only the three front wedges are open the box becomes a display case, creating an arch frame for the jar and complimentary shaped hand-turned lid. The bespoke designed honey drizzler is housed in one of the wedges.
Sticking to The True Honey Co's values and position on sustainability, the lid and drizzler are made from sustainably sourced native heart rimu and brass. The jar is amber glass and screen printed.
As the likely channel for this product is in the airport, sold as a luxury gift, the box is sold in a cotton bag to ensure nothing gets damaged. The jar is locked in tight at the base to ensure no movement in transit.
The box outer is constructed from book-binders cloth with an emboss face on the front wedge.
The box is closed tight in a highly finished printed wrap, with a tear tab to open.




Font: 
Aperçu – Colophon Foundry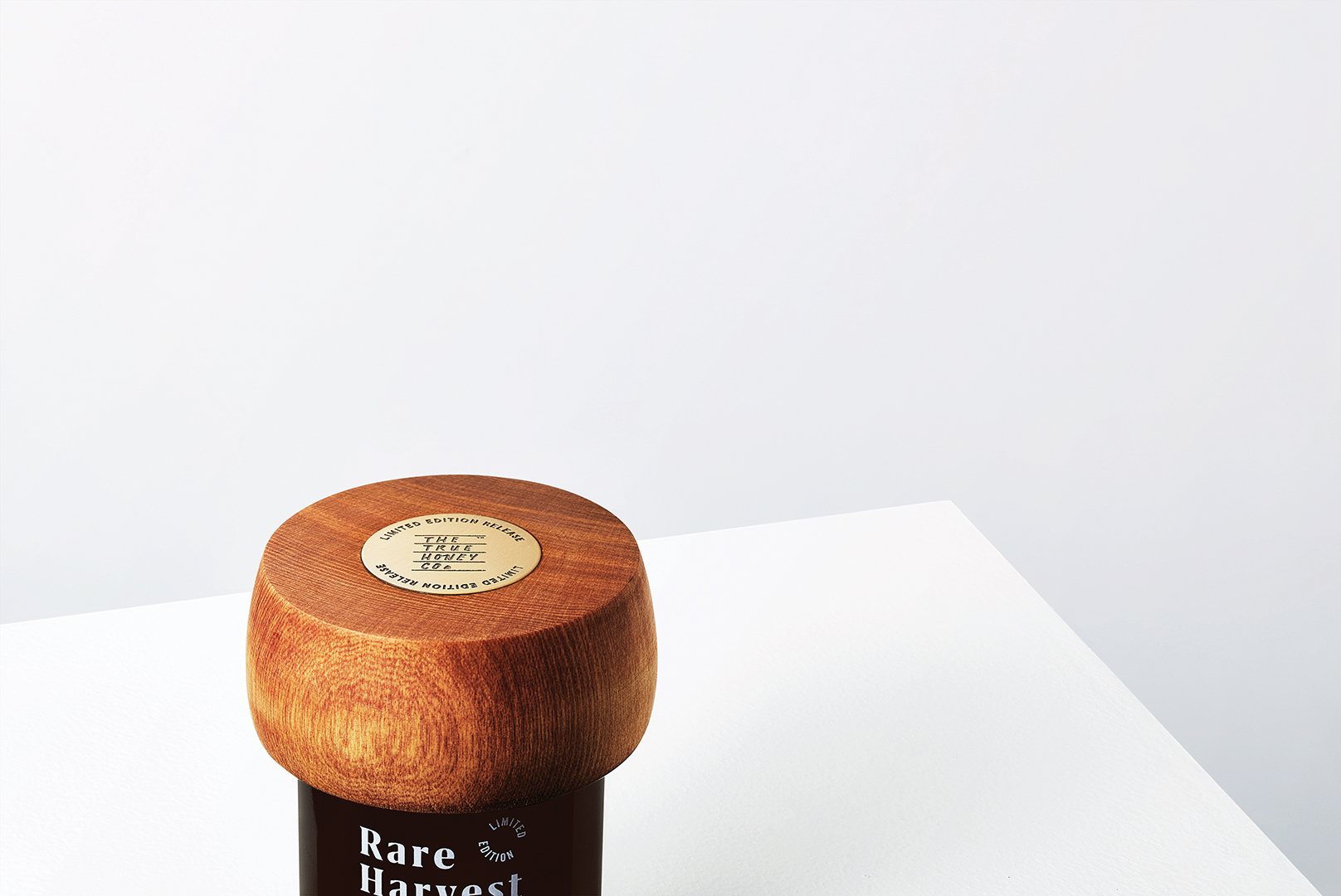 Finishing:
Paper – Colorplan Bright White, Sandgrain Emboss
Embellishments – Gold foil, clear foil and emboss




Contributors:
Think Packaging – Box engineering
Kate Phillips – Copy writing
Book Binding Press – Book Binding
Woodlynn – Wood turning
Logick – Print