Auckland: DA Conversations Autumn series — Meet the panel
This years DA Conversations are back to discuss pertinent issues for the New Zealand graphic design community. In 2018 Sean McGarry, Creative Director at Voice will convene the conversation in Auckland between Donna McCort, Creative Director and Leonie Whyte, Senior Designer at Dow Goodfolk; Caroline Powley, Senior Lecturer at AUT as well as Nick Riley, Creative Director and Jonte Goldwater, Strategy Director at Culture&Theory. In the lead up to next weeks event each of our panelists reveal their big question (or questions) which they will attempt to answer and put to each other.



Donna McCort — Creative Director at Dow Goodfolk
"I have been working in design for 30 years. I studied design at the ripe old age of 26, at Wellington Polytechnic School of Design (now Massey), after having started my life as a Phys. Ed graduate at Otago University, and then going on to be a Maths teacher for 4 years. I worked at Designworks and TVNZ before joining Dow Design, where I have been the Creative Director for 12 years.
Dow has now become Dow Goodfolk, and we remain committed to beautiful design for brands, based on strong stories bedded in truths. We see digital as being just one more medium for brands to connect with people. But it all starts with design: insightful ideas that solve problems creatively."



Leonie Whyte — Senior Designer at Dow Goodfolk
As Senior Designer at Dow Goodfolk with 20+ years experience there's not much that hasn't crossed Leonie's desk. Working closely with Creative Director Donna McCort, she makes up the senior design team focused on translating strategy led brand stories into memorable and beautifully crafted solutions that connect with audiences. Leonie's portfolio crosses multiple disciplines from FMCG staples like Fresh 'n Fruity, Hellers, Macs, V Energy Drinks, Sealord and Pams to Corporate and lifestyle brands like Air New Zealand, Synlait and ClickClack.
Outside studio time she co-curated 'Make Something' with its founder Bevan Tonks. Make Something was a yearly event that celebrated New Zealand graphic designers and gave them a forum to exhibit work outside of the constraints of their normal working lives.
Donna & Leonie ask:
— Designers! Are we underselling our value?
— How many jobs do you do where you spend more time on the job than you quoted for?
— Should DINZ publish a range of expected hourly rates for design? (like the Law society)
— What do you do when the budget is fixed but the brief changes?



Jonte Goldwater — Strategy Director at Culture&Theory
Jonte is a strategic design thinker and planner with 20 years of client side brand marketing experience. He has developed brands and portfolios in the UK, Australia and New Zealand for blue chip companies such as Lion, Diageo and Seagram. Jonte is driven by the positive change that comes from people, brands and business all aligning around a single purpose.
Nick Riley — Creative Director at Culture&Theory
Nick is an award winning designer with over 15 years experience, working at some of Australasia's leading brand agencies before co-founding Culture&Theory. Nick has worked on major rebrand projects for Air New Zealand, Auckland Transport, New Zealand Tourism, Westpac, Methven and New Zealand Cricket. As Creative Director he believes that we should not design for brands, but for the people who will ultimately connect with them.
Nick & Jonte ask:
— What's the role of a design-led agency in a world that's shifting from being comms focused to experience focused?



Caroline Powley — Senior Lecturer at AUT
Caroline Powley is an educator and researcher, with a solid background in commercial graphic design. She currently teaches on the Graphic Design pathway within the Communication Design department at AUT. Caroline's design research focuses on the relationship between typography and place, with particular interests in vernacular type and interpretive type design. Her research outputs include journal and conference papers, as well as exhibitions of book design and printmaking.
She has worked for design studios and advertising agencies both in London and Auckland. Caroline's commercial work has included arts promotion, publishing and web design for a wide range of clients, including the South Bank Centre, National Geographic and Leo Burnett.
Caroline asks:
— What's the point of going to design school?
— What processes can designers use to ensure they create authentic work?
— How could academia and industry work together?


Sean McGarry — Creative Director at Voice
Sean is creative director of award winning brand agency Voice and has been drawing pretty pictures, as someone once referred to his chosen career, for over 2 decades now. Sean was previously Creative Director and partner of Wellington based agency Base Two and spent 3 years contracting in London for agencies such as John Ryan International and Siegel Gale where he honed his skills on projects across the automotive, financial, motorsport and hospitality sectors.
Projects in New Zealand have included a diverse spread of work for clients from the arts, corporate and government sectors and he spent 5 years giving back to the community working with a talented team of industry pro's to raise the profile and value of design as a board member and president of DINZ. He has won awards onshore and offshore, judged the Best, NZ Book and Pride in Print Awards but believes it's his passion for producing great work with great people that really spins his wheels.
Sean asks:
— How do the leadership teams of larger agency's protect their professional integrity to ensure that the ideas that their teams are producing are original and not simply lifted from the internet?


—
Join us at Thievery Studio — 27th March from 6pm onwards, with the conversation kick-starting at 6:30pm. Book your tickets for Auckland here.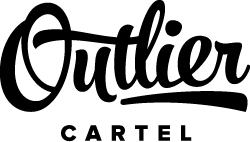 Thanks to Outlier Cartel for being our refreshment partner
SaveSave
SaveSaveSaveSave
SaveSave
SaveSave
SaveSave
SaveSave
SaveSave
SaveSave
SaveSave