Looking Back to Look Forward: In Conversation with Turumeke Harrington
Written by Lana Lopesi
Supported by Creative New Zealand


Lana Lopesi is the editor of Aotearoa Design Thinking 2017, a series of commissioned critical design essays published by Design Assembly and funded by Creative New Zealand.
This article is the final in a four part series that looks at design and the 'Other' that will be published over the course of this year. This series will consider the various roles of design and design objects outside of dominant design discourses.
Part One: Turning the Pages, is available here.
Part Two: Beyond the Frangipani: Pacific Designers on Pacific Design, is available here.
Part Three: Wearing Dissent: The Politics of the T Shirt, is available here.
---
When I first started to conceptualise what my four Aotearoa Design Thinking pieces were going to cover I knew I wanted to focus on practices which haven't already received much airtime in Aotearoa's design discourse. I wanted to highlight work which was political, complex and important. So far, the series has covered women artists who use graphic design, Pacific designers confronting the subject of what 'Pacific design' looks like and the political design of the t-shirt. And now I find myself writing the final article of the series, even though I've only just hit the tip of the iceberg.
For this last piece Turumeke Harrington and I chat Māori design, intellectual whakapapas and the social role that design can have. Turumeke (Kati Mamoe/Ngāi Tahu) is a product designer based in Ōhinehou Lyttelton. Her recent solo exhibition Whai Whakapapa: Te Tuatahi at Studio One Toi Tū was a "chance to remember the past and look into the future of Māori customary art practices and materials". She has just left the shores of Aotearoa for Vancouver, Canada where she is undertaking a Masters of Design at Emily Carr on an indigenous scholarship to further develop furniture and other objects through a study of whakapapa.
Ko Maukatere te maunga
Ko Rakahuri te awa
Ko Ngāi Tahu ko Kati Mamoe ōku iwi
Ko Ngāi Tūāhuriri tōku hāpu
Nō Ōhinehau ahau
Ko Turumeke Harrington tōku ingoa
---
Top left: Render of works for show at Toi Tu, 2017; top right: Whai Whakapapa Toi Tu, 2017 (photo Abby Farrow); bottom left: Overly Complex Methods of Production, 2017 (photo Abby Farrow); bottom right: Kāore e kore (Without a doubt), 2017 (photo Abby Farrow).
Lana Lopesi: Johnson Witehira, holds a leading position I guess you could say in terms of discourse around what 'Māori design' is, recently commenting that,
"A Māori world-view results in a Māori design process. I think that this process is the critical difference between a Māori and non-Māori designer. It's not something forced, though. It comes from having a grounding in tikanga (protocol) and te reo Māori, from being familiar with important cultural narratives, and from studying the patterns, forms, symbolism and meaning of customary Māori art. It is a combination of skill and knowledge, culture and craft, that makes a Māori designer."
How would you characterise 'Māori design'? What does it look like or feel like to you?
Turumeke Harrington: Today, I'd say that Māori design references – in aesthetics or kaupapa – a uniquely Māori story. For me Māori design is acknowledging the work that has come before us, and what makes Te Ao Māori unique.
I haven't found a definition that I agree with consistently, but Johnson Witehira's is pretty close, although I can become a bit uncomfortable when considering Johnson Witehira's definition. There are a lot of young Māori designers, myself included, who haven't grown up immersed in Te Ao Māori. Whilst I was fortunate, thanks to a pretty passionate mother, to have more interactions than some of my contemporaries the realities are that I am not fluent in the reo, I am not familiar with the marae I whakapapa to, my knowledge of tikanga has limitations and it has only been in the last few years since moving back to Ōtautahi that I have begun to really pay attention to the stories of our people. So, by Johnson Witehira's definition the work I would produce is perhaps not Māori design. Then again, I am Māori, and I feel a connection to these stories and definitely consider some of my work to be "Māori".
I can talk myself around in circles here! This question is everything to me at the moment, and I think it's important as a community we work to propose a multiplicity of understandings.
LL: I totally agree with multiplicity. It's only ever in cultural contexts that people expect there be a 'cultural style', what does Pacific design or Asian design look like etc, and while we may share cultural values we are not one homogenised mind! I guess I'm interested to know then what this would look like ideally? If we fast-forward 50 years, where do you hope Māori design ­– in all of its forms – will be, or would we not define it at all?
TH: There's talk down here (in Ōtautahi) at the moment about 'seeing ourselves'­ – you know a strong Māori visual presence in the urban landscape, like in Rotorua or Taupō. I hope in 50 years that we can see ourselves in the world and objects around us. Whatever that might look like. I think there'll always be a place for defining certain practices ­and by then we might have a clearer idea of what exactly Māori design is.
LL: So then, can non-Māori do Māori design?
TH: Yes, with pause. I feel as though the wider elements of Te Ao Māori – reo, tikanga, stories – are expressed, the more comfort and pride we might have as a nation in that identity. I tread carefully here and we need to find that boundary between appropriation and tokenism and a real respect and understanding.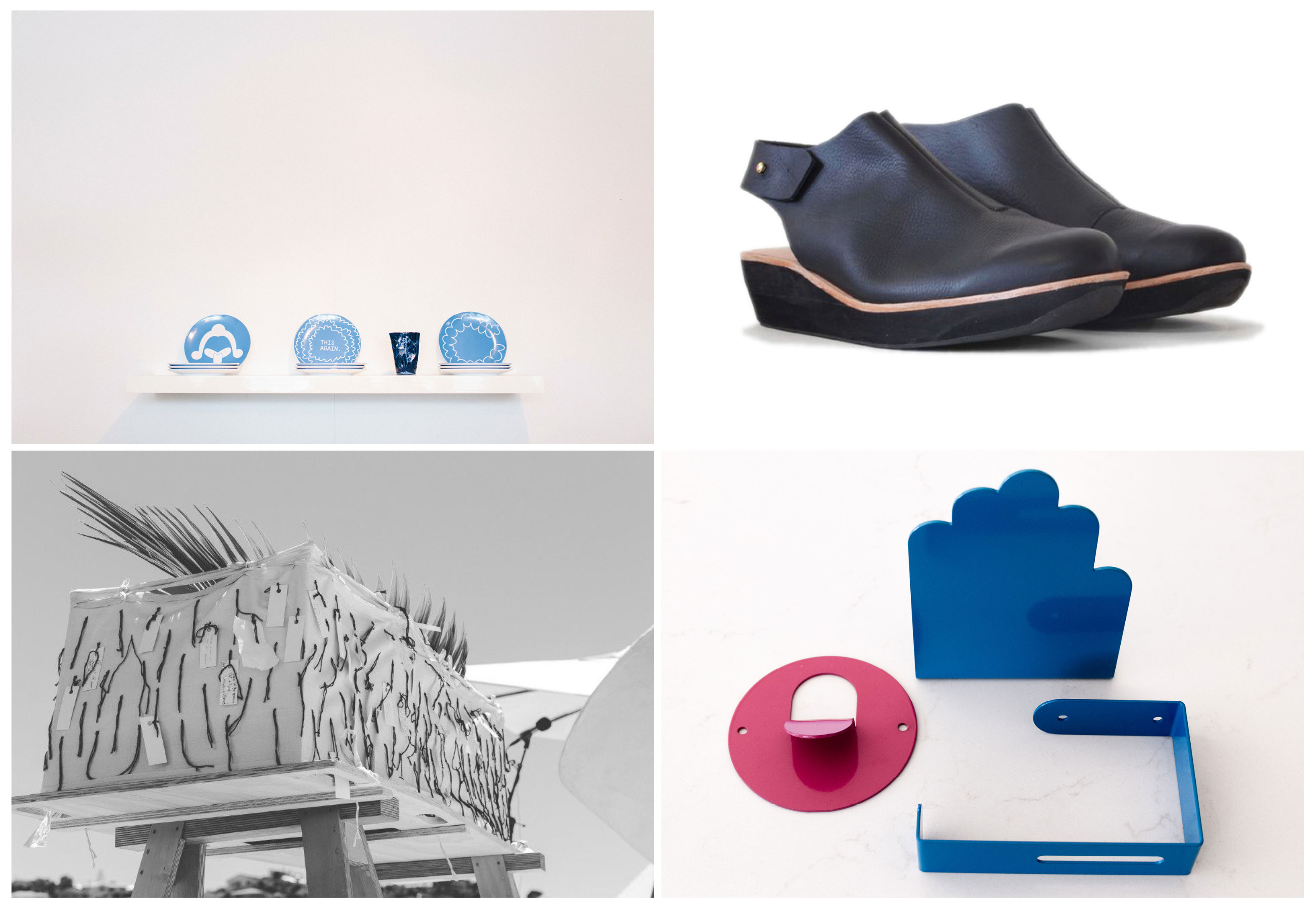 Top Left: Works from Still Life, 2016 (photo Naomi Haussmann); top right: Titoki Slingback, 2013; bottom left; Casket for Ian Athfield, 2015 (photo Nat Perkins); bottom right: steel collection: Steel homewares, 2016 (photo Charlotte Clements).
LL: I've been thinking a lot about tracing intellectual whakapapa, so for example artists or designers, can trace their whakapapa, not just of family, but also those who have influenced them, mentors and the like, this helps us to better understand the individual and therefore where their thinking comes from. You use this word too, what is the role of whakapapa in design?
TH: Hard out. I really enjoy considering whakapapa in these terms ­– like I am the product of my mother and father but I am also the product of those whose mahi has inspired me and whose technical and aesthetic developments provide the resources available today. I think all design is a product of the designers respective whakapapa. How could it not be? Even working to a commercial brief, say, we are what we've seen, where we have been, who we have known. I just choose to explicitly acknowledge it, seems a very Māori thing to do. You know, the first things you want to know about someone is where they're 'from'.
LL: What is your whakapapa then? Whose work has influenced you?
TH: Wayne Youle, David Shrigley, Lisa Walker, Rangi Kipa, Lewis Gardiner, Karl Fritsch, Mr. Parekowhai…. I'm really drawn to these artists at the moment, for their humour, their materiality and their work around identity and craft. Not an extensive list, but these are the artists I keep coming back to.
In a design sense I'm influenced more by qualities and specific objects. I keep thinking of this German made vegetable peeler. It's not an iconic brand or a piece of work I lusted after, but every time I use it I'm just so impressed and thankful I'm not using one of those shit ones from the supermarket.
LL: I'm interested in this phrase you used to describe you last exhibition Whai Whakapapa: Te Tuatahi, "to remember the past and look into the future" and it reminds me of the work that curator Kolokesa Māhina-Tuai does in terms of not drawing a line between traditional and contemporary or between art and craft, because for many Indigenous cultures that is not actually an accurate way of separating making practices. Is this something that you agree with?
TH: Yes (if I'm interpreting that correctly). Although I do think in certain contexts there is a value to understanding contemporary, traditional, art and craft as different or separate.
LL: Can you tell us about what you plan on researching while undertaking your Masters at Emily Carr?
TH: I am very keen to produce something of tangible value. Also I will do further exploration on some of the kaupapa of Whai Whakapapa: Te Tuatahi such as identity, whakapapa, and I'm pretty keen to continue some work into developing public objects – furniture, play equipment.
I have a few ideas on how these might align, I was fortunate to have been awarded the Winston Churchill Memorial Fellowship earlier this year and I had some pretty amazing and confronting experiences at Milan Design Week and the European Academy of Design conference in Rome. In stark contrast to one another, those two events have given me a real drive to make this masters count for more than the degree at the end. I want something real, something that provokes or assists others.
LL: So, you have an interest in the social role of design?
TH: Yeah, for sure!

Pride of the Nation, 2017.
For more information about Turumeke follow her Instagram @turumeke or visit her website whaiwhakapapa.co.nz