Fresh from the field — Toast, by Designworks
This week's Fresh from the Field features the recent Toast project — a publication and accompanying promotional event — celebrating creative process by the talented team at Designworks.
---
If you've got new or recent work that you'd like to share in our weekly Fresh from the Field series email Zoë for details.
---
The Toast Project is about sharing an insight into how we work together, through meaningful connections and collaborations. We created 'Toast' to bring people together in creating recipes, a book and a creative event. So much more than a cookbook, it's the stories, and creativity of our people working together that makes it truly special. As a studio we know great ideas don't come from one person or one thought, it's all the little conversations, with lots of different creative minds that add up to create truly great work. Toast has become our metaphor for this, a crunchy, flavourful base with endless possibilities.
Our design approach to the book is deliberately pared back, intended to be subtle and simple. The covers of the book introduce the blank canvas, while the content inside heroes the creativity and personalities of our people – across our studios. Each recipe styled and signed by the toast maker as a personal touch. We captured the process with candid behind the scenes shots from the heart of the studio; the kitchen. The colour palette throughout was reflective of the recipes, chosen from the food itself.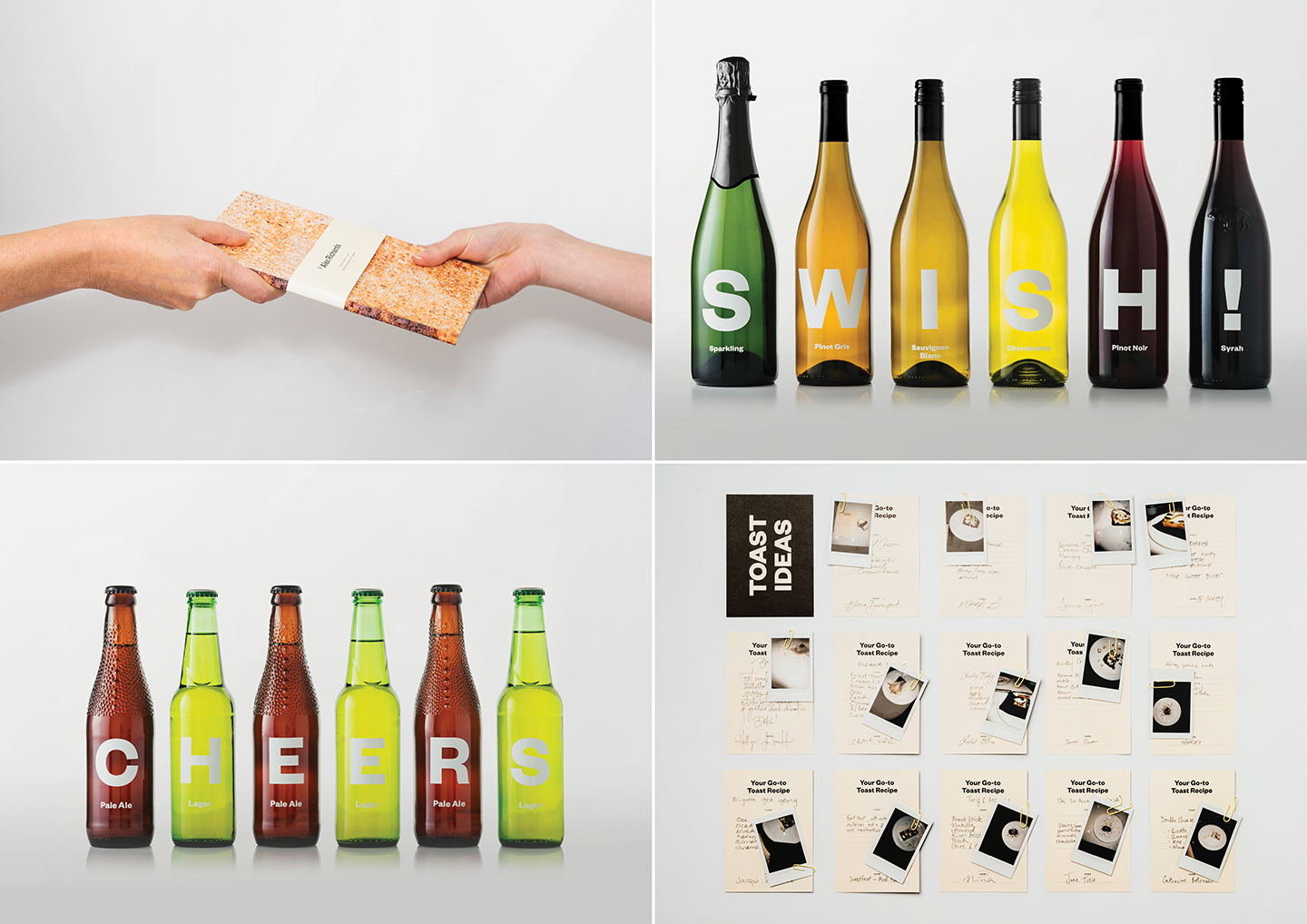 The event was a natural extension of the book. A toast to partnerships, to us and our clients working together. The structure of the event took our clients on the journey behind the scenes of the project, sharing an insight into how we work. The evening began with a 'meet and greet', with our creative director on coat check and all the books handwritten and individually addressed. 'Get a taste' was a short sensorial film that talked to the idea of creative collisions, accompanied by an array of our savoury recipes, recreated as bite-sized appetisers. 'Discover our process' was a physical installation of our iteractive and organic creative process, overlaying key moments in our toast project journey. 'The gallery space' displayed design happening and what went into crafting our delectable creations featuring selects and photo grading notes. And finally 'the toast station', where clients could be a part of the action and flex their culinary skills creating their own sweet toast creation. Recipe cards and a polaroid camera were there to document and record the recipes as the evening progressed.
A project true to the idea of 'working naturally', the thought that defines our way of working, Toast brought us all together, celebrating the shared creativity that makes design truly work.
---
See more from Designworks at: www.designworks.co.nz