Unlocking Your Designer DNA: The unique talents and strengths you bring to the table.
The 'Discover your Designer DNA' workshop series with Leadership Performance Coach, Jason Biggs, is happening in March 2023 this year across Auckland, Wellington, and Christchurch. In this workshop individuals will discover how to deeply understand and apply their individual CliftonStrengths assessment in order to achieve their personal and career goals.
---
Have you ever struggled to describe your innate, natural talents… your strengths?
What does that even mean when it comes to the day-to-day anyway? Aren't *talents* just those fluffy words we reserve for the 'About' section of our resumes?
Based on 30-years of research by Gallup, the developers of the CliftonStrengths assessment, 'talents' are our innate and unique ways that we show up in the world, "your natural way of thinking, feeling, or behaving."
By investing time to understand and develop our talents, we turn them into 'strengths', "Your cutting edge. They set you apart and are versatile enough for you to shape and develop them into your secret advantage."
The strengths we're talking about are the behaviours that support your technical skills and encompass things like:
"Adaptability, your ability to be flexible and quickly respond to unexpected circumstances that upset or intimidate others"
OR "Input, your natural pursuit to seek and store information which empowers you to make credible and well-informed decisions."
OR "Restorative, you love to solve problems. Whereas some are dismayed when they encounter yet another breakdown, you can be energised by it.
OR a number of other top strengths which are found within the 31 other CliftonStrengths themes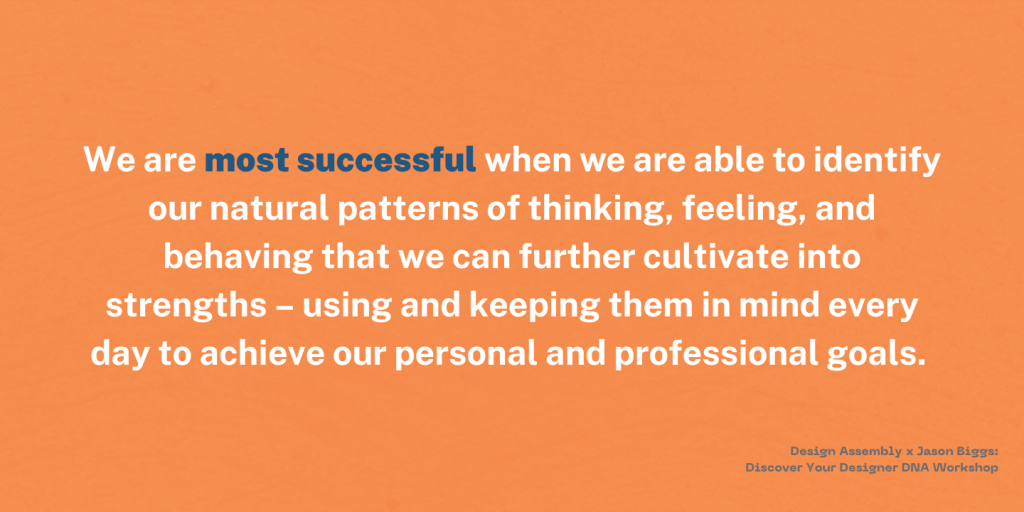 One way to do this is to ask yourself and/or chat with a colleague through the following questions and choose work that enables the following to occur:
What do you know you can do well, but haven't yet done?
What have you done well that you didn't need explained?
What have other people told you you're great at doing?
What sorts of activities do you finish and think, 'I can't wait to do that again'?
What are you doing when time seems to disappear?
In March 2023 we'll be running the "Discover Your Designer DNA" workshop with Leader Performance Coach, Jason Biggs in Auckland, Wellington, and Christchurch. You'll uncover your own unique talents and strengths, what they mean, and how to develop them into something you can depend on at work, at home, and in every relationship you have.
"Jason has worked in the corporate sector for over 20 years, managing teams and marketing brands like NESCAFÉ, KLEENEX and HUGGIES. He helps people understand why they do what they do and to leverage this to get what they want. In the last ten years he has worked with over 50 organisations from senior leadership teams to front line leaders, from large organisations to teams of 5, and has coached hundreds of people."
Interested to finally put a name to the things you do best and how you and those you work with can utilise your strengths on the daily to achieve your goals?
Find out about the "Unlocking Your Designer DNA" workshop and reserve your spot to attend below: