Aotearoa NZ Photographers – Manja Wachsmuth
We recently caught up with Aotearoa NZ Photographer Manja Wachsmuth and talked about shooting food, edible bugs, collaborating for the Hiakai book and NZ nature/landscapes. 

This article is proudly brought to you by mychillybin.



Portrait by Victoria Baldwin for Women's Work 2020.

Slow Roasted Miso Lamb Shoulder for NZ House & Garden #298 Meat Feature. Recipes and styling by Fiona Hugues.
How did you initially get started with the camera?
Right from an early age, I knew I wanted to be a photographer. Attending evening classes in photography when I was a teenager. Back then I would shoot street photography on analog film and develop them in the darkroom. Right from then, I knew I wanted to make a career out of photography, but I also knew I didn't want to do portraits, weddings, or journalism photography. Later on, I learned that I could do an apprenticeship in commercial and advertising photography and I thought it suited me quite well. I always enjoyed creating still life setups in the corner of the studio, I guess it was the beginning of nurturing my talent for food photography.
How would you describe your photographic style?
Simple, graphic, punchy, and direct. In my lifestyle work, also quite observational. I like saying things like they are. Of course, Photography is about creating beauty but I try and stay authentic, honest, and true to the subject focusing on at the same making it inspirational. This is quite in line with my personality.

Chai Whiskey Old Fashioned.
What do you enjoy most about shooting food?
I find it quite therapeutic in some ways. I love building the scene from scratch, in collaboration with a food stylist, working with light and composition to draw attention to a certain area. I love that food photography is something that brings people together and is quite inspirational for all kinds of people not just foodies and home cooks but people that in general enjoy nurturing others and creating belonging for their family and community.
How did your collaboration with Monique Fiso, Lucy Corry, Tracy Berno come about?
I first met Monique in my backyard digging up a hāngī. Back in 2017, I noticed this young chef that had returned to New Zealand from New York with the purpose to elevate Māori food culture into fine dining. I could see a really strong resemblance between that and what had happened to the Scandinavian food scene 15 years ago with René Redzepi's NOMA restaurant.
So I asked Monique to dig up a hāngī in my backyard for the purpose of a magazine article and that was the beginning of a long journey that essentially led to the creation of the Hiakai book.
Kawakawa. Styling by Manja Wachsmuth. Monique Fiso/ Hiakai Book published by Penguin Random House 2019. Photography by Manja Wachsmuth.

Octopus. Styling by Manja Wachsmuth. Monique Fiso/ Hiakai Book published by Penguin Random House 2019. Photography by Manja Wachsmuth.

Tell us about your images in Hiakai:
For the ingredients section, I was briefed to create an encyclopedia-style range of images of native foraged ingredients. If you imagine these neatly hand-drawn pictures of flora and fauna, I thought rather than photographing them on a white background I wanted to create a little bit of drama, so decided to keep the background dark and thereby draw the focus in on the colours and shapes.
With the Octopus image, I wanted to honour the Māori legend of Kupe the Explorer that chased a sea monster, te Wheke, across the Pacific ocean which essentially led him to the discovery of Aotearoa. This image just won 2nd place in the Pink Lady® Food Photographer of the Year Awards.
The creation of this book led to lots of interesting journeys and challenges to overcome, including me falling pregnant. For a photograph of Monique foraging, while she is jumping around on a hillside like an agile mountain goat, I am wrapped around a tree, holding on for dear life trying to avoid vomiting and rolling down the hill.
While we were shooting the book I was following Monique around for the various pop-up dinners and foraging events to get a range of lifestyle images to use in the very first part of the book about the history of Māori food.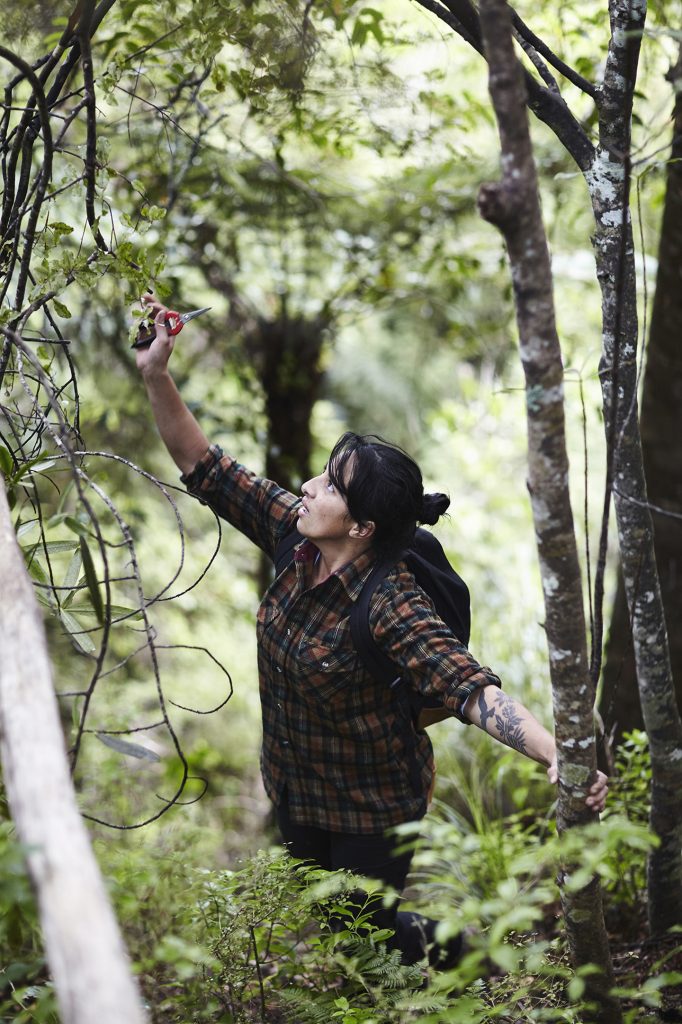 Monique Fiso, Hiakai pop up dinner, Auckland. Monique foraging for Matipo in the Waitakeres.
What did you enjoy most about your work on this project?
The result of the book is a huge group effort by a magnificent commissioning editor, 2 photographers, a few co-writers, Monique herself off course, and lots of other helping hands, but essentially the illustrative output is very much my creative voice and art direction. I love coming up with a creative strategy and I really enjoyed shooting and styling the ingredient section as well as the educational journey it was photographing the lifestyle imagery.
My assistant & co-photographer Amber-Jayne Bain, originally came on board to help because I was pregnant, but because the book ended up being delayed, it worked out so well that Amber-Jayne finished parts of the recipe section of the book in my place. In the process, Amber-Jayne became my best friend, and this book is a testament to our beautiful friendship.
Hiakai Whananui River Event, January 2018. Monique Fiso/ Hiakai Book published by Penguin Random House 2019. Photography by Manja Wachsmuth.
You have a diverse portfolio and shoot a range of genres – (we love your landscape shots) do you have a preference to shoot in a studio or on location?
Thank you! I used to really love standing in the corner of the studio making still-life arrangements by myself. I was always very shy and restrained when I was young, but traveling has definitely helped me overcome this. These days what I love the most about my work is the opportunity to collaborate with others and creating stunning storytelling imagery, that can make a difference in people's lives, help connect people and create a sense of belonging, whether it's on location or in-studio doesn't really matter anymore.
My landscape work is mainly something I do when I need to switch off and care for my own mental health. I love seeking the ocean, it really helps me connect with nature and clear my thoughts. Landscape photography is definitely a side-effect of this. It's hard to put the camera down.
Piha, Lion Rock.
How does the Aotearoa landscape, flora, or fauna inform your work?
There is something really rugged and rough about New Zealand's nature. It's not your traditional pristine and well-groomed landscapes, it's very raw and textured, and it feels very honest. There are some wild and powerful energies in nature here and it really speaks to my inner chaos. The iron sand beaches definitely got some sort of magical power over me. I find it very inspiring, and I don't think I'll ever get bored of documenting native nature honestly and truthfully.
The Bug Project. Edible insects. Food styling and styling by Fiona Hugues. Photography by Manja Wachsmuth. Green Tomato Gazpacio served with Huhu Beetles.
The Bug Project. Edible insects. Food styling and recipe by Fiona Hugues. Photography by Manja Wachsmuth. Lemon Honey Picnic Cake with Lemongrass Ants, Bug Medley and edible flowers.
Aside from Hiakai, what shoot (or shot), personal or professional, are you most proud of and why?
Definitely The Bug Project. The Bug project takes inspiration from fine dining restaurants and Dutch still-life masters. I wanted to create a range of food images that explores the unexpected. With food stylist Fiona Hugues we created a range of recipes where at a first glance you see a beautiful and delicious recipe you wouldn't hesitate to cook at home, but with a closer look, you discover that the food has insects, that are either part of the recipe or have come to eat the food before you. This is a series of 10 images that are both recipes and portraits of some of the insects utilised in the recipes.
Parts of this project has been exhibited twice, both here in New Zealand and in Denmark, my home country, counts 6 International photography awards and I guess is the beginning of a journey for me where the food photography that I work with has some deeper meaning and explores some of the ideas and values that are important to me. In this case sustainability. Not just related to food but in life in general.
Butterfly Cake, art direction and food styling by Fiona Hugues, photography by Manja Wachsmuth for The Bug Project.
How much of the styling and art direction are you involved in when composing your images?
As mentioned earlier, Hiakai was very much my art direction and creative vision. For The Bug Project as a personal project naturally, I've been very involved although this is a collaboration project created with food stylist and fellow creative mind Fiona Hugues.
I like getting involved. I love the collaboration opportunities in this line of work, and I'm not a photographer that just stands there pushing the button, I always get my fingers in there, moving things around, and have an influence over what the end result should look like. Sometimes to the annoyance of others, but at the end of the day, if I'm working for a client, the end result of the image and the fulfillment of its purpose is essentially my responsibility, I take that very seriously.
Mouldy Strawberry. Beautiful Decay series.
What does your post-production process look like? Please tell us about the journey to capture and develop/polish a piece in your portfolio.
When I shoot I often consider what I'm trying to achieve for the end result, so that I shoot with that in mind of how I'm going to do the post-processing. When I shoot still life and food images I mostly shoot tethered to a laptop and tweak things as I go. When on location shooting lifestyle imagery, I shoot to card and download it to my computer afterward. I cull and grade my images in Capture One over several rounds, and then retouch and do any final tweaks and contrast in Photoshop. I also make a big deal out of being organised with my files making sure things are named properly and metadata entered. It makes it easier for anyone that has to handle the files afterward.
How do you see your work and practice developing, and what are your main aspirations?
Recently I've been working on a Beautiful Decay project and although my youngest has just turned three, I'm continuously working on the recovery of my career after maternity leave and the continuous challenges that Covid has presented. It means after years of shooting a wide range of editorial work I'm emerging back into more commercial food photography for advertising and packaging, which was always my background, alongside exploring the more meaningful sublayers of photography through personal projects. Also I'm teaching a photography workshop later in the year, which should be a lot of fun.
Promo image for Pink Lady Food photography & styling workshop @ FAWC! summer 2021 by Manja Wachsmuth & Fiona Hugues.
How can people get in touch and see more of your work?
If you are curious to hear more about how I work, I recommend attending my workshop in November, you can sign up to hear more via my website. There's a newsletter pop-up.
I aim to do monthly mailouts, (client workload allowing), with fresh work and news. And of course, do check my website galleries, my Instagram and I'm always happy to hear directly from people via my email:
Manja is a part of Women's Work, a collective of professional female photographers working collaboratively on projects to highlight the female gaze.
More information on the Women's Work Collective can be found at www.womenswork.photography