Take 10 with… Rachel Foye, Marketing & Environmental Manager from BJ Ball
In 2020, during level 4 and 3 of Aotearoa New Zealand's COVID response we launched Take 10 With… an article series with you – to do a pulse check on how our community was feeling, working, what you missed, and learn about your hopes for the future.
We had feedback that you really enjoyed the series so we have tweaked the questions and invited more of our friends and peers to participate in these candid profiles of Aotearoa NZ designers today as we navigate this lockdown throughout August and September 2021 in levels 4 and 3.
---

1. Who are you? What's your day job and where do you work?
I'm Rachel Foye, known as Raych. I am the Marketing & Environmental Manager for BJ Ball Paper.
2. Who's in your bubble this lockdown?
Hubby Tim, 11yo Kaity, Abby the husky, Milly & Jester the cats, plus Diva, Coco, Summer & Moana the chickens (yes we get eggs!).
3. What do you like about lockdown?
Sleeping in when I'd normally be driving to work, being home in the daylight hours, wandering out to see the chickens and having a cat on my lap while I work. It's also nice to have really relaxed weekends with no schedule of events to be at.
4. What do you miss in lockdown?
My family in Aussie, now we are both locked down, the chances of a hug from mum isn't looking good. I also miss my office chair, yoga in person, cuppas with friends, Indian takeaway and the workplace laughs usually instigated by the packaging team.




5. What are you working on this week?
Customer enquiries, paper profiles for some new products, our Student Calendar Contest entries, blurbs for new pricebook entries, website maintenance, brand language, GSM17 postal costs, label designs, articles for magazines, and the list goes on.
6. What are you struggling with at present?
Hubby has less work, so I'm jealous of his down time. Having to cook/prepare more lunches and dinners than usual. Work collaborations in the office were so much faster than group emails.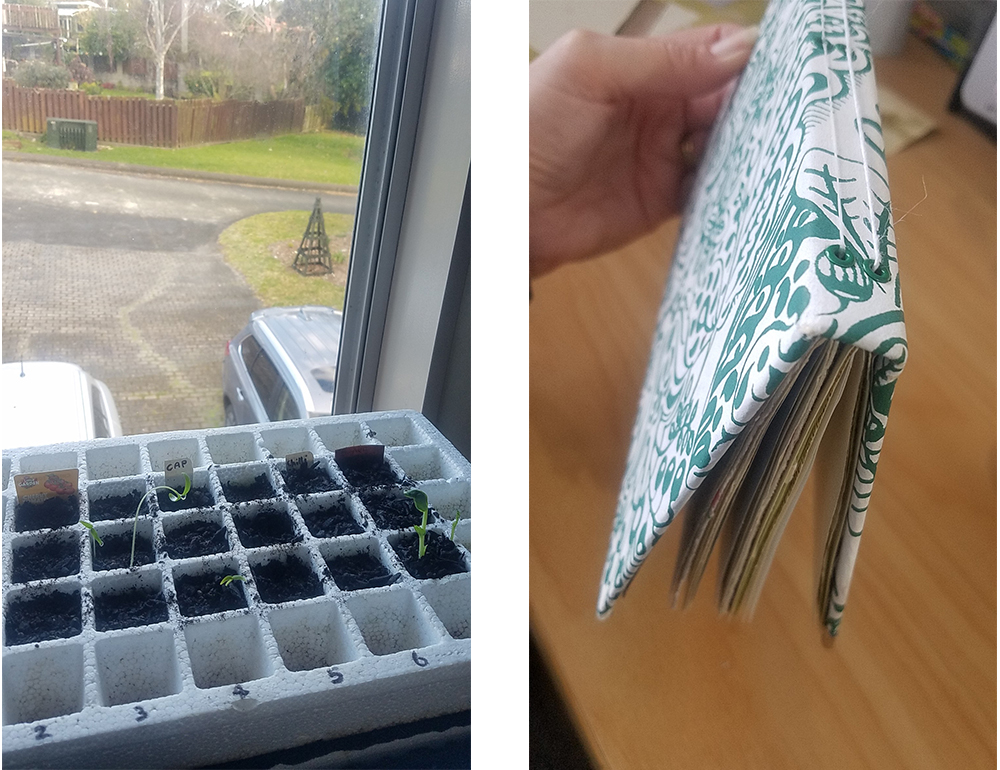 7. What did you do this week to relax?
I don't usually work Tuesdays anyway, so my normal gardening, yoga, and craft projects – currently making another journal like this one from upcycled old books and paper offcuts.
8. How are you taking care of yourself and others?
A lot of Messenger chats! I'm avoiding late nights, and try to end the work day around 5. For the family, ensure there is food (I'm the dedicated shopper), listen to conversations about push bikes or Roblox, facilitate some fun and avoid the urge to nag.




9. What's a book or podcast you're enjoying at present or one you'd recommend and why?
I usually listen to podcasts during my commute, so they are piling up. The MDWAP season has finished for the year, so now it is PKN Packaging News or a few gardening ones. I did manage to grab a book from the Hospice shop just before lockdown so am a few chapters into The Stone of Light by Christian Jacq.
10. What's a movie or series you watched this week or one you'd recommend and why?
Our family is enjoying BattleBots on Netflix. Robots, destruction, PG7+, everyone is happy.


My desk