Women in Design… Julie Bénard, typeface
DA speaks with typeface's Julie Bénard about language barriers, burnout, her pathway to typeface, we learned about the mahi she is proud of, exceeding client expectations, the skills she is keen to develop, fostering innovation in her work and ambitions for the future.
 

What led you toward design?
From as long as I remember, creativity was my answer to boredom as a kid. I grew up in a family of creatives, but it was my grandfather, who was an architect that had a strong influence on me. He taught me to draw and watercolour and he passed on his habit of always having a sketchbook where ever you go.
Can you describe the creative path you took to get where you're at now?
There was a time when I seriously considered going to Med School. However, I had an opportunity to enter an Art School of great repute in Paris and I jumped on it. During these wonderful years in the capital of the Arts, I fed my creative soul hanging out in museums and meeting amazing fellow students that felt like family. The school was pushing for excellence and it was hard work, but I can still see the benefits of lessons I've learnt back then.
After few years of 80-hour weeks in an advertisement agency and then a start-up, I dropped everything and travelled to New Zealand to escape what had become a soul crushing fast-paced Parisian life. It took me a while to go back to design because of how burnt out I was by my previous work experiences.
I started at typeface in 2017 where I was enticed by the intimacy of a small agency and the respect for a work/home balance. I also love being able to work with Government agencies as it brings meaning to my work.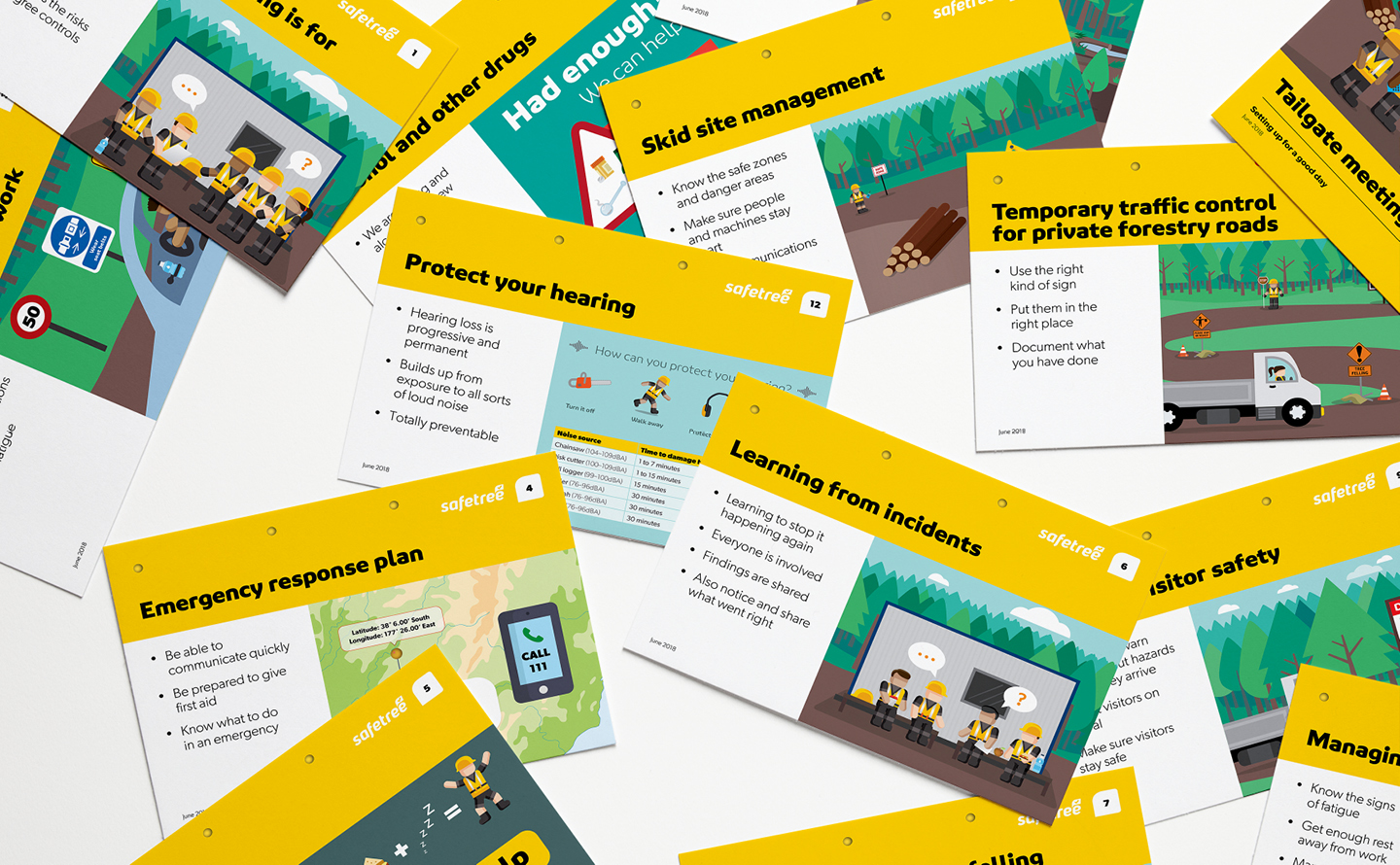 What does a typical day at typeface look like for you?
We always start our day with a 'work in progress' meeting, going over the current jobs. It is also a good opportunity to catch up with the team in an informal way. It often involves coffee and sometimes treats (home-made baking and chocolate).
During the day, we work very collaboratively with each other: we have a peer-review system that insures the work you've done is going to be checked over by someone else.
We have a huge pin-board where we often brainstorm about on-going creative projects.
We foster an open and empathic work environment where all of us are encouraged to share our opinions, ideas and to receive constructive criticism. We can rely on each other professionally which is the best feeling you can have at work.
Aside from work, I am one of these people that have a million of halfstarted personal projects and it goes from sewing to upholstery. You name it, I want to try it.
Can you give an example of where your work has delivered an unexpected return on investment for your client?
At typeface, we have a long standing work-relationship with Grant Sheehan, New Zealand Publisher and Photographer. We designed a book for him about Artificial Intelligence. We offered an extensive set of cover options for this book and he selected them all!
Eventually, instead of choosing one cover, he decided to have 5 different covers printed. The rest of the original proposed covers have also been added to the book.
What project are you most proud of? Why?
Few years ago, we've worked with the Forestry Industry Safety Council to create some Fact-sheet cards to help Forestry workers with the risks related to their job.
I felt slightly daunted about taking on big illustrative scenes as illustration was not my strong suit at the time. The other challenge was to successfully translate, via illustration, complicated and technical situations that involved machinery and wide range forestry terrains.
The output product was a success and it is visually striking. I feel proud to participate somehow to the safety of these workers.
What is the most challenging project you've ever worked on and what did you learn from it?
To me, the most challenging part of every project happens at the presentation stage. When you're facing the clients and you have to persuade with words as well as visuals.
I'm French, and it has been a struggle sometimes to write and speak in English in a professional context. When I first started at typeface, I used to re-read my emails (even the simplest ones) 10 times because I wasn't sure of the tone or the right use of a word. Something, I never thought twice in French.
It has been frustrating not being able to feel a fluid flow of speech when presenting to clients and the self-doubt that goes with this feeling. But over the years, you improve and gain in confidence. Overall, I realised that clients are most receptive to the authenticity and the passion that emanate from your words with or without accent.
There have been some hilarious situations where I'd assumed that a French word was the same in English, as it is sometimes the case … but actually wasn't.
For example, I would casually say to Roz, my colleague: "Use the tampon to correct this image" because the stamp tool in Photoshop is called tampon in French.
When you're given a brief, where do you start?
It almost always starts with a sketch on paper. As soon as I hear a new brief, I feel my brain instantly firing off. Images seen Online, on TV, on the street or from previous jobs wildly pop in my mind. I try to sketch these initials flashes right away before it all disappear in the ether.
For me, it is about pouring your thoughts on paper without overthinking it. Then, I try to take a step back and after a little while coming back to this first scamp with fresh eyes. This second approach helps drawing connections between the ideas and elaborating some mechanisms and concepts.
How do you mix things up and foster innovation in your work?
Practice curiosity. Put yourself in uncomfortable situations where you're going to be challenged. Be brave at trying new things.
What are your goals for the future?
At the agency, we are now proposing Animation Services and I'd like to perfect my skills in Motion Design in the coming months.
Finally, where can we see more of your work and connect with you?
You can see more of my work at typeface.co.nz.
Or on my Instagram account: instagram.com/jlyroadbook – and my website: juliebenard.com for more lettering and calligraphic personal projects.