Queer in Design – Kaan Hiini
In this series, we celebrate our LGBTQ+ designers as they share their career pathways, explore how being queer informs their work, and discuss how we achieve better representation and inclusivity in Aotearoa design industry.
Many of you will be familiar with Kaan Hiini, senior designer at Curative, Kaan has been in service to our community through Creative Mornings and Design Assembly initiatives for many years. He is the face of our 'get more' campaign and will be hosting the Queer Design Assembly event next week, so there is no better person to launch these Queer in Design profiles than our friend Kaan.
 
Can you tell us about your creative journey so far?
I left school in sixth form to start studying at AUT, exploring fine arts, spatial design and graphic design, before moving into a Bachelor of Art & Design. After graduation I worked for the Auckland Council and then took off to the UK for a couple years where I worked in hospitality and as a labourer. When I returned I felt a bit disconnected from design, and so I threw myself back into the design community by volunteering with Design Assembly, and CreativeMornings Auckland alongside Jade Tang Taylor, which we organised together for 6 years. That really demonstrated for me the power of community, and helped to make the industry feel accessible and close-knit. The connections and interactions, voices and personal experiences were incredibly encouraging. At the same time Curative was founded and has really shaped how I work, how I think and how I want to exist in the world. It's a nurturing environment that has continued to challenge me technically, strategically, and emotionally. The work is varied and the audiences, perspectives and communities we work with are diverse, which has been extremely valuable in developing my views and skills.
What were your first years in the industry like, and when did you begin to feel confident in your work?
Straight after graduation I was mostly working as a solo junior creative within a large organisation. Without a creative director or senior designer as a mentor, I had to learn a lot about creative working life in isolation. This definitely made me less confident in my design practice when I found my way to Curative. But Curative has been such a nurturing environment in which to develop my skills that my confidence quickly built up. While I think there will always be a part of me that questions my decisions, having a team you trust and who you can talk through ideas with critically and generously has really helped.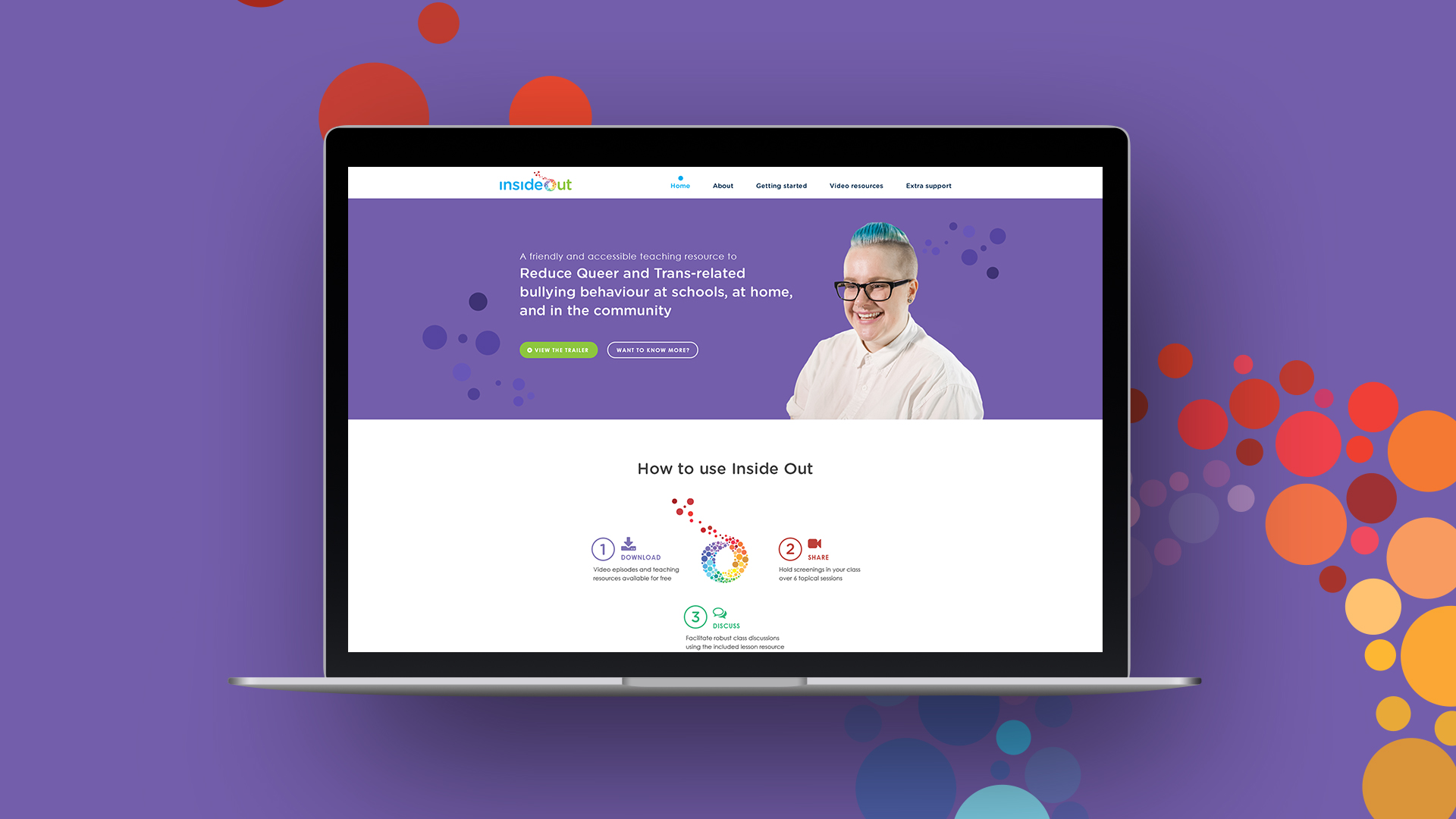 What project, personal or professional, are you most proud of and why?
There are plenty of projects that I'm proud of but I think if I had to choose one to talk about it'd be InsideOut. It's a set of learning resources for high-school-aged kids that explores sex, gender and sexuality, using the personal stories of a group of young people who explain things in clear direct language. The theory behind it is that by introducing young people to concepts of sexuality and gender diversity early and grounding these concepts with real stories from peers, you can reduce bullying behaviours towards queer youth. The resources are free to access and the impact we've measured over the years it has been active is amazing.
I'm proud of it because from the start we engaged with young people to figure out how to best reach young people. The brand was developed with their input, and the stories of the young people featured are centred. So it's very much a collective effort, which is a big reason it's been successful.
From a technical perspective, it was really challenging. It pushed my skills to the edge. I learnt so much throughout the project, a lot of it completely new to me at the time. It involved identity, information design, filming, editing, photography, digital and motion design.  And the end result is beautiful, and still available across the country.
Other more recent projects I've loved working include the identity for Te Ngākau Kahukura, a National programme that helps organisations providing health, social and education support for young people in Aotearoa better engage with rainbow identities, and the campaign for the 2020 Auckland Pride Festival. The brand for our studio, Curative was also a labour of love.


How does being queer inform your work?
I think my queerness impacts my work in the same way every other part of my identity impacts my work. It adds colour and difference. It strengthens it because it brings in an alternate perspective. I think any experience that sits outside of the dominant culture, the status quo is going to make your work better, and for me that means my queer identity and my Māori heritage.
I think it's fair to say that I'm going to have a better understanding of the queer community and its influences than my straight colleagues. I'm probably exposed to more things outside of the mainstream because of that. I'm aware of and sometimes a part of the conversations around activism, queer aesthetics, discrimination and representation and that has an impact on the aesthetics and messaging that I see and respond to, the work that I create. I think I'm also more aware of the cliches applied to the queer community, and more interested in challenging these and exploring alternatives to them.
Did you have any trouble with coming out to your studio?
None at all. In fact, they helped me come out in my personal life, by creating a safe space to talk, gently affirming my choices, and building me up. I'll be eternally thankful for the support, encouragement and aroha I felt during that time and since. It's really underlined for me how important it is to have that safe understanding space to be yourself without judgement.


Do you have any advice for queer designers starting out in the industry?
Don't be ashamed of bringing your queer identity or perspective in the room, whatever that may look like. And just as importantly don't feel like there is one way to present as queer. The rainbow communities are basically a collection of super diverse groups and that's part of what makes it so amazing. It can look like anything.
What's your favorite piece of queer visual culture?
Moonlight is pretty powerful and still destroys me. I'm kinda obsessed with queer magazines like Butt, Fantastic Man and Hello Mr. I remember finding this small publication around 2006 as I was discovering my sexuality called Jack, which a friend is tracking down and sharing with me so I can reconnect with it.  Fiona Clarke's photographic exploration of the Trans community in the 80's and 90's. The ball scene, and the experimentation within it, especially in South Auckland, is pretty amazing. And I'm unashamadly into Drag Race too. Drag is such a fascinating exploration of masculinity, femininity and beauty aesthetics.


What other queer people inspire you?
Tanu Gago. Michael McCabe. Leon Wadham. Imogen Taylor. Zipeng Zhu. Tommy Pico. Alexander Chee. I'm sure there are others who I can't think of right now.
Why is it important to increase the visibility of queer representation in Aotearoa's design industry?
Because it will strengthen our work and the design community.
The 2019 AIGA design census reports that approx 15% of visual designers in the US identify as queer compared to 4.5% of the general population, according to Gallup. While NZ doesn't have good numbers on queer representation in our own industry, I would be surprised if our stats didn't back up this finding that queer identities are drawn to creative industries. But if you take into consideration that higher queer representation in design, shouldn't we be more aware of the work of queer designers?
As American Children's Rights activist Marian Wright Edelman said, "You can't be what you can't see." Not having visible role models of successful queer people in our field makes it harder for younger queer designers to bring their full self to a project, to their work. And that feels like a huge missed opportunity.
How can we increase visibility for LGBTQ+ practitioners within Aotearoa's design community? 
That's pretty straight forward, IMO. Look for queer designers. Include them. Celebrate their work, invite them to talk about their work, put them on panels.
Events and profiles like those in A Queer Design Assembly that celebrates the work of queer designers, and asks them to share what queer design means for them.


What other ways can design community (& our studios) better support our Queer designers?
Creating an inclusive and safe work environment is the simplest way to do this. An environment that works to understand and work with any identity or perspective that sits outside the dominant world view. Judgement free.
And outside the work environment, I think there are some interesting things happening internationally that helps to facilitate this growth and change. Workshops like the Gay Graphic Design Club in Brooklyn help make discussing the topic fun and accessible, and directories like the Queer Design Club create an online space to connect with Queer designers internationally. A Queer Design Assembly is a way of testing the interest in building this kind of community here in Aotearoa.


Can you tell us a little about A Queer Design Assembly and what attendees can expect?
It's going to be pretty informal, a chance to build community above all else. I want it to be a space for queer designers and allies to come together, grab a drink and have a kōrero.
We'll hear from the amazing Sarah Gladwell, who has just designed Our Selves, a journal celebrating queer creativity in Aotearoa for the Auckland Pride Festival. She will give a short talk about her work in Sydney on the Ending HIV campaign, and talk about how her queerness informs her work. And then following that we'll open the floor up for a few questions from the audience for Sarah, with a focus on the queer experience of design.
I'd also like to give the audience a chance to shape this event series moving forward, to tell me about what they'd like to see, hear and do. And we'll have copies of Our Selves available, a bespoke journal of queer creativity in Aotearoa, designed by Sarah for this year's Pride Festival.
Is the upcoming event only for LGBTQ+ designers or is everyone welcome? 
It is first and foremost an event for the queer community, so the focus will be on catering to that audience, but of course, everyone is welcome. As I mentioned before, I see this as a way to increase the visibility of queer designers, celebrate their work and to amplify their perspectives, influences and pressures. It's important that queer designers see themselves represented. But it's also important that the wider community sees this representation too.