By Day/By Night: Peter Gilderdale, AUT
Welcome to our 2017 By Day/By Night series. Here we profile a range of design teachers from our tertiary institutions to find out what projects they're involved in outside of work hours, and how their personal creative endeavours feed back into their teaching roles. Secondly we speak with Peter Gilderdale, Associate Head of School, Research and Innovation, AUT.

The Communication Design major in AUT's Bachelor of Design has been Auckland's leading provider of Graphic and Communication Design education since the 1970s. As the Bachelor of Graphic Design, it became New Zealand's first design degree in 1990, and became part of the larger Bachelor of Design programme a few years later. Currently the course accepts between one in four and one in five of its applicants, and has 350 students studying across the three years. After a first year that delivers the fundaments, in the second and third years, the course provides students with the opportunity to study Communication Design through a number of different lenses, and students can opt from pathways in Advertising/Branding; UX/UI; Graphic Design; Illustration; Photography. This allows students to develop a specialisation whilst still framing that within a broader Communication Design framework.
---

Hi Peter, can you tell us a little bit about your background, your career path, and how you got into teaching.
My father was an artist and my mother a writer. Both supported what they did by teaching. As such, I grew up with a strong interest in both image and text and a strong desire to avoid teaching. I went to university in the 1970s, studying Art History and Egyptology, and got asked to tutor in the Ancient History department while doing my Masters. First step on the road to teaching and I thus did teacher training after Uni as a backup. But I also developed an interest in calligraphy, studying with a designer called Dave Wood. So, when I went on my O.E. got married to a Dane and went to live in Denmark, I found that calligraphy was my best way of making a living while carrying on my research. But as part of that I now found myself teaching night classes on calligraphy in Danish. It was in Denmark that I first really started to really appreciate design. Prior to that I was more art-focused, but living in a culture where design is so integral to the way of life was a real eye opener. Thus, when the opportunity came up to move back to New Zealand and pick up part-time theory teaching in the design department here at AUT (or ATI as it was then), I jumped at it. Even then I was still trying to primarily make a living as a calligrapher, but with a family to support, the teaching was a more reliable source of income. And I had by that time figured that I couldn't avoid being an educator. I've been here ever since.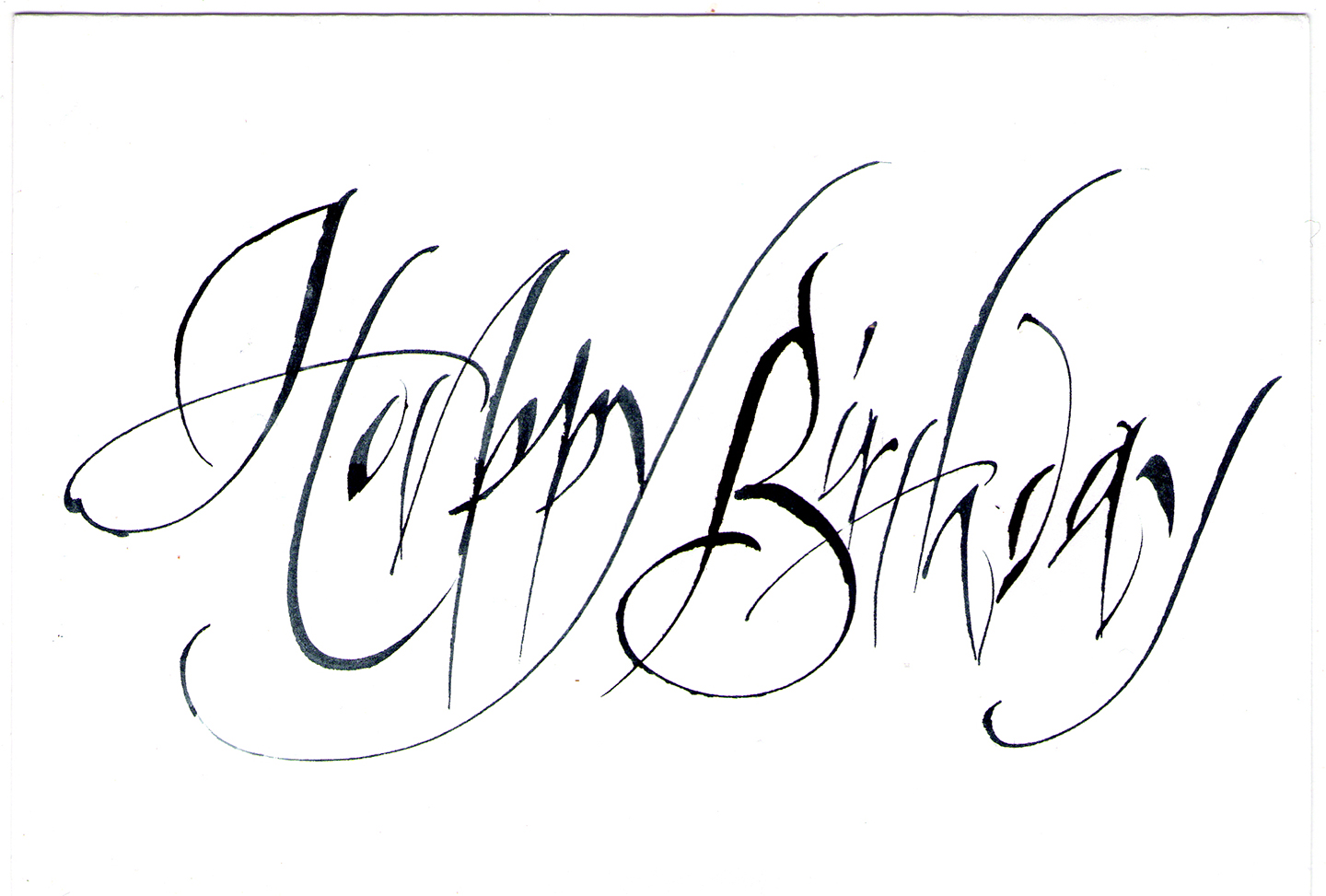 Outside of work hours, what creative projects and/or research are you involved with?
I do a lot of small scale projects for family and friends that let me keep my calligraphy going, and pick up the occasional real job if it is calligraphically interesting – though really more as a hobby these days. The main creative project that I am working on currently is a collaboration with my colleague Paul White in which I am writing his poetry onto beaches – so it is calligraphy on a massive scale, where I am part of the text but cannot see the overall effect while I am working. It has been a bit of a frantic start to the year, so this has been on hold, but I am aiming to get it up and running again soon. My other current projects stem from my PhD research into Edwardian postcards, and also research into gothic lettering that links my calligraphic and historical interests.
What are you inspired by, and how do you keep the momentum for your personal work alive?
It's more a case of what I'm not inspired by. I try to remain interested in the world around me and things are always popping up that I find really interesting. My main approach seems to be that I work intensively on a project for a while, and then if that goes off the boil I move to some other area of interest. I jump between my calligraphy, my research work, and an interest in music, and at different times all of these nourish me creatively. I've never understood how people can get bored, because I always have so many things that I'm wanting to get onto, and so little time to do them in.
How does your personal practice feed into your role as an educator?
In education we tend to talk a lot about research and practice informing our teaching. To me, this misses the crucial point. What has to feed into your role as an educator is your enthusiasm and passion for your subject. Obviously most people are enthusiastic about their practice and can share that. But in the end, at least when teaching undergraduates, the transmission of enthusiasm is the most important thing. I drop in my practice where it is appropriate in my teaching, but my practice is relatively narrow and specific, and there is lots of other interesting material that isn't part of my own practice which I'm still very happy to share.
How do you balance these two very different roles? Are there any particular benefits and/or challenges?
In terms of balance, the answer is 'badly', I think. Realistically, these days I am more educator than practitioner. My practice demands sustained concentration, and that is very difficult to get consistently alongside teaching and having a family. But I value the ability to move into that space, even if it is less often that I would like.


What are the best bits about working at a place like AUT?
Without question it's the people. Great students and great colleagues. But I also like the fact that the work is never the same. No two classes work the same way, and no two years are the same. And, of course, both the educational system and the design world are constantly changing too, so we are constantly having to re-evaluate what we do to remain relevant to both catchments. So you are always having to question whether what you have done remains viable. It is the mix between the continuities and variables that makes the work endlessly interesting.
And, finally, where can we see more of your own work (links to websites, portfolios, etc)?
You will have to wait. Currently there is very little of my portfolio online, because I have tended to rely on word of mouth giving me enough work to keep life interesting. I inherited my lack of self-promotional ability from my father, and have thus recently been concentrating on publicising his work (see: alangilderdale.nz). However, I have so many people telling me to put some of my portfolio work onto Instagram that I'll probably do that at some point this year.
---
Find out more about AUT by visiting: www.aut.ac.nz