2023 Hot New Things: Hannah Park, Bachelor of Design Visual Communication at Wintec
Each summer DA profiles a selection of the top design graduates coming out of our tertiary institutions. We welcome these talented emerging professionals to our industry, learn about their passions, final projects, developing creative confidence and ambitions for the future.
Today we speak with Hannah Park who studied Bachelor of Design Visual Communication Wintec. You can find out more about Aotearoa NZ creative study options by visiting our design schools page.
---
Can you tell us a bit about yourself?
Hi, I'm Hannah! I'm 21 years old and just recently graduated from Wintec School of Media Arts. Hamilton is originally my hometown, but I've lived in Raglan for a couple of years now, which has been a place of inspiration for my art practice. Growing up, I loved all things creative and developed a strong passion for drawing and painting – I couldn't imagine pursuing my future career outside the creative field. It wasn't until I took Level 2 Design in high school that I discovered my interest in pursuing Graphic Design; illustrations are a big part of my work, and I always strive to create purposeful and captivating designs. Outside of design, I love photography, strumming the guitar, and sunsets at the beach!
What did your graduating project focus on?
Past Present and Future is a publication born from the idea of how understanding our origins helps us live our present and future with a stronger sense of identity and purpose. As I was born and raised in New Zealand, it was natural to feel detached from my parent's home country, like I was missing jigsaw pieces in my Korean identity whilst being a part of two different cultures. Although my parents have tried to keep the Korean language and culture alive throughout my childhood, I've always somewhat felt like a foreigner in both countries and wanted to tackle this feeling of being disconnected by learning more about where I come from. I took this project as an opportunity to take a deeper look into my cultural origins – sectioned into three parts, the publication introduces Korean history; my parents' lives in South Korea and their immigration journey to New Zealand; and questions answered by future generations on their Korean identity whilst growing up in New Zealand. Throughout my design process, I wanted to focus on keeping my project raw, personal and authentic, showcasing my discoveries in an impactful way to reach my target audience. As much as I wanted this for other second-generation immigrants like myself to identify with in some way, this project was a meaningful discovery process for me as a Korean-Kiwi in finding ways to reconnect to my roots and embrace my ties to South Korea.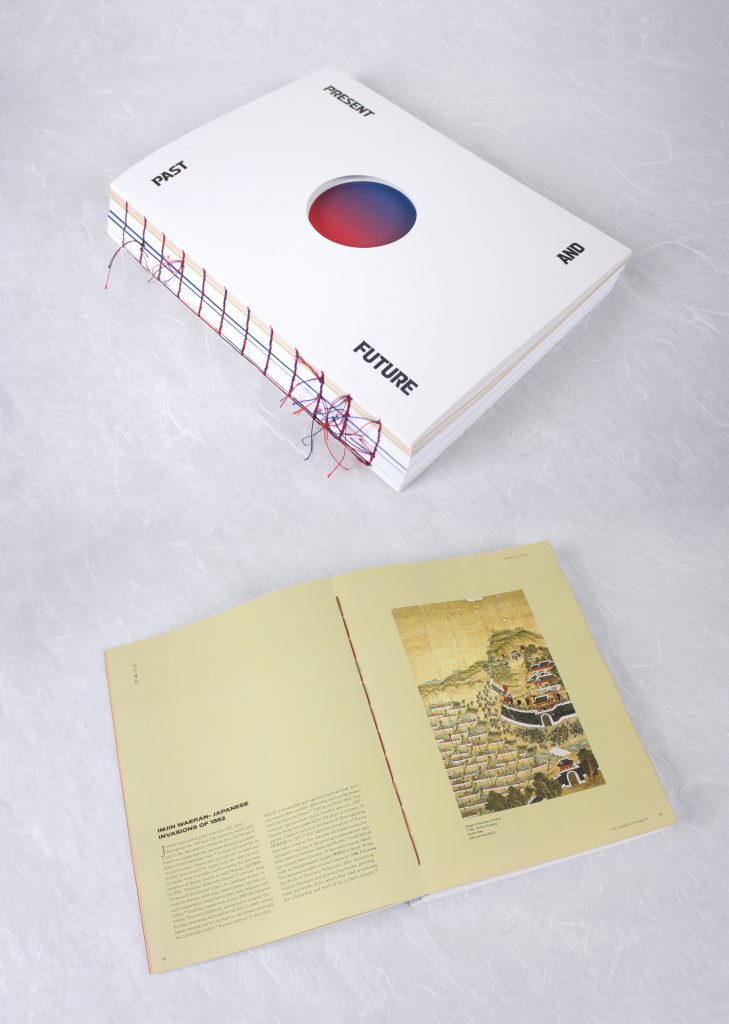 Why did you choose to study at Wintec?
I was blessed to have art teachers at Hamilton Girls' High School who were endlessly encouraging and passionate about their art practice, which largely influenced my passion and direction for art and design. They recommended Wintec for us, which at the time seemed like a green light for me to decide on Wintec for tertiary study. I remember them telling us how great the design tutors and design course were, especially with having more intimate relationships, a creative learning environment, and being very hands-on and practical for the industry. Looking back, I haven't regretted this decision and thoroughly enjoyed all three years of my study, where I've had a great support system to grow as a young designer. Another reason was partly because I didn't feel the need to move to another region just yet, so I looked for study options in Hamilton closer to home. Everything fell into place, and I was very fortunate to have many supportive friends and teachers to guide me in making the right decision, along with my parents, who supported me in pursuing design. Sometimes you don't need to look far!
What did you enjoy most about your course, or what do you feel you can take away now that you've completed it?
Honestly, I think I've enjoyed everything about my course. I loved having the freedom to explore different areas within and outside of design, and being encouraged to take risks within those learning experiences. Having the creative freedom to lead projects in the way I envisioned them to be was self-motivating and rewarding, as I was doing what I loved while discovering new interests and growing my skill set. Though it was also crucial to stay open to different possibilities – the guidance I received within the classroom helped broaden my perspective, training me to be open to new ideas and constructive criticism. I'm grateful for the learning environment where we were encouraged to give and receive peer and tutor critiques, have conversations, and bounce ideas off each other to bring new perspectives and direction to improving our projects. It took time for me to dive outside of my comfort zone, but I gradually learned that being timid during the design process, and scared to mess up, left more regrets than being bold in trying new things.
Were there any exciting or unexpected discoveries to come out of your studies?
Some exciting discoveries came from taking various electives over the course of three years, where I explored drawing, painting, illustration for storybooks, screen printing, type design, and motion graphics. While I loved and learned from all my elective choices, I would have to say that type design was a design practice I never had the chance to explore before. Before taking this elective, I had little knowledge on what typography was about – learning about the different styles, personalities, typographic history, and creating my own typeface using Glyphs was exciting and all very new to me! I began to develop an interest in typography and realised the endless possibilities to type design even in itself, and found myself analysing and becoming aware of typefaces used around me in everyday life. Type was such a fun class I always looked forward to going to, and my design tutor's passion for type influenced me to fully engage with the learning and develop a newly found love for type design.
Within my core design classes, I learned that I particularly enjoy print-based projects, such as publication and packaging design, along with a bit of brand identity. I loved seeing the final design come to life in its tangible form, transitioning from digital to something physical. Coming from a background in visual arts, I also learned to adapt traditional practices and drawing skills to create digital illustrations, working from a cross between the two fields. I have grown to love incorporating illustrative elements into my work as it is a versatile way of communicating and bringing a piece of design to life. I am still on my journey of discovering and refining my illustrative style, which I hope will come with more practice!
What was your biggest challenge while studying and how did you overcome it?
One challenge for me was managing multiple projects and assignments and being hard on myself to get everything done to a high standard. I was working at my screen almost 24/7, sacrificing my sleep, and putting a lot of pressure on myself to satisfy my expectations. My final year was when everything was so hectic that I found myself grinding nonstop, and I raised the bar higher to eventually become my own critic, which led to more stress in meeting the expectations I had for myself – I ultimately had a skewed work-life balance where I was highly prioritising my studies over anything else. I remember my graduating project to have carried challenges of having creative blocks, waves of feeling demotivated or overwhelmed, adjusting my designs to work around limited printing options, and having to design appropriately as I dealt with content around my culture.
In overcoming these obstacles, I gradually learned to take a step back and trust the process. I needed to remind myself to move away from the screen and to be more present – such as exploring my surroundings or engaging in conversations with people around me for inspiration. Taking some time away from doing work proved not to be a waste of time, and I needed to do so to prevent burnout and care for my health. The obstacles I faced also ended up taking my design on an alternative route to creating something I didn't think of before, so it was all about being patient, taking small steps, and trusting that things would all work out in the end. Despite its ups and downs, I still enjoyed the whole journey – my passion for the project drove my motivation to work consistently, and I learned to embrace and work around problems that arose to create better work (while accepting the fact that not everything can be under my control)!
Was there someone (or something) that inspired you to pick Bachelor of Visual Communication Design as a career path?
Looking back, I feel like there were several turning points or decisive moments that opened doors to lead me to pursue graphic design. I would say that my parents were the biggest influence and support in creating opportunities for me to be where I am today. I briefly attended Hamilton Christian School from Year 9 to 10, which was a small school but I loved the close-knit community there where everyone knew each other and it just felt like home. I was quite upset when my parents suggested moving to Hamilton Girls' High School, which they wanted for me due to broad subject options in areas such as art and design. They persuaded me to transition schools in Year 11 before NCEA started, and my dad, who wanted me to consider doing architecture, encouraged me to take on Graphics, where I also chose Design (due to their recommendation) and Painting (which I loved already). Like I mentioned before, I was introduced to design for the first time at HGHS, as I hadn't had the opportunity to explore it before, and designing digitally was a fairly new concept to me. I was pretty set on pursuing fine arts up until year 11 and 12, but I gave design a go and absolutely loved it! I ended up thoroughly enjoying all three subjects, torn in choosing one career pathway as I neared the end of my high school years. With the advice and support of my parents, I chose design as I could see a future in this pathway for my career, and it just felt like the right thing to do.
Which piece in your portfolio are you most proud of and why?
My Capstone Project, no doubt! This may be one of the very few projects I've done without illustrating anything, and I've enjoyed the entire process with the absence of illustration to create a body of work I am still very proud of. It fills a gap in my portfolio because most of my works adopt illustrative, cartoony or quirky design styles, something I'm very used to doing, and to create something more personal and minimal shows a different skill to all the fun projects I've done previously. As much as it was a meaningful topic to explore, this was a massive project for me where I took risks, challenged myself to try new things, and dove deeper to explore tools and practices of publication design. The duration of this project (16 to 18 weeks) was jam-packed with new learnings and layers of many elements, where I needed to manage my time to research and write an essay on Korean history, have conversations with my parents about Korea and their journey, learn to kettle-stitch bind my own publication, and scan family collections and learn to curate and edit photography. I've had many discoveries with this project in growing as a person and as a designer, and I think it marks the beginning of my journey to gain a deeper understanding of my Korean Kiwi identity.
What's next for you?
I have fortunately received a PM's Scholarship For Asia to study a postgraduate design programme in South Korea for 2024. My next step is to apply to the university in Seoul during their application period in 2023, and if things do work out, this experience would be a big leap out of my comfort zone! But career-wise, I would love to work at a design agency, as I would love to work with a team of creatives to push design ideas forward and collaborate together to achieve an end goal. I can't wait to learn and grow as a designer!
How can people get in touch or see more of your work?
I hope to set up a portfolio via website or Behance in the near future, but feel free to visit my Instagram account @hanpar_design or get in touch via email hanpardesign@gmail.com!