Auckland Festival of Photography
The 2021 Auckland Festival of Photography (now in its 18th year) is a city-wide contemporary art and cultural event which takes place within Auckland's major galleries, project spaces, non-gallery venues and public sites during June each year. The programme includes a mix of emerging and established artists and comprises existing works and creation of new work. The annual Festival is produced by the Auckland Festival of Photography Trust.
Full details about what's on offer can be found at: www.photographyfestival.org.nz
This article is proudly brought to you by mychillybin.



Each year in May we look to the Auckland Festival of Photography programme to highlight which of the upcoming events and installations the DA team are most excited about. Here are our picks from the 2021 calendar:
one day, one city – 24 hours – midnight to midnight
We love the community participation of the Photo Day (a project first initiated in 2014), A DAY IN THE LIFE of Auckland, this years event is set to be Saturday 12th of June.
It invites anyone, anywhere in Auckland during a 24 hour shoot to share their perspectives of the region.  As a way to build democratic visual cultural currency and an inclusive and equitable arts and cultural environment. "We want to see the fascination in the everyday, what is surprisingly different and what is comfortingly familiar. This event celebrates the many individual pockets of culture and identity present in New Zealand's biggest city by building cultural currency."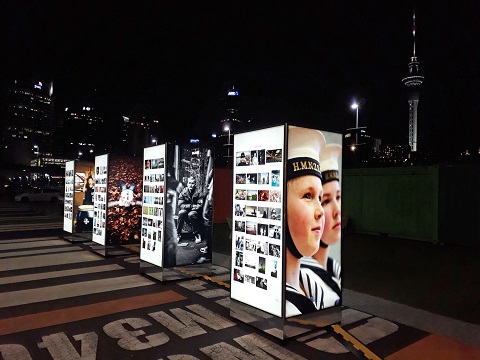 ---
It's a Little Bit Handmade
Toi Ora Live Art Trust Gallery • 10 June – 25 June
Before multi-coloured printers, high resolution screens, before pixels reliant on zeros and ones, photographers had negatives, dark rooms and corrosive chemicals. Silver Halides were our pixels and instead of taking 100 photos looking for the best one, we had one. There was so much chance involved, you never knew what to expect. After all the recent uncertainty and foreboding Toi Ora Artists created a series of images, embracing chance in the making process of photographic production. We created a series of photograms, illustrations and images using Sun Activated Dye, reliving some of the fun, chaos and experimentation of Cyanotype photography and the darkroom experience.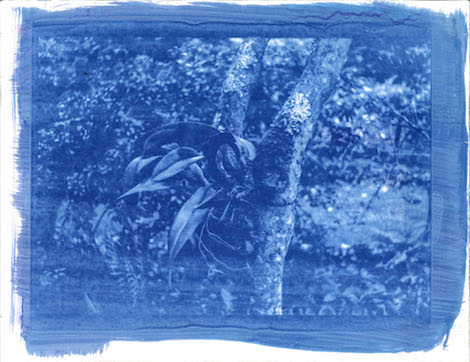 ---
La raza
Crumb Cafe´ • 5 June – 26 June
Anna-Maria Bribiesca writes "My purpose is clear when creating imagery: culture, community and social justice align. It is crucial to weave together all of these things. When these elements merge, there is resonance, momentum and change. Art is collaboration and compromise. My photographic-print-collages convey the democratic spirit. I work collaboratively so that a shared vision may elevate, resulting in shared perspectives. These images are their own breathing organisms, they take the viewer where they intend to go.  I have collected the necessary ingredients and arranged them. The result: reflection of my own humanitarian approach upon my audience. These photographic-print-collages are about Mexico, a gathering of spirits and a very proud raza who continue through their resilience to grow in grace and power."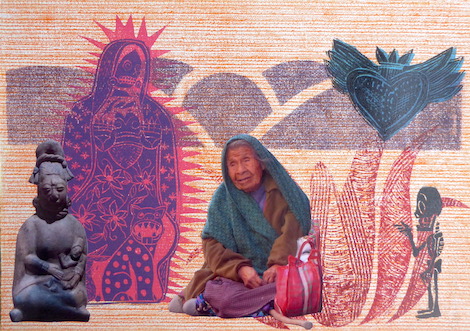 ---
Isolation – Looking Out From Within
Silo Park • 31 May – 20 June Artist Talk: 10am-11am Sat 5 June
Auckland Festival of Photography presents a small taste of Julia Fullerton-Batten's award winning series Looking Out From Within, 2020 as part of the Isolation theme.
Julia Fullerton-Batten created this series while London was in lockdown from Covid-19, finding participants by advertising on social media and in the local press. The resulting series are real-life constructions documenting in their own ghostly way the London lockdown with the sense of isolation palpable.All of the subjects were photographed in their own homes, looking out through the imprisoning window. The photographs were organized over the phone and email before the day of shooting, then Julia, along with her son doing the lighting, photographed the subjects without any physical contact from inside the window on the day of the shoot.
Looking Out From Within won the Fine Art category of the 2020 International Photography Awards: www.photoawards.com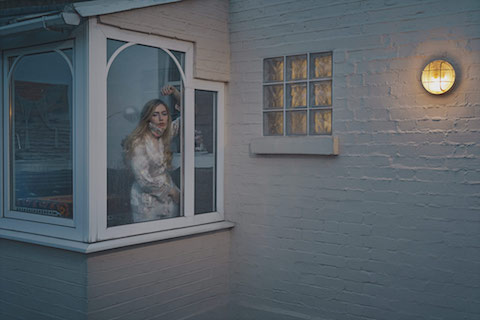 ---
Material Routine
Starkwhite • 3 June – 19 June
Starkwhite presents a new photographic work by artist Richard Maloy. Maloy's practice is attuned to the politics of space and time and explores process and production within the creative process. Material Routine was developed in 2019 when Maloy was the Martin Tate Wallace Trust Artist in Residence in Vladivostok, Russia. This body of work is a series of images that show the artist's material process in flux: recording his artistic process and daily studio routine.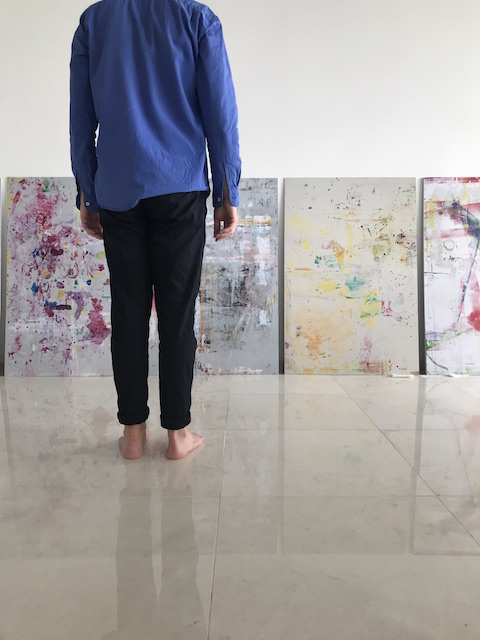 ---
RED
The Ever Room • 4 June – 6 June
The theme is RED. Love, lust, wickedness, bloodshed, anger or courage – step into our world and discover what this word means to our artists. A collaborative exhibition from Garth Badger and all the creative minds behind Thievery: The Execution Agency.

---
Analogue
Kumeu Arts • 3 June – 19 June
Female photographers using film: Abbie Cossey, Alice Veysey, Annemarie Hope-Cross, Catherine Armstrong, Claire Humphries, Diana Hu, Hannah Rose Arnold, Helen Dol, Jenny Tomlin, Kate Rampling, Marie Campbell, Nicole Brannen, Ophelia Mikkelson Jones, Poppy Lekner, Vanessa Green and Virginia Woods Jack. Abbie Cossey (Coordinator).
The process of shooting film is somewhat a state of mind. It slows us down and makes us more intentional. We are forced to think about our exposure, shutter speed and aperture before we press the shutter on a limited number of frames on a roll.It's often said that women (and those who identify as women) tend to feel the process rather than focus on the technical aspects. This exhibition is to explore the feeling, the experimentation and the process of shooting, developing and printing film by women.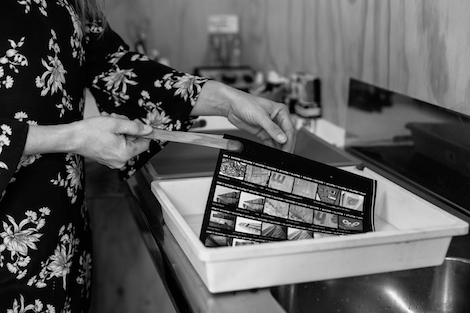 ---
Weird Fishes
Wallace Arts Centre – The Pah Homestead • 3 June – 25 July
Weird Fishes considers the primordial relationship between water and humans. Through Carter's imaginings, the exhibition considers 'weird fishes' as a metaphor for human beings, referencing our origins in the oceans and life's beginning in a liquid pool. Carter's photography investigates our complex relationship to water by playing with perception, perspective and geography to create new ways of experiencing these spaces. Weird Fishes also explores our individual and collective responses to the threat facing these fluid ecosystems in the Anthropocene. As 'weird fishes' we have an opportunity to immerse ourselves in this liquid world upon which we remain utterly dependent.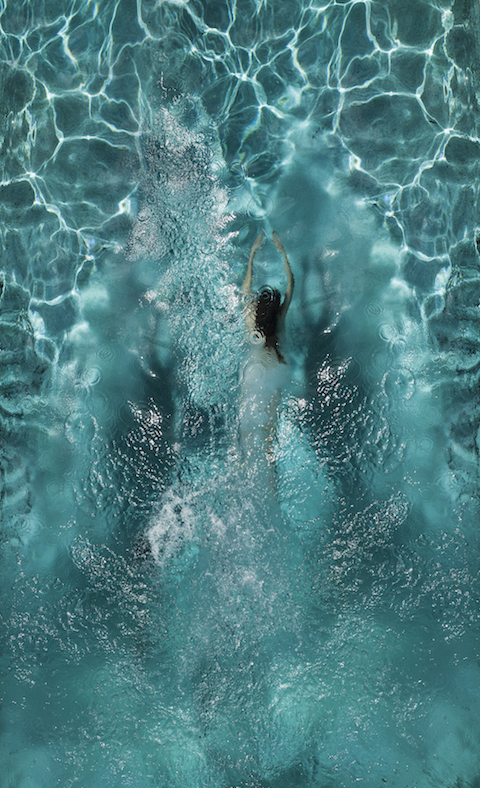 ---
Together Alone
Gallery One • 9 June – 2 July
The tension between separateness and connection describes an existential continuum that we all traverse. The way we meet these often opposing needs can shift according to our circumstance and time. These photographers each represent a way and a moment in the constant flux between being alone and being together.