Getting Under the Hood with… Jutta Birkenhauer
Ahead of our next  Under the Hood event, (May 26 @ 12:30 pm – 1:30 pm) we learnt more about one of our presenters: GF Smith's International Sales Manager Jutta Birkenhauer
We spoke about GF's colourful history, environmental ambitions, paper and print trends and how the industry has changed over the last three decades.
Register for Under the Hood




What can you tell us about GF Smith's history?
Well, 136 years ago, in 1885, George Frederick Smith founded the company in Hull in England where our HQ still resides. He travelled the world (on a boat in those days) to find the most beautiful papers on a global scale. He wanted to bring them back to the UK, put them into a collection and make them available to everybody in Europe. 135 years later, in essence, we still do exactly the same … and please see our beautiful new collection below.


If you are interested to read more about our really colourful history, please check in on our new website: https://www.gfsmith.com/our-story

What do you enjoy most about your role as International Sales Manager?
Meeting people who are just as enthusiastic about paper as I am … paper is a wonderful medium! It has coined who we have become as humans for such a long time – capturing and passing on learning from the beginning in Ancient Egypt in 3000 BC on original papyrus, to parchment (basically animal skins .. did you know that to make 1 bible they used the skin of 250 sheep in the middle ages??) to the first paper being made around 200 AD at the Chinese court by a court official called Cai Lan …. and modern paper making today. It is hard to image a world without paper, isn't it? And I love the fact that many people I meet share this passion.


Do you have a favourite paper range – if so why?
Well, Colorplan, of course, a playground with 55 colours, 25 embossings, duplexing and labels …what can match that?… and Colorplan is my favourite paper range in existence today … but my all-time favourite paper was Curtis Esparto but apart from a few sheets in my paper collection, you won't find that anywhere any longer as the mill no longer exists.

What exciting things have you seen produced with Colorplan lately?
Lots and lots of exciting things …the drinks industry has done very well during Lockdown (I guess we all drank a few glasses more than usual) with beautiful packaging and labelling done with Colorplan. But my absolute favourite one is by a Swiss silk screen printer called Lorenz Boegli. He did some 3-dimensional cards that are now framed and hanging in my office. Love, love, love them .. if you are curious how he made them, click on the link below.
https://gfsmith.com/lorenz-boegli-three-dimensional-cards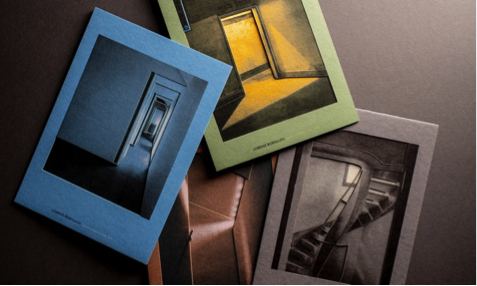 You have 30 years' experience in the paper industry – what have you seen change over that time?
I have seen lots of lovely paper mills close down … which broke my heart… lots of end uses disappear (like corporate stationery, watermarked letterhead papers, cheque papers etc) .. but the love of paper in the graphic design industry has not faltered, and it can live very well side by side with digital design .. and it always will, because it has a tactile, emotional element to it that digital communication has not. What do you prefer? .. to receive a love letter handwritten on Colorplan … or a love WhatsApp message???? … you see?!


DA (and our community) love the environmental credentials of Extract, what are GF's intentions to develop this range, or expand your offer of environmentally sound stocks?
We are in discussion about this at the moment .. unfortunately due to Covid, the use of single-use coffee cups is increasing again .. what had been achieved to reduce the single use coffee cups has been lost again … but we have to look further and go deeper, into the heart of every company, everything we do needs to be in line with climate change targets … we have a lot to do here. So, watch this space, exciting news coming out from us later on this year … 🤞

What do you think are the up-and-coming trends in print and paper?
I will talk about this during the presentation .. it will get "muddy" … so listen in and you will find out what that means …

And what other innovations are you excited about in papers future?
New ranges and effects always excite me, but what I would really like to see is innovation in the way we produce paper, to decrease energy consumption in paper making … maybe someone over in NZ has an idea??? Engineers to the front … !!!


Finally, where can designers get in touch or learn more about the GF range and what is on offer here in New Zealand?
In NZ we are working with PaperSource, the stock Colorplan and Extract from us .. Janine, Linda, Karen and the whole team there are paper enthusiasts, ready to help you in any way they can.
On the last slide of the presentation in May, I will show you all our social media addresses which is where we communicate with the whole world.
And personally, I am easy to find everywhere … my email address is jbirkenhauer@gfsmith.com if you want to be in touch.