Fresh from the Field — Slingshot Charity Series Modem by Becca O'Shea
We love featuring design for social good projects! This Fresh From The Field features illustration and product design for The Slingshot Charity Series by Becca O'Shea.
For each of these modems shipped, Slingshot will donate $10 to HURRAH — Humane Rescue, Rehabilitation and Rehoming Charitable Trust. Learn more here
If you have new or recent work that you would like to share in Fresh from the Field email Louise for details.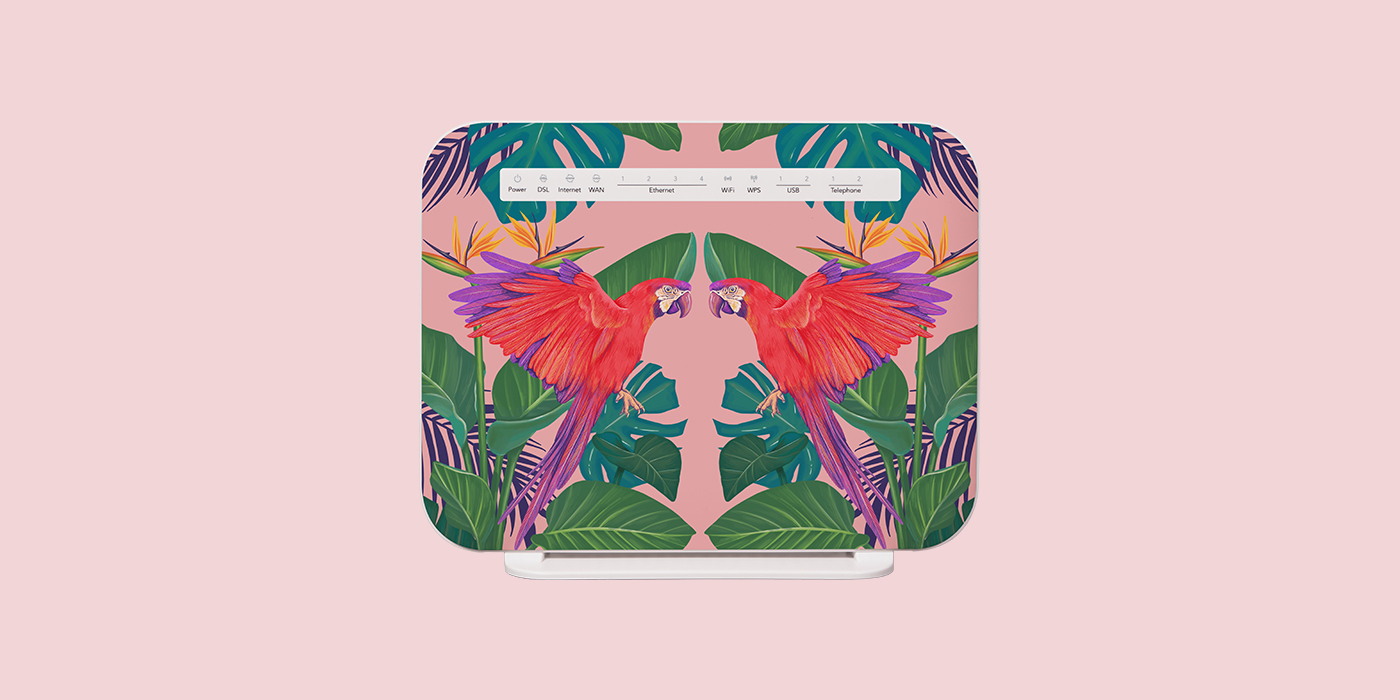 The Brief:
Slingshot approached Illustrator and Art Director Becca O'Shea for a unique campaign for their latest Charity Series. The project had paired both a celebrity and artist together to collaborate on a new modem design for their chosen charity. Becca was asked to collaborate with Megan Annear from the edge to create a new modem design, with proceeds going to HURRAH animal rescue.
The Response:
Megan wanted something that was going to look good in kiwi homes, something that felt current and perhaps shamelessly millennial. The duo started with some mood-boards of various designs. They worked through various compositions of both plants and birdlife and colour-ways before deciding on the final design. This illustration was done completely in photoshop using a Wacom tablet, made larger than the final print to build detail in each element.
Client: #slingshot #slingshotcharityseries
Collaborator: @meganonair
Up Next...
Smells like Fresh Print — Global Good SWheat Straws
Brought to you by B&F Papers, the Smells Like Fresh Print series celebrates the beauty and tactile qualities of recently created, selected print projects. This week we share and celebrate 'Global Good SWheat Straws' Project Title: Global Good SWheat Straws Client: Global Good (www.globalgood.eco) Designer Details: Cinch Creative, Renée Sterne (www.cinchcreative.co.nz) Printers: Soar Print Production…
More from 'Fresh from the field'...
Fresh from the Field — Te Mauri Hiko by Ryan Ferguson
This Fresh From The Field features Motion Design fromWellington-based independent designer Ryan Ferguson If you have new or recent work that you would like to share in Fresh from the Field email Louise for details. The Brief: Transpower commissioned the Te Mauri Hiko – Energy Futures project to closely examine a range of electricity supply, demand and…