2023 Hot New Things: Kat Urquhart, Creative Digital Design, Yoobee
Each summer DA profiles a selection of the top design graduates coming out of our tertiary institutions. We welcome these talented emerging professionals to our industry, learn about their passions, final projects, developing creative confidence and ambitions for the future.
Today we speak with Kat Urquhart who studied Creative Digital Design at Yoobee. You can find out more about Aotearoa NZ creative study options by visiting our design schools page.

---
Can you tell us a bit about yourself?
I am an intensely curious person, can't help but explore, ask questions and try new things at any opportunity. I love people and spending time outdoors. My design is often inspired by my experiences and interactions. Taking note of daily occurrences plays a big role in my design, coming from a place of capturing moments of beauty through photography. Many illustrations are inspired by a brief moment passing someone on the street or a humorous side comment someone made.
Since I got my very first camera on an ipod touch, (back when phones were just bricks) I've loved capturing moments. Since becoming a freelance wedding and family photographer. I am also passionate about working with young people and have been nanying and kids yoga teaching for many years.
Safe to say I love people, creating, sharing and learning through play! My main creative endeavours today are graphic design and illustration.
What did your graduating project focus on?
At Yoobee we work through many projects, often just taking a few weeks for each one. Graduating I focused on bringing together the themes that told the biggest story. I enjoy value based design and one of my favourites was a brief to support youth, focusing on education and awareness of neurodiversities. My outcome produced a book that educates people about ADHD.
Neurodiversities surround us, yet many of us don't even know what they are. Discovering my own neurodiversity, my world became a little clearer.
Often people see ADHD as a busy brain, the squirrels getting our attention or just another label. ADHD is simply a different wiring in the brain that can look different from person to person.
In collaboration with the ADHD community this piece hopes to provide insight into this neuro different world. On a mission to share awareness, break the stigma and educate people, we created an informative booklet and social media campaign.
Even if we get to support just one person, to face less struggles.
Why did you choose to study at Yoobee?
Yoobee seemed the best option for my learning style, in that the sessions are very class oriented and collaborative. Studying at yoobee I definitely learnt most from my tutors and peers. I thrive in collaborative environments where feedback is plenty. I could share my experience with others and my work could grow more from the input of others around me. After all, a designer is usually designing for others!
What did you enjoy most about your course, or what do you feel you can take away now that you've completed it?
This course provides a wide range of explorations and learning was encouraged to push ideas outside of the box and get out of your comfort zone! It pushed me to play more with ideas out of my comfort zone and explore many avenues of design. Also the encouragement of tutors to take creative time outside of work or study. To do what you love and explore new ideas. Helping to fuel creativity and seeing how this can open more avenues to find your best suited place in the creative industries.
Were there any exciting or unexpected discoveries to come out of your studies?
Seeing what I want to create come to life and telling stories.
Going into these studies I wanted to explore this creative avenue, with no certain area or niche in mind. I have found many exciting design avenues and how I can use these skills to give back.
What was your biggest challenge while studying and how did you overcome it?
As a curious mind, I'm always wanting to explore new things, however that often landed me over facing myself for excitement of the project scope. While having limited time and resources to take this idea to the finish line and balancing challenges around the write up of the work.
Changing perspectives helped me move forward and get the most out of my studies. In study I get the most value from the exploration rather than the outcome. Even when my hand-in outcome didn't always meet my fussy perfectionism standards. I knew that I made the most out of my time exploring the subject, brainstorming concepts, learning new software and techniques.
Was there someone (or something) that inspired you to pick Graphic design as a career path?
Like many, covid was the gentle push out of my previous work, to explore more creative learning. Pre covid I was a full time kids yoga teacher! I love it and my work was fun, playful, fulfilling, creative and an amazing thing to share with others. We taught kids more about their bodies and how amazing movement can be, explored emotions and how we can manage them. Practised calming techniques or lessons of laughter. Covid unfortunately meant that things became inconsistent, things moved online and the times gave me that push to get back to study and explore another path.
I have always loved drawing, photography and creating things, and I saw graphic design as a great way to develop my skills and better communicate values and enrich others lives.
Which piece in your portfolio are you most proud of and why?
In one of my first projects this year I created a solution to start more conversations, educating and brightening up the common room! Yoobee compost placemaking project, a result of a simple brief to use colour to enrich a local space. This project saw me push to learn some 3d software basics, explore illustrative typography and solve a solution on my own campus! A time consuming plan for a short brief. I am really proud of the exploration, result and the conversations this started within my own group.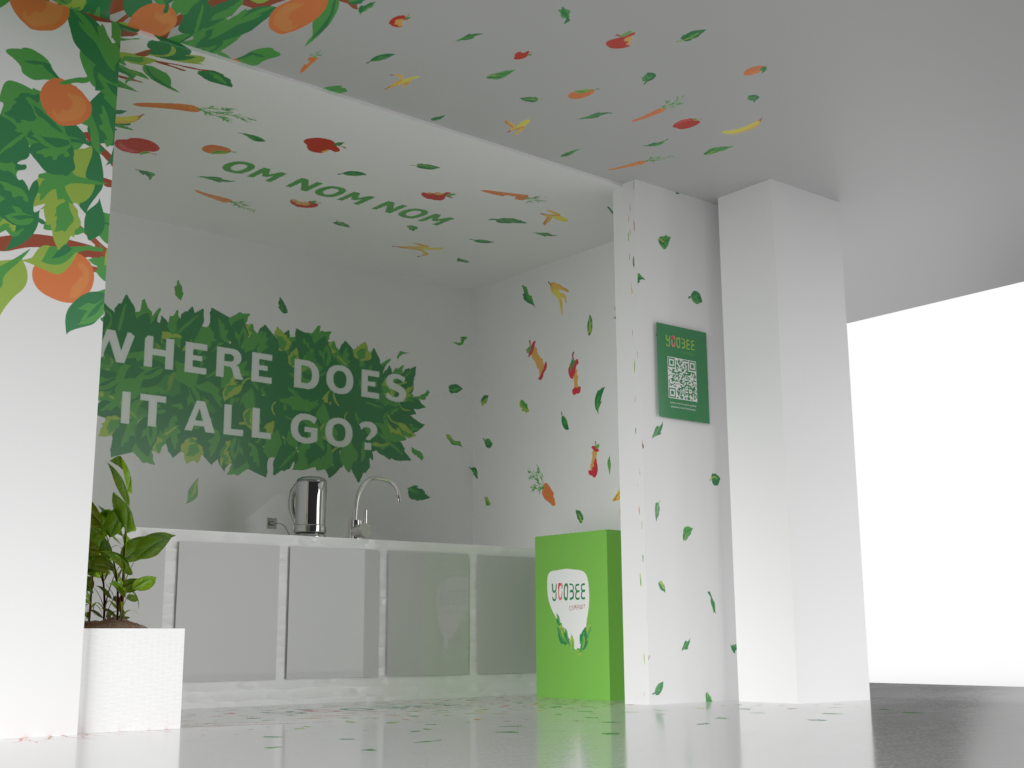 What's next for you?
Curious for more, I'm excited to get into the industry. Somewhere I can learn with others around me, a place that encourages play and puts values at forefront. On the hunt for a role in graphic design and illustration.
How can people get in touch or see more of your work?
I always love to say hello!
Insta https://www.instagram.com/kat_wandering_art/
Behance https://www.behance.net/katheriurquhar