Between the Pages with Yueko
In this interview series we sit down with some of the illustrators and designers behind some of Aotearoa NZ's self published books to learn more about their illustration processes, book print designs, and tips for self publishing.
This week we chatted with Yueko, an independent digital artist who recently published Idyllic, an art book featuring a wide collection of her work from 2017-2022. Yeuko walks us through the creative process behind her book and shares some of the details behind the project.
This series is proudly sponsored by Bookprint.

Ask for the Bookprint DA Designer Service, to receive an extra copy of proofs (one to keep and and for your client), and an extra copy of the final book for your design office.
---
Kia ora Yueko. Can you share with us a little about yourself and your creative background?
Hello! I am an independent digital artist. I've been drawing for as long as I can remember but decided to pursue this path seriously around 5 years ago. I primarily draw illustrations inspired by East-Asian culture and media. I've worked on illustrations for IPs such as Azur Lane, Onmyoji, Genshin Impact and Wild Rift. Some of my past clients include Yostar, Netease, Pixiv, Air Asia and MSI.
Walk us through the process of Idyllic and what initially inspired you to create the book.
I've always wanted to produce an artbook and consider it a milestone goal in my career! I love collecting artbooks myself. The feelings of excitement and inspiration I get while browsing through them made me want to produce my own. Prior to reaching out to Bookprint, I had been contemplating it for several years. However, my inner perfectionist kept putting it off for various reasons such as feeling like my art was never good enough, or that I didn't have enough pieces to warrant one.
So, I suppose the first step was actually just mustering up the courage to commit and see this project through to its release. And honestly I have my audience to thank for that, every time I've mentioned it in passing they have been endlessly supportive.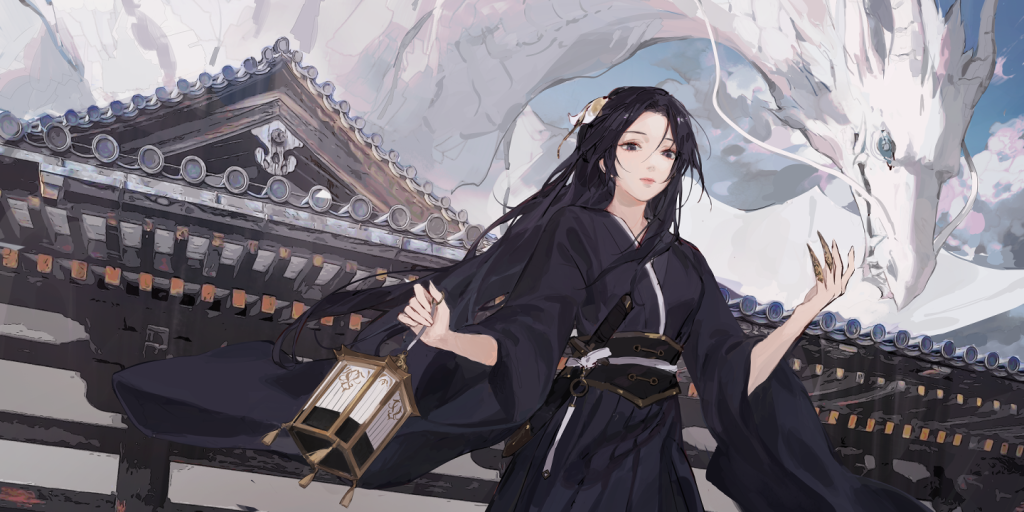 Idyllic's Print Specs
Dust Jacket:

Printed 4 colours on coated stock, scuff resistant matt laminate and gold foiled on face and spine

Cover and Binding:

  Hardcover, casebound, section-sewn

End Papers:

Printed 4 colours on 150gsm uncoated wood free stock

Text:

Printed 4 colours on 150gsm coated stock, plus varnish
What did you consider when choosing the paper stock, cover style, and/or binding for this project?
I wanted to make the first release extra special so I opted to go for hardcover with a dust jacket included. Initially I had a difficult time deciding between matte or gloss coating for the dust jacket, but friends told me that they felt the matte finish had an elegant look which complimented my artstyle. They also helped me to choose the paper for the inner pages. The matte has a nice traditional textured feel to it but ultimately satin felt cleaner and polished. For the binding, I knew I wanted it to open flat as many of my artworks are landscape compositions which cross over the center of the book.
Was Idyllic the first book you self published? If so, what did you learn from the process?
I learned so much! It was my first time going through the entire process and I had no idea there were so many options available for each component of the book. There are a myriad of paper types and special processes that can be applied, such as the gold foil I used for my title, which can influence and enhance the physical appearance of a book in different ways. After that I discovered just how long it takes to self publish a book- compiling information, layouting, sampling, manufacturing, freight, not to mention sorting out the design and logistics for packaging and other add-ons. Woefully unprepared, I ended up dealing with these things one by one instead of making a plan from the beginning which led to many delays.
Why did you ultimately opt to print your book within Aotearoa, rather than overseas?
I want to try to support local businesses when I can. I've felt the struggle to pursue a creative career and operate my own small business from Aotearoa. I hope that in the future there are only more options for people wanting to pursue a career like mine and that they don't have to sacrifice living in this peaceful and beautiful country for more lucrative options overseas. That's why I feel it's important to shop local. Unfortunately it's too expensive for me to manufacture and distribute the book entirely from New Zealand as most of my followers are overseas but I decided to go through Bookprint for their services in assisting with offshore printing primarily because I had a great experience ordering art prints through Copy Colour in the past. I didn't mean to turn this into a review, but- David, who used to run Copy Colour and now owns Bookprint, provides amazing customer service and has always gone above and beyond to ensure I'm satisfied with the end result.
Lastly, any other advice you can share for artists/illustrators/designers interested in illustrating their first book someday?
It's a long road but entirely worth it! As for advice… If I could go back in time I would tell myself to plan better and maybe start with a smaller-scale project. Manufacturing and shipping takes longer than expected- not only for the book itself but packaging and extra add-ons too. Things would have moved faster if I thought of everything ahead of time. I mentioned starting small because it's so much easier (mentally and on the wallet) to work out the kinks with a smaller investment first to ensure that the next project sails smoothly!
Where can we find you online?
You can find Idyllic at: