Behind the Curtain – Wild at Heart – SWEA design (Rocketspark Design Partner)
In this interview series we sit down with Rocketspark Design Partners to explore their work and how the Rocketspark platform and partnership program has helped grow their design businesses. This week we chatted with Jessica Morrissey from Swea Design on her recent work with Wild at Heart.
The brief:
Wild at Heart came about as an in-house project for a New Zealand Pet Product Distributor based in Mount Maunganui. The brief was to create a visually appealing brand, dog treat packaging and website for New Zealand Made Air Dried Dog Treats to sell in Countdown. In order to grab the attention of dog owners looking for quality treats for their dogs, the challenge was to create a brand and product that would fit in but also stand out . . .
The brand identity centred around the idea that all dogs have a bit of wilderness within them, regardless of whether they're city dogs or farm dogs. The product itself had to have a close visual appeal to something we humans would eat ourselves, so nothing in a pre-made bone or heart shape, but a product that took on a rough, wild, uneven shape and size.
The design response:
From this, Wild at Heart was created. A brand personality that's fun, playful and quirky, adventurous and full of energy – just like the pup and its owner! A motto to treat your four-legged friend to the best of the best, that's natural, healthy and beneficial. And New Zealand made of course!
The Pet industry in general, but treats and food especially is a very busy category. Taking check on similar aligned brands and styles, the look and feel for Wild at Heart slowly took a shape entirely of its own. We wanted a natural look and feel for both brand and packaging. For it to appeal to pups off course, but also its owner.
The treats themselves are not your mould shaped treats, but instead very similar looking to jerky – being rough, uneven and different looking. This was something we felt needed to reflect throughout the entire brand, starting with the logo. A hand-written feel about it with uneven sticks and marks scattered around, together with the NZ lock up.
For the packaging itself, a further and more complex challenge was to create a look and feel for a full range that could expand into different flavours and textures with various treats such as Bites and Chews. Introducing a Cat range and possibly taking height for what a Dry Food and Wet Food range could look like. The packaging displays a pup heading off to an adventure in the wild with mountain backdrops.
For the final packaging of the brand, the website was built using all the creative and graphic elements to really capture the same look and feel. The website is built using the RocketSpark CMS, which is a favourite of ours for creating beautiful content sites. What really framed the brand was the beautifully captured photoshoot by Jay Drew Photography.
It has been a great process where different look and feels have been tested and fine-tuned down to the final result. Wild at Heart has been a great customer to work for, where free rein was given to create a cohesive story, look and feel. Really stoked with the end result and excited to see the brand grow.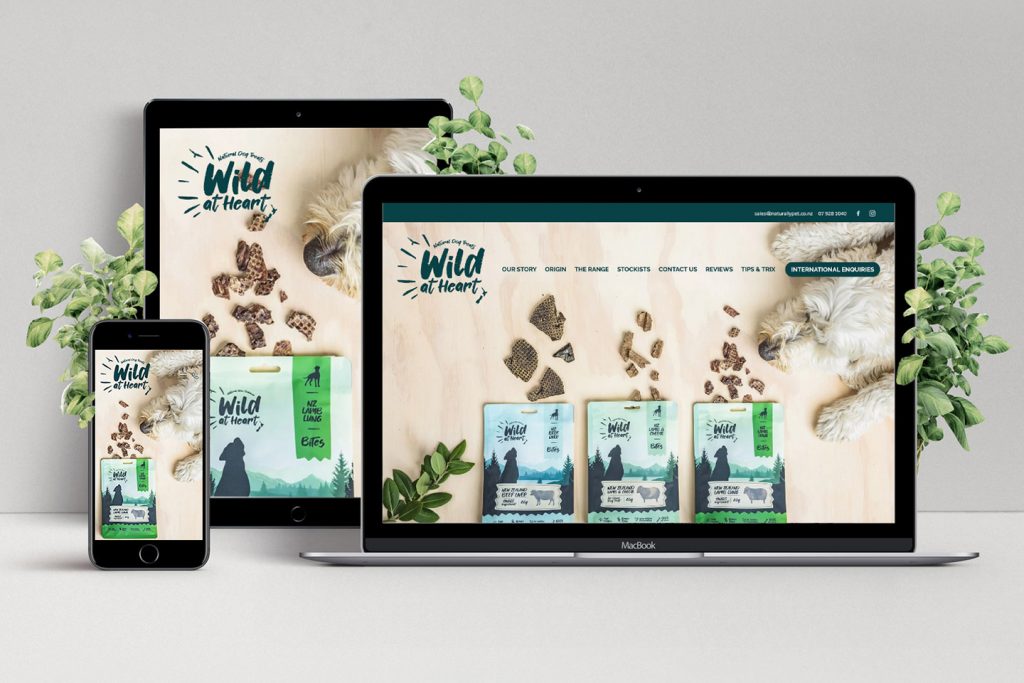 Studio/Designer:
SWEA design
https://www.instagram.com/swea.design
https://www.facebook.com/sweadesign
https://nz.linkedin.com/in/jessica-morrissey-a474405a
Client
Wild at Heart
https://www.wildatheartpetfood.co.nz/
https://www.facebook.com/nz.wildatheart
https://www.instagram.com/nz.wildatheart
Contributors
Jay Drew Photography – Photography