Meet our Friends . . . EY wavespace
'Meet our Friends' series is where we take a moment to celebrate and share a little about the diverse studios who make up our DA Friends.
Today we spoke to our friends over at EY wavespace to learn more about their studio team, culture, and design philosophy. With a diverse range of skill sets, their inhouse team of five bring business, design, and technology together to help accelerate transformation, support innovation, and create measurable outcomes with their clients.
Design Assembly is the home of Aotearoa NZ design. We bring together designers and provide opportunities to connect, grow, and be inspired throughout the year. Join as a member, become a DA Friend today!
---
Where are you based and what shape does the EY wavespace team take?
Hey DA, we are the EY wavespace NZ team and you can find us located in Britomart Square, Auckland (spoilt for choice on coffee, pastries, and lunch spots). We are a team of five coming from various backgrounds such as event management, theatre production, executive assistance, UI/UX and graphic design. We are part of a global network in over 50 locations worldwide. As an inhouse multidisciplinary team we bring our diverse range of skill sets towards designing and facilitating workshops/experiences aimed at helping our clients accelerate decision-making and problem solving.
Can you share with us what a typical day at EY wavespace looks like?
EY, in general, has a flexible working policy which provides us with the empowerment to plan our day around what is required of us. We have adopted a flexible working week, so we are in the office anywhere between 2-3 days on average with the rest of the days WFH. A typical day could include; meeting with internal account teams and discussing (at a high-level) business problems they are encountering and where we might be able to assist to overcome these challenges.
We could be meeting with clients and discussing points that have been raised to understand their point of view of the challenges they are facing. From these discussions, we could be designing an experience to overcome these challenges in an accelerated & creative way. Some days, we could be catching up as a team for coffee and learning about what we are doing well and what we can do to improve our ways or working. We could also be doing some personal & professional learning & development.
Fortunately, we are able to have a great deal of variety in our daily work life. Within any given week we also have regular communications with our Sydney based team who we work closely with and sometimes in collaboration on the same client event. We also have global calls which are focused on maintaining a sense of connection and togetherness across the EY wavespace network.
A couple of examples would be the 'Coffee Connect', a fortnightly meeting bringing multiple EY wavespace centres together to share client experiences, future opportunities, and best case practices. Another would be the 'Design Strategy' call which brings together a community of multidisciplinary EY wavespace designers showcasing previous client work or even seeking feedback on work in progress. We are fortunate to be a part of the global network where we can share knowledge, experiences, assets and stay connected as a community within EY.
What projects have you been working on recently?
We've recently worked with a bank in their Data Strategy space. This consisted of a 3.5 (back-to-back) day workshop where we brought senior leaders from the bank together in our space at EY. The interesting part of this was that most of them didn't know each other from the start and by the end of the workshop they had formed a team with a roadmap towards a better future of data use in their workplace. This would ultimately feed into how they would better engage and support customers through the improved use and handling of their data.
Working in collaboration with EY cybersecurity teams we've also created a baseline simulation experience for clients to run their incident response to ransomware attacks, end to end. This involves a series of visual prompts within the scenario accompanied by active speaking roles and decision making points to complete the simulation.
What does the EY wavespace design process and philosophy look like?
As a team we bring business, design, and technology together to help accelerate transformation, support innovation, and create measurable outcomes with our clients. We provide them with the best diverse thinking – from across the global EY wavespace network, the ecosystem of the EY organisation and beyond.
Our workshops happen virtually, in person or using a blend of both. These experiences provide a chance for our clients to break free from the everyday, to gain a fresh mindset and use collaborative tools to think differently. Our philosophy is to go beyond the purely rational and help deliver transformation by addressing potential political and emotional barriers to help solve problems at speed. We help design for customers and stakeholders by aligning teams and breaking down silos, because we believe people support what they help create.
Favourite tools in the studio to help your team manage the day-to-day?
Being a part of a large organisation, we are somewhat limited to the tools we can use. Within our day to day, we utilise Teams and Whatsapp to communicate updates and the latest office gossip 🤫 Figma and Adobe CC are used for designing visual assets while collaborative online platforms like Mural & Miro are used for quick brainstorming and workshop structuring.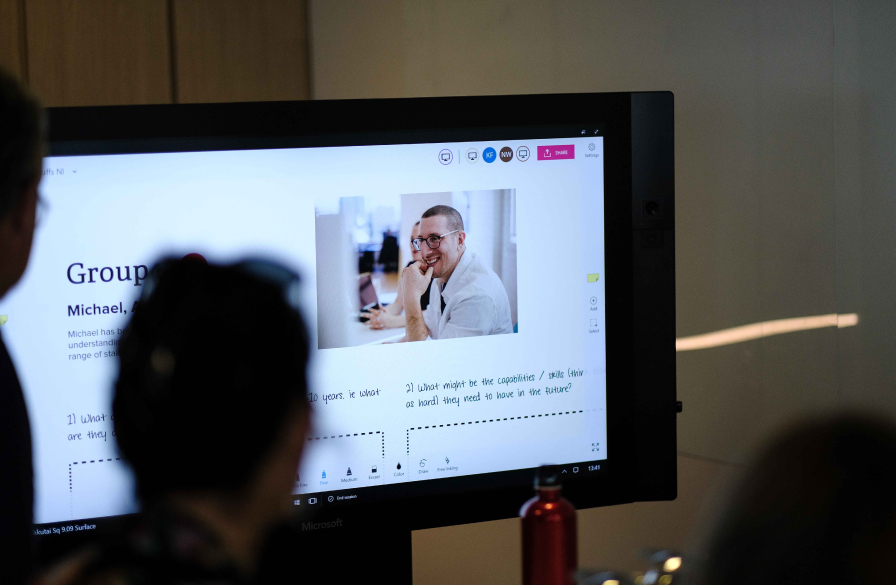 What recent achievements or projects are you most proud of?
We are proud to have fostered and nurtured strong working relationships with several client teams within the firm. The level of trust that we share with those teams have led to delivering experiences with greater impact and meaningful outcomes – the recent multi-day Data Strategy workshop as an example. At the end of the day, it's about putting humans at the centre of what we do and that includes the people we collaborate with just as much as the customers they serve.
Where to next for EY wavespace, what is your team working towards for 2023/24
Working with clients on how they navigate large digital and technology transformations. We love getting into the human experience around these types of challenges. However, we tend to roll with the punches – you never know what will come out of the woodwork. We are looking forward to a mammoth change within the firm, which will open a whole new world of clients, leading to more exciting opportunities in the market to showcase our talents as well as access a bigger tool and technology set.

Lastly, where can people connect with you on socials?
If you'd like to learn more about what we do please feel free to reach out to us individually via LinkedIn. We're a small but mighty team in a massive global company so reaching us through the official EY channels might be a little tricky. Alternatively, flick us a message via email.
wavespace@nz.ey.com