Women in Design . . . Sita Narsai
In our Aotearoa New Zealand Women in Design series, we celebrate Aotearoa New Zealand Women in Design as they share their work and processes and we learn more about their day-to-day routines, diverse career pathways, and how they achieve balance.
Today we chatted with Sita Narsai who's the Lead Designer at Tāmaki Paenga Hira Auckland War Memorial Museum.
Come along this month to our online event Under the Hood – Women in Design. Register here.
Looking to connect with your design peers this year? Join the DA Friend community.
---
What or who were your early creative influences?
I grew up in a very hard-working and creative family. I was never discouraged from drawing, painting or any sort of making or creating. Two of my aunts are illustrators and designers and were my earliest creative influence. My brother and more than a few cousins are also in the creative industry and I sometimes think there's something in our DNA – it's almost the family business. Some families are accountants – we're illustrators and designers.
I have always been heavily influenced by pop-culture. My mum worked at a stationery store when I was growing up and would bring home old magazines once they were out of date. I was reading Smash Hits and Dolly alongside Pavement, The Face, Dazed, Empire, House & Garden, Elle, Vogue and GQ from a young age. My bedroom walls were "artfully" covered in those pages.
Can you describe the creative path you took to get where you're at now?
After high school I attended AUT (just like my aunts) and did the Certificate of Art and Design. It gave me a taste of Visual Art, Graphic Design and Spatial Design – I nearly decided to do Visual Arts as my undergraduate degree, but in the end as even though I Ioved the freedom visual arts presented, I chose graphic design because I loved grids and typography more.
I graduated from AUT just a year before the Global Financial Crisis (GFC) hit New Zealand. My first job out of uni was as a designer, designing editorial for business and technology magazines, as well as designing marketing collateral for events and conferences. After 4 1/2 years I moved to London where I freelanced at a variety of places such as Sotheby's and Hogarth Worldwide. I was a designer some days and then an art-worker the next. It really gave me a well-rounded skill set and I was able to take on work and fit it in around travelling Europe.
When I came home to Auckland I found a role as in-house designer at Southern Cross. I was there for 5 1/2 years working in the marketing team across their health, life and pet insurance products as well as corporate well-being programme. In 2019 while living and freelancing in Melbourne, I applied for my current role at Auckland Museum. I came home and started just 2 months before Covid-19 arrived. My current role feels like a culmination of all my passions and interests, because I'm able to be part of a team that is able to tell the stories of Tāmaki Makarau and Aotearoa, of our people and communities.
What does your typical workday look like? (we are keen to hear about the extraordinary routines/juggle of women in design.)
Working in the Museum Brand and Customer Experience team means I'm across a wide variety of projects – both print and digital. Day-to-day work ranges from designing marketing assets for upcoming exhibitions and public programming to designing store merchandise, museum vehicle decals, restaurant menus to organising and art-directing photo shoots. Sometimes conversations can become a bit surreal as you discuss a T. rex's best angles.
Do you have a project that is memorable because it challenged you, if so what lessons did you learn from that work?
During the first lockdown (level 4 – where we could go for walks or to the supermarket only) I was briefed on the UX design of the Museum's new south atrium digital signage. Two giant screens made up of multiple smaller screens that sit on either side above the Museum's South Atrium ticket desks. The project involved working with the digital marketing manager and in-house developer. Designing for such a large scale asset, as well as being unable to be on-site to access the environment was challenging as scale plays such a big part of the design. I think like all of us working from home, communication (Zoom! Teams!) is key – with your stakeholders and with your team. You're not an island.
How do you mix things up and foster innovation in your work?
It really helps to be a naturally curious person – I'm always reading something whether it be online or in a book or magazine (print's not dead!), going to galleries and seeking out new creative work in the city. I collect hobbies and have boxes of origami paper, paint, magazines, wool etc all left over from creative projects I've started just for the fun of it.
I can also find the oddest things inspiring – TikToks, Instagram cats, a ripped street poster, chipped paint or even road markings. It definitely helps to work in a Museum, as I'm presented with some great subject matters to create for. It also means I'm surrounded by really interesting and smart people willing to share their thoughts and ideas.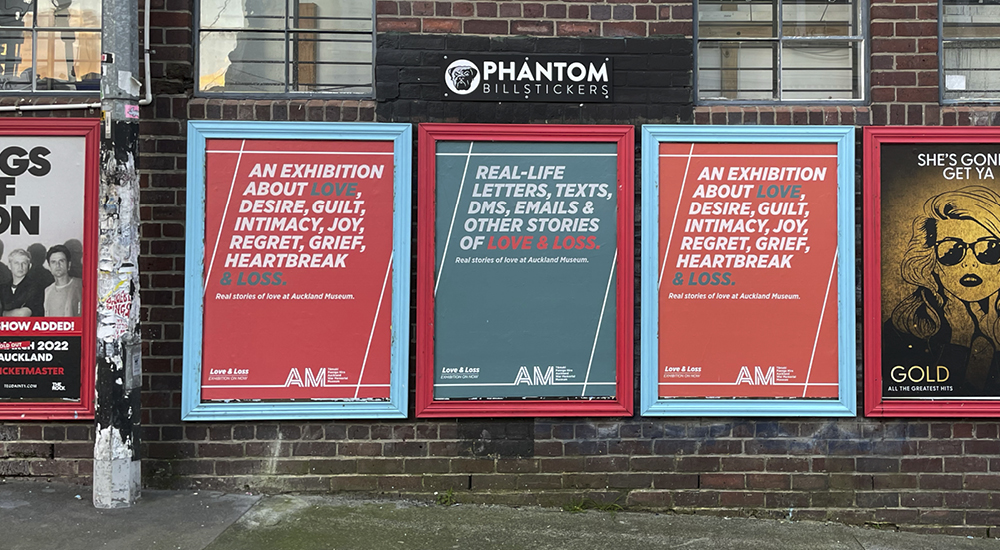 What does career/creative success look like to you?
For me it's continually questioning whether my design is accessible and inclusive. Does it reach as many communities as possible and account for different perspectives successfully?
The best piece of advice I've received is…
I think more than being given a piece of advice, I've learnt by example. I've been fortunate to have had some amazing colleagues and leaders. The one common learning is empathy — for your colleagues, customers and yourself.
What barriers have you come up against ( or have seen ) within the design industry throughout your career and how has that affected your work?
The first was the global financial crisis. My friends and I were all really lucky to have jobs after we graduated and then the GFC hit and we were lucky if we got to keep them. I was made redundant, and then somehow got a new job. This all meant creatively we had to be extra conservative with any allocated budget and job security became important at a young age.
I think the other was what we've all gone through in the last 3 years (and continue to) – the pandemic – it was tough on everyone and it really took a toll on my mental health. It's something I'm continually navigating and learning about.
What do you hope for the future of design in Aotearoa NZ?
There are a lot of young Asian, Māori and Pacific creatives out there and the work they're producing is amazing. You can find and follow a lot of them on Instagram. We need to encourage and support creatives from all backgrounds and communities. Their experiences and perspectives reflect the society we all live and participate in and the New Zealand design industry needs to reflect that.
Finally, where can we see more of your work and connect with you?
You can find me on instagram (@si.ta) where I share work that inspires me or connect with me on LinkedIn
---
Keen to see more work from women in design across Aotearoa New Zealand? Coming up 15 Mar is our online Under the Hood – Women in Design event. Register to attend here.