Meet our Friends… Danny Carlsen — Head of Design at Shine
We love the opportunity to get to know our DA friends better, so we're happy to get the chance to speak with Danny Carlsen — Head of Design at Shine Limited. We spoke to Danny about his career journey, the creative culture they have fostered at Shine, empowering team members to contribute and cross-pollination within the studio, the mahi he is proud of and his ambitions for the future.
Being a DA Friend means you're helping us to build a thriving New Zealand design scene. Your subscription has direct benefits for you too. Be Seen. Be Heard. Be Friend. Sign up here.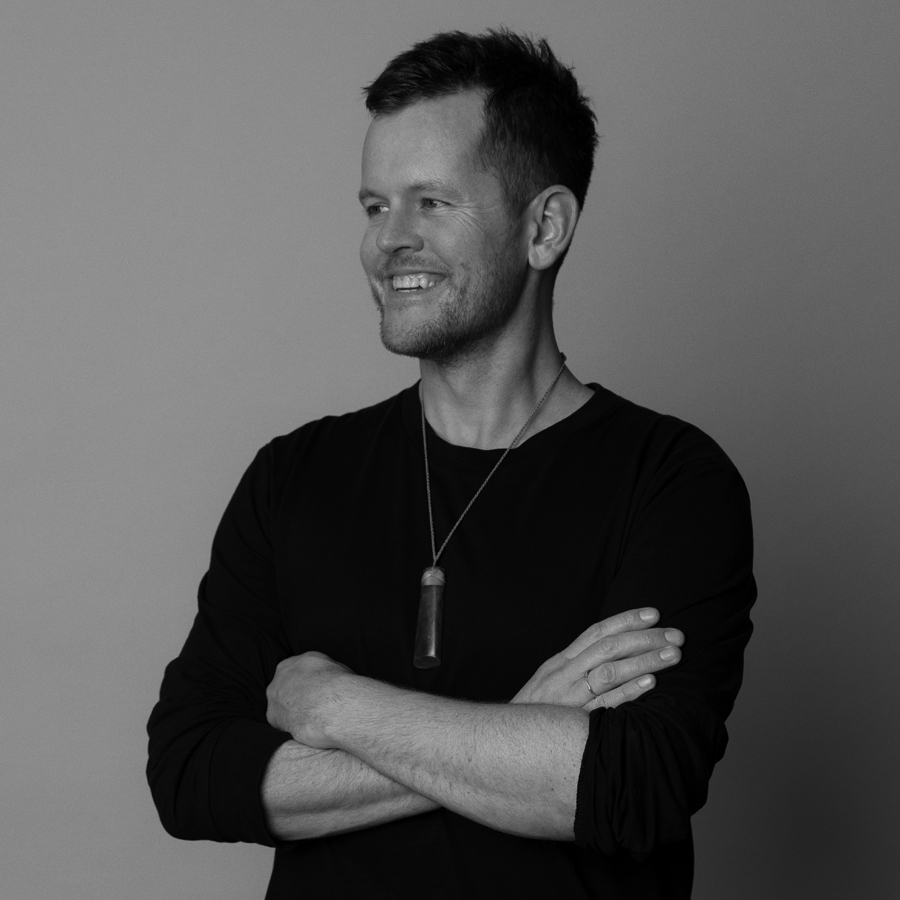 What led you toward design?
I've always had a passion for creativity, particularly in fine arts and landscape design.
During my school holidays at high school I worked for a signwriter.
I loved how colour, composition and craft had the ability to turn heads and communicate a message. Through the mentorship of my incredible high school teacher, Miriam Chainey, I was encouraged to fuse my fine arts skills with design thinking and then to go on to study Visual Communication at University.
I love how design exists to solve a problem.
Be it a stunning piece of packaging that is irresistible to pick up, a campaign that connects to the hearts and minds or an interior that somehow makes you feel at home, great design has the ability to be transformative.



Can you describe the path that led you towards becoming Head of Design at Shine?
I've had a melting pot of various experiences over the years. From running my own design business, working for boutique design agency Proud, heading up the design team for the Southern Hemisphere's largest 3 day music festival Parachute, then on to Ogilvy NZ. It's been a whirlwind before starting at Shine February 2020.
Having the opportunity to help run, build and co-lead the design business at Ogilvy NZ was a challenge I relished and one that introduced me to the world of advertising.
Traditionally, the role of design within ad agencies was to provide the 'craft' to advertising, but the power of design is far more than just that.
The value of design as a strategic, vital component for business growth can transform business. Good design is great ideas blended with great craft.
It was a fantastic journey to help grow the credibility and capability of the design business at Ogilvy NZ, design became one of the main arrowheads of the agency.
This transformative experience was a privilege to be part of. This process was what excited me about joining the team at Shine.
Shine has an incredible legacy in design, and the opportunity to further grow the team and design business was irresistible. The incredible people and culture Shine has a reputation for is what attracted me to the role also.


You have a large team and the barriers that have differentiated design disciplines are beginning to fade, how do you scope your roles, collaborate and cross-pollinate within Shine?
I'm a massive believer that great ideas can come from anyone in the team, not just the senior members. When scoping projects I strive to best match briefs to the individual designers strengths and passion areas.
When collaborating, I encourage the team to ask questions even if it's 'I don't know how'.
This enables growth not just for the individual, but for the wider team.
I want to create a safe environment where questions are part of our culture and ethos.
Getting the work-in-progress up on the walls is part of this. Inviting others to contribute opinion and expertise, putting 'team' into everything allows for the work to become stronger.
There's power in curiosity and not being afraid to put yourself out there.
I'm a massive fan of rocking up to people's desks for some whakawhanaungatanga (building relationships).
Some of the best collaboration has happened for me this way. This has helped break down silos between departments, understanding other parts of the business and isolating opportunities within other areas or projects for the team to add value or input.


What were the drivers behind your 2020 rebrand – AND what has the reception to your new identity been?
Shine has always held a unique offering in the marketplace. As an organisation we sit in the middle of the spectrum halfway between a business consultancy and a marketing/communications agency. We carry an integrated approach to strategy, people, innovation and marketing.
Through Covid last year and the challenges of the landscape across business, we honed our offering to be pointed around 4 key areas to help excel business transformation.
All organisations are looking for growth.
We've built best in class capability across 4 key growth drivers for business, together under one roof. Strategy and Direction, People and Performance, Innovation and Experience and finally Marketing and Communications.
In the search for sustainable business growth, it no longer makes sense to focus separately on individual areas. An integrated approach to strategy, people, innovation and marketing can together create a far more powerful outcome than any of them alone.
The reception to the brand has been well received, it's provoked people to ask what's the 'why' which has given us a platform to talk about our offering, the value we bring and the passion for business growth we have for our clients.


What kind of workplace culture have you fostered at Shine?
I want us to foster an environment where everyone's voice is heard and is important. Where each member of the team brings their own unique skills and perspectives to the work, can present their work and really own it.
If I can be part of helping each of them develop towards their dream for their career I see that as success for me as a leader.
I love passionate people that bring a can-do attitude when approaching something unfamiliar.
In my career so far, there's been many times that I haven't known how to do something, or I've failed somewhere along the line. I've realised that failure isn't fatal, and creating an environment that fosters questions and curiosity is powerful for both the development and growth of the team but makes for more original work also.
Being a deadline-driven industry, it is often stressful. Plenty of laughs, and having a sense of humor (and of course healthy team banter) are great antidotes which I share with the team.


What philosophies or methodologies are critical to your design approach (either personally or as a studio)?
Within our team we have 2 core areas that collectively we focus on to enhance the individual as well as the excellence of the work;
A— Character Ambition 
Outlining how I/we as an agency can foster career growth/support for each team member.
To encourage them in their dream/vision for their career and establish opportunities to help facilitate this.
B— Methodology for the mahi 
The way we approach each brief through:
Thinking (Strategy)
Creating (Conceptual)
Execution (Crafting and Production).

I meet every 6 weeks to check in on the development of these 2 areas with each of the crew to help coach them. We are passionate about providing growth for our clients businesses, but this needs to start with us as people first with our own journeys.


Can you give an example of where your work has delivered an unexpected return on investment for your client?
I had the privilege a few years back to be involved in the multi-award-winning He Tohu Exhibition at the National Library in Wellington.


He Tohu is a permanent exhibition of our three iconic constitutional documents that shape Aotearoa New Zealand. 1835 He Whakaputanga o te Rangatiratanga o Nu Tireni — Declaration of Independence of the United Tribes of New Zealand, 1840 Te Tiriti o Waitangi — Treaty of Waitangi and the 1893 Women's Suffrage Petition — Te Petihana Whakamana Pōti Wahine


Never had these three documents been on display together for the public to view.
Our task was to create the campaign to promote the exhibition to the public.


We wanted to engage the public by using the faces of key leaders who signed each of the documents over a century ago. Adding a hand holding a quill towards the viewer made them hard to ignore. We developed a typeface based upon the century old ink signature style of the historic documents which made the messaging personal.


Please read more about the project here if you're interested. Watch the case study video here.

The response to the exhibition was immense and smashed all KPI expectations for the first year. 353% visitation up from previous years exhibitions. In the first week 10,000 click throughs to He Tohu from Facebook. In the first month, 2,433,147 unique impressions across digital channels, 63% more organic followers on Facebook.


 
What project (personal or professional) are you most proud of? Why?
In terms of design as a transformative tool; it doesn't get better than redefining a government organisation 134 years old to become more caring and relevant.
NZ Police had a challenge across their brand, recruitment and organisation to ensure they were building a more inclusive, diverse, approachable organisation that upheld their commitment to Te Tiriti o Waitangi.


We put the Aotearoa back into the Police, at every touchpoint of the brand.
Please view the case study here. Watch the case study video here.


It was an incredible experience to work with an organisation that was internally fired up to make a marked difference. The synergy between client and agency allowed for the work to redefine the organisation and most importantly be effective.



Is there a project you have undertaken at Shine in the last 12 months that is memorable because it challenged you? If so what did you learn from it?
We recently launched an immersive interactive event space inside the Emirates Team New Zealand base showcasing a convergence of sailing and technology.
The Spark 5G Race Zone gives the public a chance to get hands-on with tech the team use; like never before, while also becoming a platform for a school's program promoting STEM education.
It takes a village to raise an experience, as was the case with this project.
We developed a vision for the space with world-leading partners, New York-based Executive Producer Adam Jenkins and Executive Creative Director Mick McConnell.
To bring it to life we partnered with local production companies Spur, Satellite Media, Perceptual Engineering and BuildMedia. Each was charged with realising different aspects of the Race Zone experience.
We had a best-in-class team of incredible partners to pull off this experience as well as an incredible client.
It certainly carried a multitude of challenges over the year that was Covid 2020.
Overseeing the design direction and narrative of the experience while working remotely was a good challenge. There were many curveballs we needed to navigate.
Trust in your collaborators was the number one lesson for me throughout the process.
Having patience, regular standups to check-in and problem solving collectively ensured we were unified in our approach.
Please view the case study here.


Has the pandemic changed anything for you? How have you adapted? Will you be doing anything differently (in your studio or personally)?
The pandemic taught me many lessons. One of which was the resilience of people to step up in tough times. The honest, vulnerable conversation we fostered as a team through the year was not only heartwarming, but brought us together as a unit.
It was a reminder to me that we all face different challenges.
The importance of meeting people where they're at, extending maanaki with an authentic 'how are you going?' is what makes us not just a team, but a whānau.
I think it enabled us as not just a business but as an industry to recognise that we can be remote friendly, the work gets done and it gives staff more flexibility to have a better work/life balance.



What are your goals for the future?
To create more space for my art making.
Build into people further through mentoring.
Study Te Wānanga o Aotearoa Certificate Māori and Indigenous Art.
Set up a studio at the beach.

Finally, where can we see more of your work and connect with you?
https://www.instagram.com/danny_carlsen/?hl=en
https://www.behance.net/DannyCarlsen
https://www.linkedin.com/in/danny-carlsen-4bb947101/