Under The Hood with… Leah Surynt
DA and Adobe have partnered up our live online event series Under the Hood, the next instalment is fast approaching on Thursday the 6th of August.
We spoke to the presenters to learn more about their design career, process, the project they will be sharing and their hopes for the future of Aotearoa design.
Today we hear from Leah Surynt, Senior Designer, Designworks
With thanks to our event partners Adobe.



Can you tell us a little bit about who you are, what your background is, and how you first got started in the industry?
I grew up in Clevedon, a small village south of Auckland. I made my way to the big city and studied a Bachelor of Fine Arts at Whitecliffe College of Arts and Design, and then began my career at Saatchi & Saatchi Design Worldwide in Parnell under the incredible Creative Direction of Shabnam Shiwan. I learnt so much from her about design craft, the importance of the industry and never settling.
What does your typical working day as Senior Designer at Designworks involve?
There really isn't ever a 'typical day' at Designworks, but the consistent elements are always some good laughs, a lot of design, tons of collaboration, a few meetings and if I'm lucky, a bowl of dumplings in spicy sauce from the new CBD Eden Noodle branch that recently opened on the ground floor of our building.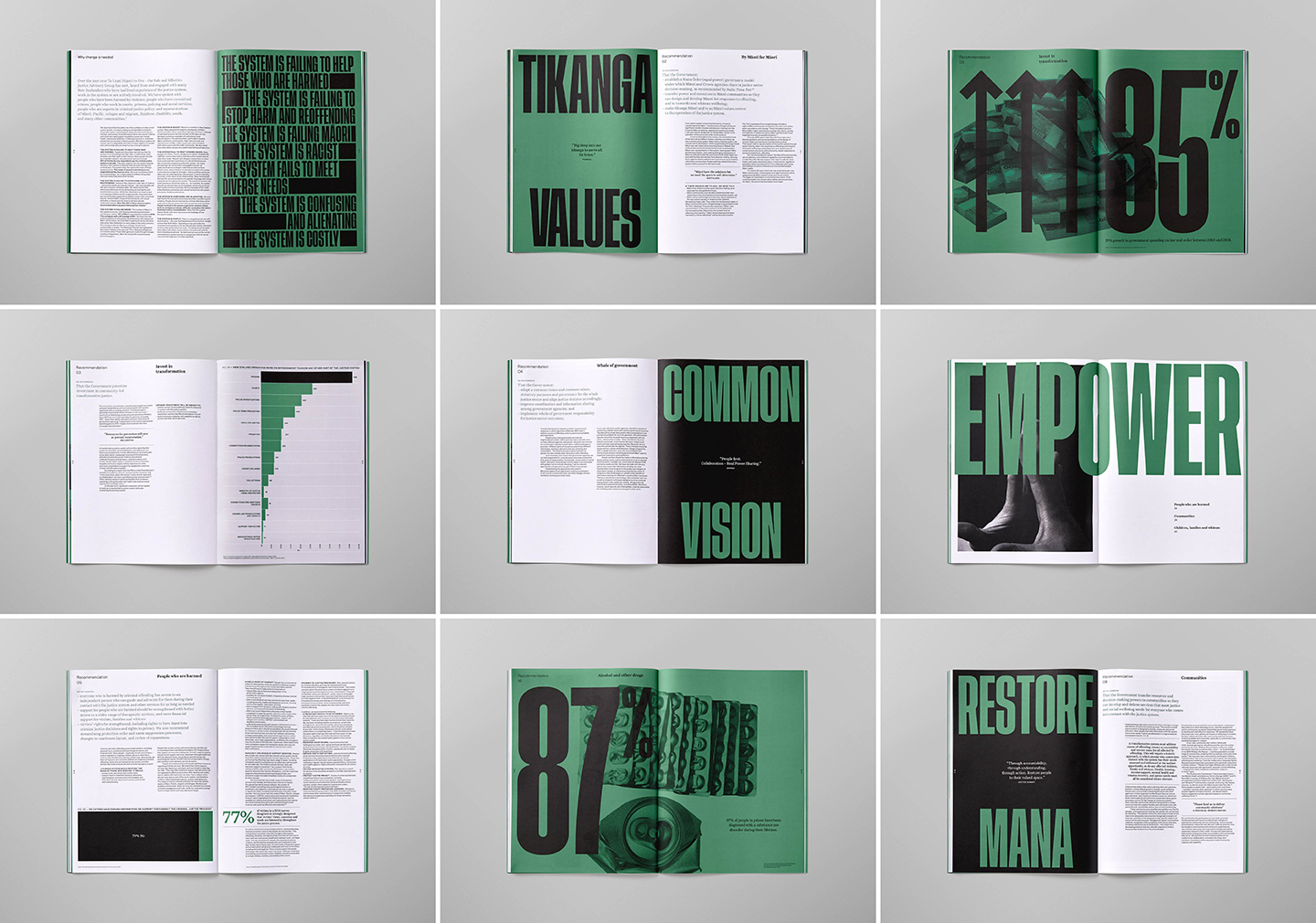 What insight can you give us to your design process?
I don't have a process, design is such a creative endeavour and to assign one way or one process to that is impossible. However, one thing I do know is it always works better as a team. At the start of a project, nothing can replace a group of great people getting together and throwing ideas around until one sticks. I don't think design in isolation is when it is at its best. Surrounding yourself with a fantastic team who are just as passionate about design as you are is invaluable.
What project will you be presenting in Under the Hood?
I'll be talking about a report that was published in December last year. It is a significant report – released by Te Uepū Hāpai i te Ora – the Safe and Effective Justice Advisory Group, it provides recommendations for a fundamental reshaping of Aotearoa New Zealand's justice system to one which prevents harm, addresses its causes, and promotes healing and restoration among individuals and communities.


What was the most challenging part of the project and what lessons did you draw from it?
It was such an important project to work on and I was so happy to be on the team. I really felt the gravity of the words I was designing with each step of the way. The standard form for these reports is bland, bureaucratic and purely functional. We needed to design it in a way that would do justice to the incredibly significant and sensitive information and recommendations it contained – and the ripples it would create throughout New Zealand.
Was there an 'Aha!' moment in the project when things clicked and fell into place?
Yes. Of course! There always is. When we began the process the report was yet to be named. Te Uepū were gifted the name of the report by Justice Joe Williams and Dr Kārena Kelly. Turuki! Turuki! – which is a traditional call to the crew of a waka to work together and create forward motion with urgency. The name was perfect and created clarity for the design approach.


Do you have a favourite feature or shortcut in Adobe Creative Cloud programs?
InDesign is my best friend. W shortcut to turn guides on and off, and Shift+W to see your work at high-quality display full screen is fantastic. Plus of course trusty Paste in Place.
What have you been working on recently?
Things move very quickly at Designworks, I'm lucky to usually be working across multiple projects at a time, its never boring. Most recently I've been working on a large rebrand and have recently been doing more brand experience projects.


2020 has thrown us some curveballs, how has Designworks adapted?
Just like every company, lockdown meant our flexible working policy got fast-tracked and we all realised that working remote wasn't actually half bad. Although – I still think nothing can replace an in-person collaborative session where you're all sitting around a table having a laugh throwing ideas around.
Outside of work hours what creative projects and/or hobbies are you involved with?
In my spare time, I make custom bespoke carpets and made-to-order cotton throws through my textile brand 6401% (6401percent.com).


What do you hope for the future of design in New Zealand?
That's a huge question! I'd love to see more big companies taking real steps to be more sustainable. More proactive design as opposed to reactive. We're a wonderful country, with an awesome design industry, and I feel so lucky to live and work here.
And finally, what areas of your work or personal development are you hoping to explore further?
As I mentioned I'm working on more and more brand experience work and really enjoying it. A brand isn't just a logo and I love that.
____
---
DA Online Event – Under The Hood August, Three Designers & Three Projects with Adobe
Thanks to our event partners
Adobe
, you are invited to join us online as three designers walk us through how a design project worked.
Thursday 6 August
12.30pm – 1.30pm
Online Zoom Webinar
Each designer will share the brief, how they approached it, talk us through that internal feedback loop – This is too hard! It's not working! Why did I decide to be a designer?! – and out to the other side to client love and project success. All of these insights in a quick conversational ten-minute talk with screen sharing.
Featuring:
Matt Power,
Designer,
Method Studios
Adeline Marteil,
Senior Designer,
Shine Limited
Leah Surynt,
Senior Designers,
Designworks