Horizon
We are previewing the talent on show at AUT's Horizon Exhibition opening this week.
6th November 6:30-9:30, 7-10th November from 10am-4pm
AUT School or Art & Design WE Building, Level 5


Angela Coote
Flexible Thinking
Explore how the body can enhance your creative process, beyond the mind's limitations. Flexible Thinking is a resource pack that creates a physical space to shape ideas, providing disruptive prompts as starting points for ideation, driven by play.
The resource pack is a curation of disruptive prompts to encourage you to practice flexible thinking. Ideate beyond what is conventional, develop your creative problem solving potential, and be inspired to question the things around you.
Start by interacting with the play-doh and moving your body, prompted by the verb. Use the physical space provided, intended to stimulate your creativity, to play and form your thoughts. Then flip the page to reveal a disruptive prompt, using your play-doh and pen to imagine, shape, draw, write, and enhance your creative process. Think flexibly.


Reyshiel Andres
Boodle Fight
Boodle Fight is a publication that documents the diaspora of
Filipinos in New Zealand with photographs, archives, and interviews
through culinary lenses. This book aims to create collective
conversations for a deeper understanding of the different cultures
and cuisines in New Zealand. This book briefly looks at the history
of the Philippines and how colonisation has shaped Filipino
cuisine. It highlights the stories of migrant Filipinos in
Auckland, New Zealand who are pushing the boundaries in Western
culture by exploring their experiences and struggles. It identifies
symbolic cultural artifacts that they have kept to help
reconstitute the displaced identity after moving to New Zealand. In
this project, a Boodle Fight was held where different cultures in
New Zealand gathered together to eat food from a range of cultures.
This serves as a visual representation of how Filipinos have
adapted in New Zealand.



Natasha Pinker
G. B. BONISCH
George Bernard Bonisch, known as Bernie by his friends, is my great grandfather. During World War II, Bernie served in the New Zealand army. At approximately 6.30pm on the 15th July 1942, his battalion was taken prisoner of war.
G. B. Bonisch, is an intensely personal archive of this time whilst also providing a keepsake of family history. It has been designed in a way that can be easily stored, located and understood for future generations. The core of this content is kept in its raw and authentic form, exactly as it was experienced. However, the process of archiving is not entirely neutral, an added layer of personal interpretation can be easily identified throughout the publication. This is the personal archive of George Bernard Bonisch.



Alida Starvik
Transcendence
Spirituality is a hard concept to grasp, and even more so, to prove. While science has now largely taken over the functions it used to fulfil, belief in spirituality is still prominent. This continued presence implies a need science can't satisfy. Folklore, while not a religion in the same sense as Christianity or Islam, has its own myths, rituals and lessons that fulfils a similar purpose. Attempting to explain the universal human requirements, Maslow's hierarchy of needs moves upwards from physiological needs to transcendence. Each step is exemplified by a piece of Scandinavian folklore, taking the reader on a journey towards transcendence — something bigger than ourselves. Using textures to give the stories a physical form, the project aims to convey the value of spirituality in a way everyone can understand, even those who struggle to see it.


Catalina Nuñez-Elevancini
X marks the spot
X marks the spot is a project that highlights the experiences of four queer people of colour (QPOC) in Auckland. The project focuses on the concept of the intersectionality of one's identity. These intersections of ones queer and ethnic identity raise unique experiences that are made even more apparent by the multi-cultural and progressive nature of Auckland. 'X marks the spot' focuses on the concept of representation and how it can be enhanced by zine-making. Each zine tells a separate narrative of a local QPOC. The imagery utilises a variety of symbols and motifs to reference the individual without explicitly revealing their identity. The work experiments with the tone of voice, symbolism and structure to produce an authentic representation. This series is made for the people within this intersection, but also acknowledges the 'outer' audience and how this attention is helpful for both parties.


Julie Lamont
Why She Likes to Whisper
Select Mutism is a severe anxiety disorder common in young children of school age. The disorder can be likened to a phobia of talking. Children affected by Select Mutism will only feel comfortable speaking around close family and friends, and may remain silent when spoken to by someone they are not comfortable talking to. This disorder is something that I went through up until the age of 8. I refused to use my voice around people I didn't know very well, and at school I couldn't communicate with my teachers. I have created an illustrated children's book titled Why She Likes to Whisper as homage to my past self. The book discusses the life of a character suffering from Select Mutism which may hopefully act as a way of helping affected children out there, like I once was, feel less alone and feel more represented.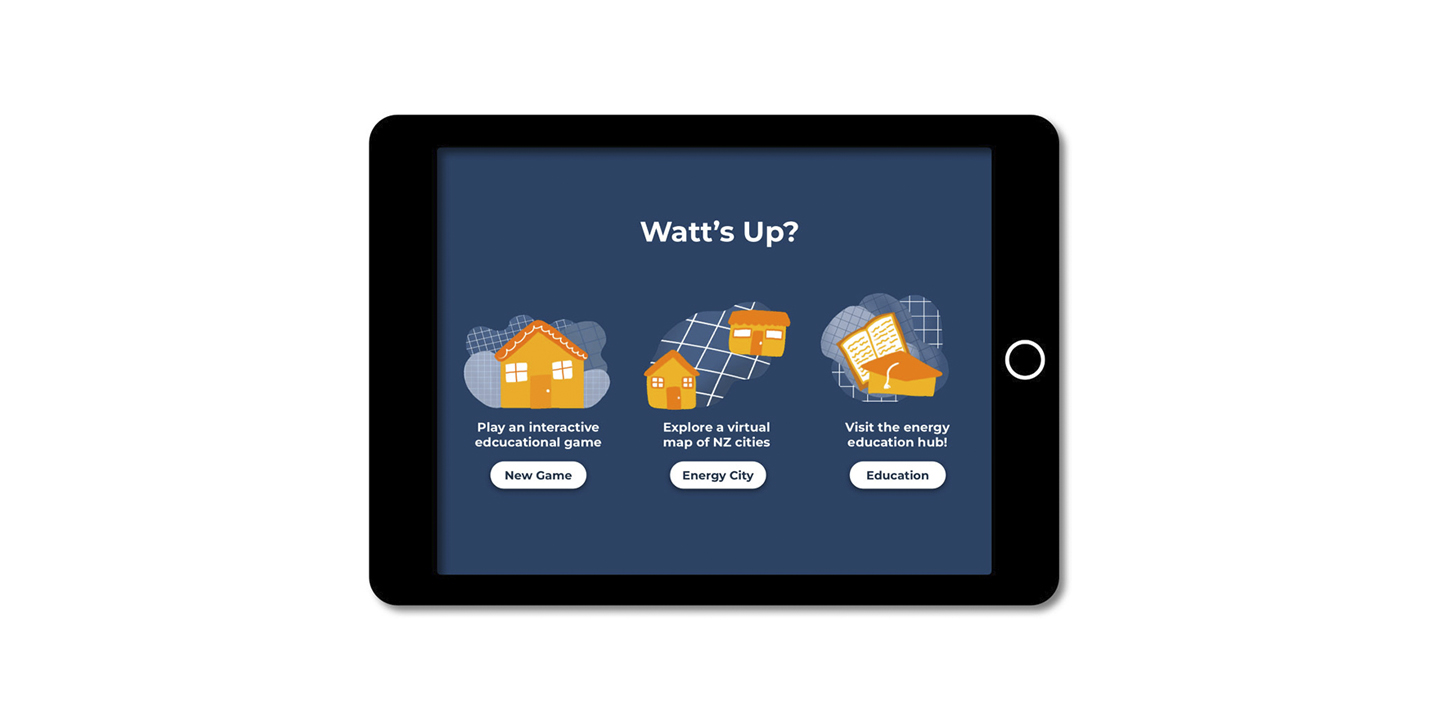 Natasha Whyte
Watts up?New Zealand uses more energy than the entire UK in a year and has reached record prices for the cost of power. Combine excessive use with high prices with Kiwis who often lack education around energy conservation, and we have a major problem.Through my research I found that many Kiwis have not been taught energy conservation methods, or the benefits of saving power. This is impacting many people negatively as they often have to juggle expenses and make cuts in order to pay
for their bills. That's where Watt's Up? comes in.
Watt's Up? Is an interactive educational experience that helps people to reduce their energy consumption in order to save money by playing an educational game,
exploring a virtual energy city map of New Zealand or reading a variety of educational content in the education hub.


Ken Tong
Where you-bin
Auckland Council has an aspirational goal of zero waste by 2040. With that in mind, I've created Where You Bin, a short term campaign based in Auckland. Using scannable compostable stickers and a website, the aim is to provide the people of Auckland with clearer ways to recycle properly and educate them on better recycling habits.
Where You Bin aims to work with companies to place stickers on their products that are stocked in local supermarkets. These stickers work to give customers a quick and easy way to recognise which bin to use based on the colour of the sticker. When scanned, users are taken to the campaign website for more information. Partnering with Auckland Council, Spark, and local sustainable businesses, users can also win free daily wifi and discounts on experiences and sustainable products through playing our game on the campaign website.


Pauline Elloso
How to: healthcare
AUT hosts a large cohort of international students every year. As they arrive in New Zealand, healthcare isn't a main concern until they fall ill and are unsure of what their options are. When this happens, they are confronted by an unfamiliar health system that can be difficult to navigate. Although there are plenty of resources already available, wording tends to be lengthy, unengaging and uses jargon that isn't easily understood by everyone. This project aims to educate international students about the New Zealand health system and their healthcare rights to encourage more proactiveness regarding their wellbeing. The final design output is a website that collates and simplifies existing information from different sources, combining text with engaging imagery, for a meaningful and friendly user experience.


Marcelle Fritsch
PAX
This project explores the hospitality industry and the issues that currently face lower level service staff. My research highlighted problems with point of sale (POS) system functionality, training procedures and overall wellbeing of staff. The current technology available is cluttered and dysfunctional with little evidence of communication design. As a waitress myself, I have experienced these frustrations first-hand and I saw this as an opportunity to create a solution.
PAX uses visual communication techniques that perform effectively in stressful environments. Its ordering process is constructed to minimise the opportunities for human error in the workplace. The profile area is intended to keep staff accountable in their training, to keep record of their achievements, and to provide friendly yet competitive incentives.
PAX was created for service staff, by service staff to act as a user centred aid in their work and make them feel valued and appreciated.