5 minutes with… Natasha Vermeulen
It has been two years since we last spoke to designer/illustrator Natasha Vermeulen. After spotting Natasha's bold campaign illustrations for Bonds in our instagram feed, we wanted to learn more about these vibrant images that celebrate body diversity, and how her career journey and work has evolved since 2017.
People talk a lot about likeness and how to capture people in a drawing… You have a skill for distilling human form, by effectively conveying characters in 2 dimensions. How do you go about expressing emotional complexity while maintaining boldness and simplicity in your illustrative work?
This ability is a mix of years of illustration experience, as well as having studied life drawing (and continuing that practice whenever I can). The best advice I received was from a Disney character artist. They advised to switch from pencil to brush pen when drawing people from life. This helped loosen up my style and capture likeness quickly, rather than labouring over a perfect impression. Gestural exercises to free you up are as important as learning how to get proportions right
I love graphic novels and animated movies, and I've probably absorbed a lot from observing how personality in characters are captured through pose, movement and expressions.
Your recent Bonds campaign is incredibly compelling. The images you have created are as empowering as they are visually engaging… How did the project come about and what were the challenges (if any) along the way?
Thank you so much! Like a lot of my work, it was through a referral from another artist. That's what I love about the artist community, it's a pretty supportive group.
As for challenges, the only one was the deadline! It was quite a fast turnaround. If the deadline is pressing, I make sure the client understands the creative process and stages of the projects, so we can get sign off at key points. The rest of the process was pretty smooth. I love the colours of the new Bonds range, and being able to create artwork featuring creative, strong, free-spirited woman is so great.
Have you had any feedback so far? If so, what has the response been?
People at the launch event loved the characters and the bright, bold colours. What was interesting was watching people identify themselves with the characters based on activity or attitude, rather than physical appearance. Like "I'm the dancer" or "I'm this badass taking a selfie". They had fun too, taking photos and trying to do the same poses as the characters.
What have you taken (lessons or style or anything?) from the bonds project that you are applying to what you are working on now?
My key take away is that an audience can enjoy some pretty intense colour combinations, and not to shy away from what could seem uncomfortable at first. It also reaffirmed that I love creating work that makes people feel something, or has content they can identify with.
All of your illustration work has a sense of movement, and freedom, how do you imbue your work with these dynamic qualities?
I'll sketch a super rough, gestural composition to try and capture the essence of the movement. I use a lot of reference imagery, or even take photos of myself in the pose if I can't find what I'm after.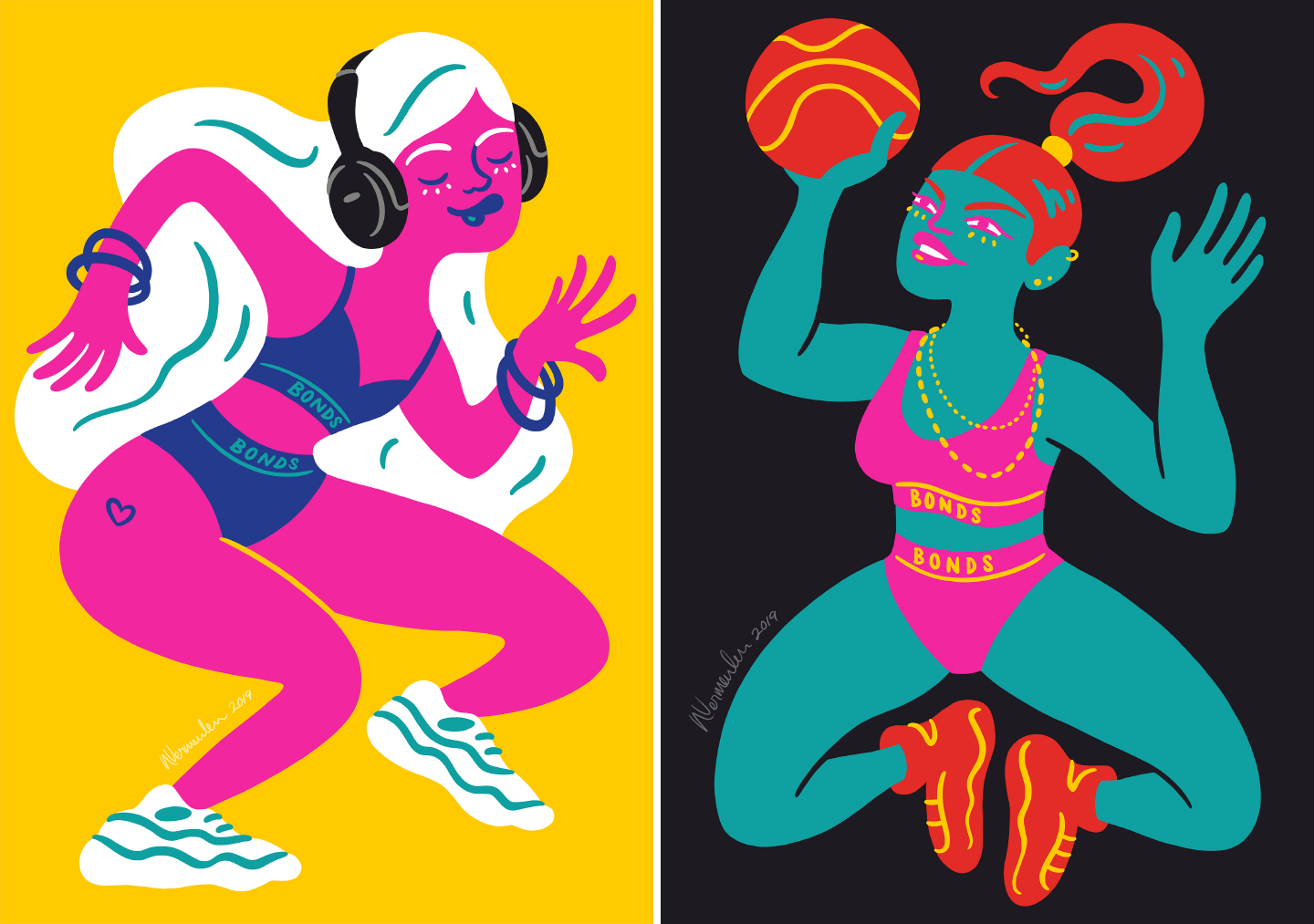 Back in 2017 when we last spoke, you were beginning to focus more on your illustration work… How much of your time today is split between design and illustration?
It varies, but probably around 50/50.
And how has the transition between disciplines been for you?
It's quite organic really. The process of design thinking/problem solving still applies to illustration. I still love working in design, and don't know if I can give it up entirely.
So what does a typical workday look like for you now?
I contract part time for a design agency, so I'm pretty structured with my day if I'm working in my own studio. Work planning and admin first thing, then getting stuck into practical work, as well as managing client relationships in between. I'm trying to maintain a good work / life balance and leave work at the studio at the end of the day.
How do you find a balance between work and life?

It's a constant balancing act and sometimes it doesn't quite work out. But I try to do a reset each week and see what the priorities are, and what needs attention first, and what I can push until later. I prioritise self-care (sleep and exercise in my case), then work and life will always work out somehow. I can handle more when I'm rested and feeling healthy.
Can you describe your workspace?
When I'm not contracting, I work from a shared space, so have my little corner in the studio with everything I need. I love that it's on K' Rd, so I can take walks at lunchtime or go have a coffee in the arcade. If I'm researching or sketching, I can pretty much work from anywhere though, so will be in cafes or at home on the couch – as long as I feel relaxed and comfortable. Our studio has a couch too, which is useful to get away from the desk.
What does your dream project or collaboration look like?
Something that requires travel would be a dream. Preferably overseas! So far dream projects have been where the client or collaborator both trusts your ability while still challenging you in a way that only improves the quality of the work. When there's a good push-pull relationship I find the outcome for the projects have been the best – you end up in a place you would not have expected.
How do you define your career success? 
To me, success is enjoying your work while still being able to challenge and push yourself to keep improving. Creative satisfaction is hugely important to me, as well as being able to make a living from what I do.
While I can work in a structured way from project to project, I do find it harder to plan too far into the future. Being able to reflect on the last ten years of life and work, I've started to trust my gut to allow my career to progress in a more organic way, which leaves room for freedom and flexibility. I've probably been thinking more like an artist and making subconscious career choices by what projects I work on (and who with), which have helped further develop both my skills and career.
What career goals are you working towards?
A few small goals include more travel for work, learning how to animate my illustrations (or at least collaborating with animators), and making the time to paint a few pieces purely for enjoyment.
–
Bonds 'Get Real' event photos by Maegan McDowell. https://www.maeganmcdowell.co.nz/
Campaign photos supplied by Bonds.
Lady Boss art prints available at endemicworld.com