TDC64 Auckland
Direct from its New York showing, TDC64 Auckland is the latest exhibition from the world-renowned Type Directors Club competition, showcasing a culturally diverse and exciting range of award-winning work from over 35 countries.
Chosen from 1,835 entries by some of the design industry's most recognised mentors, innovators and thought-leaders, with work in dozens of languages, TDC64 will be displayed in seven exhibitions that visit over 50 countries. Founded in 1946 by the industry's leading design practitioners, the Type Directors Club is an international organisation whose purpose is to support, record and celebrate excellence in typography, both in print and on screen. Lloyd Osborne, Creative Director at design agency Osborne Shiwan, attributes his interest in the TDC exhibition to its global focus. "The Type Directors Club promotes diversity in typographic excellence through its encouragement of different languages. We are proud to bring TDC64 to Auckland."
When: 2 April to 17 April
Where: St Paul Street Gallery Three, 63 Wellesley St East, AUT
Website: tdcauckland.com
Up Next...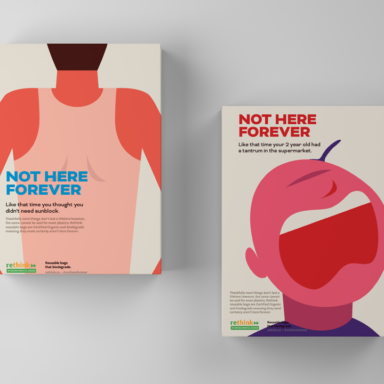 Fresh from the Field — Rethink by A+M Creative
This week's Fresh From The Field features a campaign for Rethink by A+M Creative If you have new or recent work that you would like to share in Fresh from the Field email Louise for details. The Brief Rethink are long standing subscribers to sustainable lifestyle products. The client envisioned a social change campaign that commanded intrigue.…
More from 'Book Design'...
5 Minutes with… Sarah Ritchie
Ahead of Design Assembly's upcoming half-day workshop on "how to run a profitable, successful design business" on Wednesday 20th February 2019 in Christchurch, we spoke with design and advertising account management expert Sarah Ritchie to learn more about her book 'How to Wrestle an Octopus: an agency account manager's guide to pretty much everything' the writing…